A highly anticipated annual event, the San Francisco Decorator Showcase outdid itself this year as an array of local talent transformed a 9,000-square-foot Presidio Heights mansion into an eclectically chic abode. At once edgy and earthy, trendy and traditional, the house at 3660 Jackson Street embodied a range of styles as diverse as the city itself.
Dozens of the Bay Area's top interior and landscape designers prepared the elegant red brick house, built in 1907 by Bliss & Faille, the architectural team behind the St. Francis Hotel and the Masonic Temple. The estate, which boasts a façade of climbing focus, a three-story staircase and coffered skylight, exquisitely detailed woodwork, and sweeping views of the Presidio and San Francisco Bay, flaunted a makeover that included design sensibilities both old and new, with some unexpected twists along the way.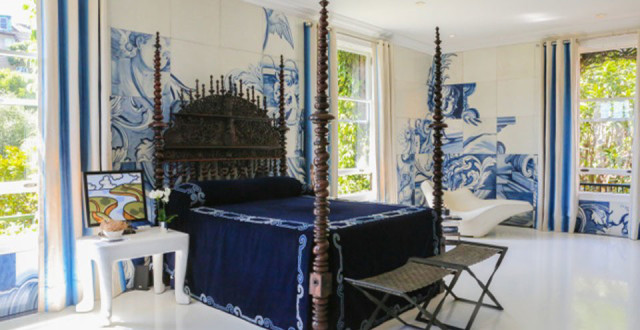 Visitors experienced the first surprise upon entering the house and stepping into designer Jonathan Ranchman's "Heroin-Chic" entry hall, a collision of fashion and music featuring gold accents, mirrored walls, and other details inspired by model Kate Moss and the song "Royals" from singer-songwriter Lord's album, Pure Heroine. Then, ascending the stairs to Five Senses art consultant Alex Ray's second floor landing, guests encountered a playful mish-mash of alphabet letters one might expect to see in a playroom. Equally unexpected was the dramatic "Mixologist Quarters," an illuminated red room lined with alcoholic infusions and drink recipes, Reba Jones's homage to the increasingly popular cocktail-blending culture. And a passage through a canopy of rhododendrons led to an unanticipated abstract sculpture reflecting light and shadows in Kate Webster and Thayer Hopkins's series of garden spaces.
Other rooms in the house ingenuously blended the classic with the contemporary. For instance, the California coastline met the City of Light in the "Artist's Home Studio and Observatory" by Matthew MacCaul Turner. Inspired by the natural beauty of our state, as well as 1920s Paris, the soothing room featured peeling plaster walls, a salon hanging of art, and a sloped floor painted blue. And in the "Master Bedroom" by Antonio Martins Interior Design, a 17th-century bed was juxtaposed with a contemporary sculpture, and traditional blue-and-white Portuguese tile was shuffled into a piece of modern art.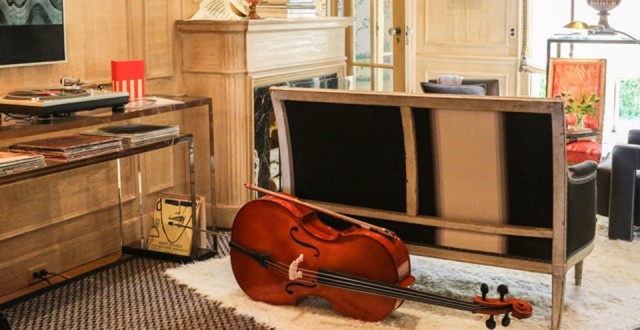 Kids' rooms were a special treat this year. Shelly Chan's "Little Boy Blu" bedroom, an "upscale retreat for the little gentleman of the house," mixed preppy details such as Hermes bedding and a Ralph Lauren wardrobe with playful elements like an oversized clock and hanging letters. Tineke Trigg's "Lily's Pad" was inspired by a fictitious young girl who expresses herself through whimsical design elements and fun colors (her favorite, blue, broken up by calming green and pops of orange and pattern to stimulate her creativity). And Regan Baker Design's "Little Roamer's Room," a safari-themed adventure featured movable furniture, a nomadic tent and rugged materials like denim, canvas and rope.
Other highlights included Laura Larkin's "Woman's Office," whose mallard walls, wavy drapery and light made of cascading crystal bobbles mimicked the ocean; the calm and creative "Music Room" by Steve Henry and Michael Booth of BAMO, the sophisticated glamour suggested by Jaimie Belew's "Master Bathroom and Salon," and SagreraBrazil Design's "With Good Company" dining room whose spring colors and breezy design details evoked the feeling of an enchanted garden.
Since its inception over three decades ago, the San Francisco Decorator Showcase has raised over $12.5 million for University High School's financial aid program.
Five exciting trends in home decorating
1. Blue notes. From dreamy aqua to the most dramatic cobalt, blue was the color of choice this year. The relaxed hue found its way onto a huge range of home décor—from upholstery and rugs, to pillows and tiles and even floor paint. While some designers used it as an accent color, others bathed entire rooms in this heavenly hue.
2. Cocktail couture. In what felt like a flashback to the 1960s, the cocktail culture revealed itself in several spots throughout the house. The latest bar craze—creative mixology—is now working itself into the home, and a couple of rooms were dedicated to the art of drinking. Vintage, manly touches such as humidor trunks, cocktail shakers, and pinup-girl wallpaper are putting a decidedly more sophisticated spin on the man-cave concept.
3. Ladies' luxe. Why should the guys have all the fun? This year's showcase turned on the charm for the girls as well — at least the ones who appreciate ample closet space, boudoir-like room accessories, and bathrooms built for a spa queen. Sensuous touches like dripping chandeliers and master-bathroom recliners overlooking lush gardens made these female-inspired spaces worthy of relaxation.
4. Kids with personality. The children's spaces this year tapped into the wild minds of the kids who were envisioned to live in them. Whether the theme was adventure safari or little prepster, the rooms reflected the specific interests and personalities of the littlest home dwellers. From tent-like window treatments to wall and ceiling decorations worthy of Kay Thompson's Eloise, the execution was both fashion-forward and fun.
5. Conversation pieces. The art and lighting throughout were awe-inspiring. Consider a mesh sculpture that could be moved and manipulated into an infinite number of shapes, or a menagerie of alphabet letters that occupied prime real estate on the wall of the second-floor landing. And how about an oceanic crystal chandelier whose strands swayed like the legs of a deep-sea creature? Show-stopping pieces, often with an interactive element, are what this trend is all about.