San Francisco's restaurants have had a heck of a time staying open during the pandemic. Restrictions on indoor dining, social distancing, and masking have made it especially tough to retain and recruit staff and lure diners back. But one thing is certain: If you want a drink, you won't have to go far. And if you have the flexibility in your schedule to head out in the late afternoon, you can take advantage of a neighborhood bar or restaurant's happy hour and save up while you sip and snack.
CHECK OUT CHESTNUT
Chestnut Street offers a wealth of happy hour choices. From 3–6 p.m. on weeknights, Tacolicious will pour you a shot of tequila plus a Tecate beer, and you can have a taco for $13, or a house margarita, glass of sangria, rosé, or a Negra Modelo for $8, as well as guacamole, three crispy chicken tacos; or the "holy trinity dip sampler" with guacamole, chile con queso, and refried beans, all for $8. The lively atmosphere makes for a truly fun time. 2250 Chestnut Street, 415-649-6077, tacolicious.com.
The Dorian's "golden hour" runs from 4–6 p.m., Tuesday through Friday, and with its opulent bar, this is the place to go for high-end noshes and drinks. The Golden Hour Oyster features a Hog Island oyster with crème fraîche, white sturgeon caviar, and chives topped with a pinch of 24k gold for $9 or try another favorite: turmeric hummus and seeded flatbread for $6. Other choices include truffle fries or a chicken slider for $5. A glass of white or red house wine is $7, and Fort Point's kolsch is $5. The Dorian's eclectic selection of cocktails — like Vane's Rose spritz with Ketel One, grapefruit and rose, strawberry-infused aperitif, and eucalyptus — is also available for $12 as are their house martinis for $5. 2001 Chestnut Street, 415-358-7054, doriansf.com
Causwells, known for its delectable burgers, introduced a new happy hour in August, from 4–6 p.m., Tuesday through Friday, and 3–5 p.m., on weekends. The menu includes mini-American burger sliders made with a double-smash patty, American cheese, Causwell's sauce, lettuce, pickle, and onion for $4.50 each; smoked salmon sliders are served on a house-made pretzel bun with crème fraîche, and pickled onion for $3.50 each. Other options include classic deviled eggs for $2.50 and hush puppies for $1.50. Glasses of white, red, and rosé wine are $6 and $24 per bottle; $4 canned beer is also available, and specialty cocktails including strawberry slushies, house margaritas, and seasonal spritzers for $9. 2346 Chestnut Street, 415-447-6081, causwells.com.
You may know Delarosa for its Roman-style pizza, but this casual spot serves up its happy hour menu from 3–6 p.m., Monday through Friday. Italian white and red wine and sangria are $7 a glass, and cocktails like an Aperol spritz and margaritas are $8, along with a beer of the day for $5. Bites include burrata bruschetta with hazelnut and honey or crispy cauliflower with caper aioli ($7 each), and their famous Margherita pizza for $10. 2175 Chestnut Street, 415- 673-7100, delarosasf.com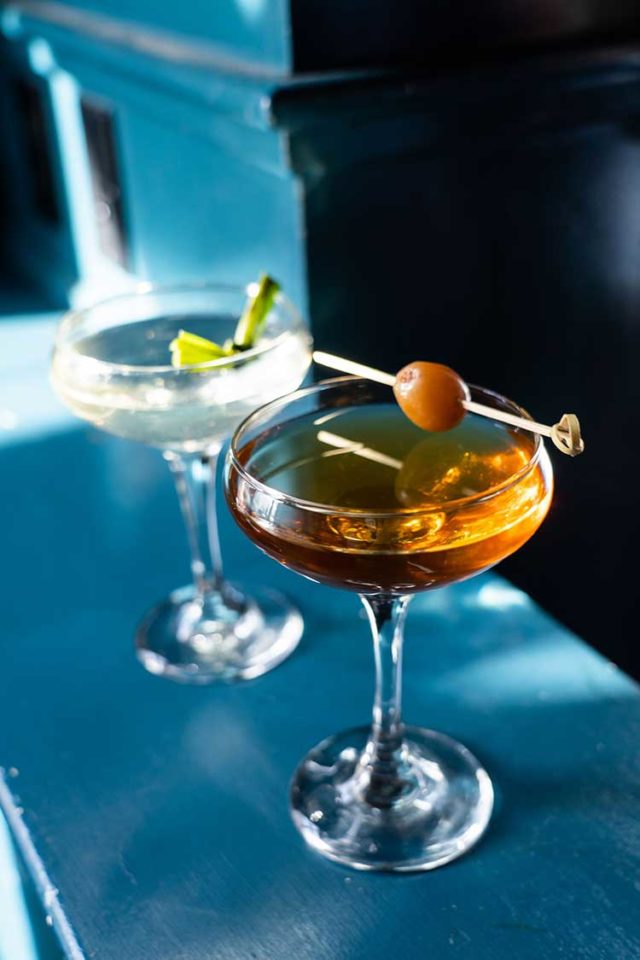 RIGHT AROUND THE CORNER
Around the corner on Steiner Street, charming Cafe Boho offers "sips and bites" during its happy hour from 5–6 p.m., Sunday through Tuesday, with wine for $5 a glass, beer for $3, and cocktails for $7; oysters are $1. Small plates include burrata, a warm bread plate with whipped butter, house pickles, goat cheese and mushrooms with grilled bread, truffle fries, and tuna poke. Prices range between $3 and $17. 3321 Steiner Street, 415-374-7518, cafebohosf.com
Sessions at the Presidio, just inside the Chestnut Street gate at Lyon Street, has a happy hour 2–5 p.m., Monday through Friday, and offers white, red, or rosé wine for $8 a glass, pilsner or another beer for $6, and a Moscow mule or sprits for $10 each. Snacks range from spicy potato chips with dip for $7, wagyu meatballs, and a fish taco, both for $8. 1 Letterman Drive, 415-655-9413, sessionsf.com
UP ON UNION
On Union Street, Palm House offers a tropical-themed golden hour from 4–6 p.m., Tuesday through Friday. The menu includes grilled short ribs with sweet chili noodles, and poke tostada with ahi tuna and chipotle aioli for $6, and jerk-spiced fries and sweet potato fries for $5. So-called leisurely drinks feature a chipotle mango margarita for $7, and a "Juneshine" with hard kombucha for $5. Red, white, or rosé wine is $7 a glass, and draft beers are offered at $1 off; bottles of wine are half price. But you should really indulge in a Palm House slushy, the restaurant's house specialty made with rum, lemon, and agave in a rainbow of flavors including guava, strawberry, and prickly pear for just under $10. 2032 Union Street, 415-400-4355, palmhousesf.com
Down the street, West Coast Wine and Cheese has a happy hour from 4–6 p.m., Monday through Thursday; 3–6 p.m., Friday; and 2–4 p.m., Saturday and Sunday. You can get $2 off selected glasses of wine, 20 percent off all bottles, and $2 off draft. You can also munch on Marcona almonds, or sliced baguette with olive oil for $6; Castelvetrano olives for $8, and an assortment of Cowgirl Creamery cheeses served with fig jam, fruit, and baguette slices for $10–$11. Charcuterie plates are also available. 2165 Union Street, 415-376-9720, westcoastsf.com
Many of our local restaurants offer happy hours, so if you've got time to indulge in an early sip and snack, check out these happening happy hours, and explore others.
Email: [email protected]