One of my mom's go-to weekend dishes was her lemon ricotta pancakes: fluffy and light with just a touch of sweetness offset by lemon zest. I make them about once a month, especially if we have company. They have restaurant panache and are sure to impress, but they're very easy to make. I like to add fresh blueberries to the batter (frozen berries will do in a pinch) and, for those who want added sweetness, I serve a blueberry compote on the side (recipe below).
After my mom passed away, my dad met a woman named Kickie, a red-haired southern spitfire born and raised in the hills of Kentucky. Suddenly a whole new culinary world opened. One of my favorite recipes, "Kickie fried taters," goes against everything you've learned about frying potatoes ("do crowd the pan," "do cover them tightly with a lid"), but results in the best fried potatoes you've ever had — soft and creamy in the center with a golden-brown exterior and crispy edges. Whereas California-style potatoes are usually skin-on, cubed, and sautéed with bell peppers and onions, southern fried potatoes are no frills — peeled, sliced into thin rounds, and served with sour cream on the side. You can sprinkle some sweet paprika and finely minced chives over the top if you wish.
Lemon Ricotta Pancakes
Serves 4
1 cup all-purpose flour
2 tablespoons granulated sugar
1 teaspoon baking powder
¾ cup whole milk
1 large egg, lightly beaten
Zest of 3 lemons, juice reserved
½ cup whole or part skim milk ricotta
½ cup fresh blueberries (optional)
In a large bowl, whisk together flour, sugar, and baking powder. In a smaller bowl, beat the egg, then whisk in milk and lemon zest. Add wet ingredients to dry ingredients, stirring until just combined. Using a spatula, gently fold in the ricotta until evenly incorporated.
Preheat a large nonstick griddle or skillet over medium heat. Using a paper towel, coat the pan lightly and evenly with butter or vegetable oil. Add drops of batter (2 to 4 tablespoons each, depending on how large you like your pancakes), making sure to leave enough room to allow them to spread and so the edges get crisp. Just when bubbles start to form on top, dot each pancake with blueberries (optional). When bubbles reach the edges and are even across the entire pancake, flip over and cook another 1 to 2 minutes. Serve with warm blueberry compote (recipe follows).
Simple Blueberry Compote
2 cups fresh blueberries, divided
3 tablespoons water
¼ cup granulated sugar
2 teaspoons lemon juice
Combine 1 cup of the blueberries with water, sugar, and lemon juice in a 1-quart saucepan. Simmer, uncovered, over a low-medium heat for about 10 minutes. Add the remainder of the blueberries and cook for 8–10 minutes more, stirring occasionally. Serve warm on the side or drizzled over pancakes tableside.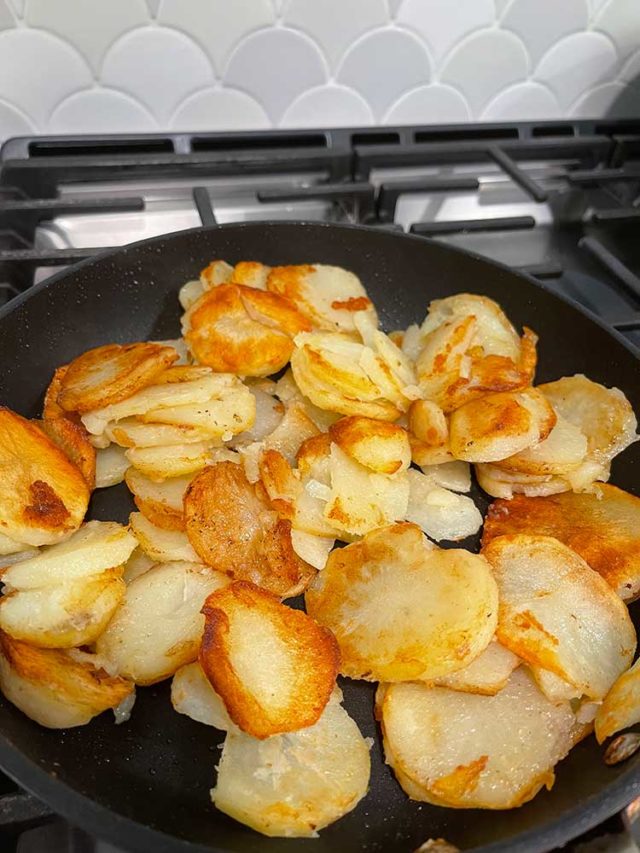 Kickie Fried Taters
Serves 4
4 to 6 medium or large russet potatoes (about one potato per person)
2 tablespoons unsalted butter
2 tablespoons olive oil or avocado oil
Sea salt and freshly cracked black pepper to taste
Sweet paprika (optional)
Finely minced chives or green onions (optional)
Sour cream for serving
Place several cotton kitchen towels next to a chopping board, spreading one out flat on the countertop. Peel the potatoes one at a time. Using a mandolin or a sharp chef's knife, slice each potato into uniform rounds (about half an inch thick), spread them in a single layer on the kitchen towel, then cover with another towel and pat dry. Do this until all the potato slices are pressed between the cotton towels.
Add oil and butter to a heavy 10-inch nonstick skillet or a well-seasoned cast-iron pan and turn the heat to medium high. When the oil and butter are sizzling, carefully add the potatoes to the pan one towel-full at a time. Using a thin spatula, gently flip the potatoes so they are evenly coated and spread into even layers. Cover with a tight-fitting lid and reduce heat to medium, occasionally lifting the lid to shake the condensation into the potatoes.
Cook covered until tender, occasionally flipping potatoes to give each layer a chance to brown (15–20 minutes). Remove lid, raise heat to medium high, and cook for another 5–10 minutes, turning frequently until edges are crisp and most potatoes are golden (the ones that aren't browned will add moisture and a gooey texture to offset the crispier slices). Toss with salt and pepper to taste and serve with sour cream on the side.
Email: [email protected]. Follow Susan and the Marina Times on Twitter @SusanDReynolds and @TheMarinaTimes.