My dad loved the House of Prime Rib, a San Francisco classic located on Van Ness Avenue. He started going when he was in the Navy, and became friends with the host, Gus, who was a fixture for decades. My dad always ordered his meat "English cut," meaning thin slices, but his favorite part was the Yorkshire pudding the waiter added to the plate. The name is deceiving — it's not a pudding but rather like a popover; a batter baked in the oven that becomes crisp and brown on the edges and stays soft in the center. It's perfect for sopping up gravy. You can make it in one dish and slice it or you can use muffin or popover tins to produce individual portions. 
Because my dad loved Yorkshire pudding, I decided to make it for Christmas one year along with prime rib, silky mashed potatoes, gravy from the drippings, and Brussels sprouts (a favorite vegetable in my household). Everyone loved it, so it became a tradition.
As for buying a prime rib, spend the money and get a good one: pasture raised and humanely treated. I feel like a hypocrite saying this, because I love animals, but if you're going eat meat, make sure you know where it came from and how it was cared for. You can usually order a roast by the number of ribs — you can do a boneless roast, but it's not nearly as impressive, and the ribs make for a great bone broth later.
I make Lawry's whipped horseradish ahead of time to serve on the side (if you're familiar with the famous "pink horseradish" from House of Prime Rib, this is similar), and have included the recipe below, along with a simple recipe for making gravy from the pan drippings.
The "best mashed potatoes ever" is my adaption of chef Joël Robuchon's famous pommes purée at his restaurant L'Atelier de Joël Robuchon. These aren't your mom's mashed potatoes (it involves several extra steps and loads of butter), but it's a worthwhile splurge for the holidays. You'll need a couple of specialty tools, but they're tools I recommend any home cook have. A potato ricer for straining the potatoes the first time, and a tamis (pronounced tam-ee) or a very fine mesh sieve, with a dough scraper or a wooden spoon, for the second pass. I use my grandfather's old food mill from Italy that has a hand crank with a metal paddle that helps facilitate pushing the potatoes through the fine mesh.
And finally, if you don't like Brussels sprouts, switch them out for a salad, some slow-braised collard greens, or creamed spinach to complete the meal.
The Best Mashed Potatoes Ever
Serves 4–6
5 medium russet or Yukon gold potatoes (I use 3 russets and 2 Yukon gold)
1 cup unsalted butter (2 sticks), room temperature, cut into 1-inch cubes
2 cups whole milk, brought just to a boil and kept warm
¼ cup half and half, room temperature
Sea salt to taste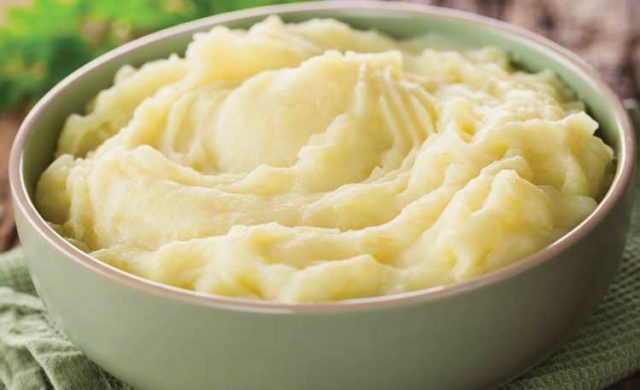 Scrub the potatoes well, put them in a large stockpot, and add cold water until potatoes are completely covered. Bring them to a boil, then lower heat and simmer until a paring knife goes through without much resistance (40 to 50 minutes).
Drain potatoes thoroughly; once they are cool enough to handle, peel them (the skins will come off easily). Push the peeled potatoes through a ricer into a tall stockpot over low heat. Stir vigorously with a wooden spoon to dry them completely (3 to 5 minutes).
Add cubed butter a little at a time and stir until well incorporated. Add milk in a slow stream while vigorously whipping potatoes with a wooden spoon. Add half and half and continue whipping until you reach a creamy consistency.
Pass the whipped potatoes through a tamis using a silicone spatula into a large bowl. By now the potatoes will be room temperature.
Rinse and dry the stockpot, add potatoes back to the pot, and set over low heat, stirring constantly until warmed through.
For extra decadence, melt 3 tablespoons of unsalted butter in ½ cup of warm whole milk or heat ¼ an additional cup half and half. Drizzle over potatoes while stirring. Salt to taste and serve immediately.
Yorkshire Pudding
Serves 4–6
¾ cup all-purpose flour
½ teaspoon salt
3 eggs
¾ cup milk
½ cup pan drippings or vegetable oil
Mix the flour and salt together in a medium-sized bowl. In smaller bowl, beat together eggs and milk until frothy. Stir in dry ingredients until just incorporated. Refrigerate mixture for two hours (optional).
Heat oven to 450 degrees (turn up the temperature after you remove the meat to rest).
Pour pan drippings or vegetable oil into a 9×9-inch oven-safe baking dish. Put dish in oven for about 30 seconds, or until drippings (or oil) is just smoking. Remove dish from oven (carefully), pour in batter, and return dish to oven. Bake until puffed up and brown on the edges, about 20 minutes. Serve immediately.
Prime Rib Roast
Serves 4–6
Note: The meat must be brought to room temperature before roasting or it will not cook evenly. This will take from 2 to 4 hours, so plan accordingly. Cooking time will vary based upon the size of your roast; estimate 12 minutes per pound for roasting time.
1 prime standing rib roast, room
temperature
2 tablespoons butter at room
temperature
Preheat oven to 450 degrees.
Pat the roast dry. Smear the cut ends only of the roast with the butter (you can also add herbs or garlic to the butter). Do not salt the outside as it will draw out moisture.
Place the roast, ribs down or fat side up, uncovered, in a heavy stainless-steel roasting pan. (The rib bones are a natural rack.) Sear the roast for 15 minutes at 450 degrees, then turn the oven down to 325 degrees for the remainder of the cooking time. Every 30 minutes, baste the cut ends of the roast with the fat in the bottom of the pan.
About 45 minutes before the estimated end of the cook time, begin checking the internal temperature with a good instant-read digital thermometer (I use a Thermapen — they're expensive but worth it for their accuracy). Insert the thermometer in the thickest part of the roast, not resting in fat or touching bone.
Cook until meat reaches an internal temperature of 120 degrees. Remove to a heavy-duty cutting board with a deep enough well to hold the juices. Cover loosely with aluminum foil, and let sit approximately 15 to 20 minutes. Do not skip the resting stage. Cutting into the meat too early will cause a significant loss of juice. The roast will continue to cook as it sets, rising to 125 to 130 degrees (medium rare). While roast rests, make gravy from the pan drippings (recipe follows).
Using a sharp carving knife, slice between the bones. If you are not comfortable cutting through the ribs, ask the butcher to separate the meat and use string to tie it to the bone. Serve with Lawry's whipped horseradish (recipe follows).
Lawry's Whipped Horseradish
Makes 1 cup
1 cup whipping cream
¼ teaspoon Lawry's Seasoned Salt
2 tablespoons prepared horseradish,
well drained
1 dash of your favorite hot sauce (or
more if desired)
Using a stand or hand mixer, whip cream until stiff peaks form. Fold in seasoned salt, horseradish, and hot sauce until well mixed. Cover and place in refrigerator until ready to serve.
Pan Drippings Gravy
Makes 4 cups
6 tablespoons drippings
6 tablespoons all-purpose flour
4 cups of low sodium beef or vegetable
broth
Place roasting pan over two stove burners over medium heat. Skim and discard any excess fat from the juices in the roasting pan. Using a wooden spoon, scrape the dark drippings and any crunchy bits from the sides and bottom of the pan.
In a separate container with a lid, shake together all-purpose flour and broth to make a slurry. When the pan drippings are lightly bubbling, slowly add the slurry mixture, stirring constantly with a wire whisk. If it starts to thicken, immediately stop adding the remaining slurry. You may not need to use all the slurry, depending on the amount of drippings that were left in the roasting pan.
If lumps develop, you should be able to use a wire whisk to remove them. You can also pass the finished gravy through your tamis or fine mesh sieve. If your gravy is too thick, add additional broth, stirring constantly. Season to taste with salt and pepper, pour into a gravy boat, and serve tableside.
E-mail: [email protected]