Now that pandemic restrictions have ended, it's the perfect time to check out the local restaurant scene. Along with quite a few new spots, several old favorites have remodeled and made menu changes. And despite an unusually chilly spring and early summer, now that we can dine indoors, going out to eat is that much sweeter, not to mention toastier.
THE WILD, WILD WEST
In the Marina, Wilder has debuted in the former Greenwich/Cow Marlowe space on Fillmore Street. It features organic, seasonal shared plates and inventive takes on classic cocktails — like an invigorating espresso martini — at affordable prices in a fun, casual atmosphere. Wilder was developed by co-partners Kingston Wu and Lily Peng. Chef Jesus Dominguez, formerly of Campton Place, is overseeing the menu at both Wilder and its sister restaurant, Westwood.
Some of Wilder's small plates include bone marrow with roasted Roma and cherry tomatoes, horseradish cream, sourdough toast, microgreens, and a balsamic reduction ($19). Steamed pork belly buns feature five-hour slow-roasted pork belly, jalapeno relish, and chipotle mayonnaise ($12). Larger-plate standouts come from the "skillet" like steak and chimichurri, which includes a Harris Ranch New York strip steak, patatas brava, onions, and relish ($28). Creations from Wilder's bar focus on a variety of highballs, like the pink panther with gin, elderflower, strawberry, lemon, seltzer, and egg white; martinis; and other unique specialty cocktails. 415-741-6605, wildersf.com
Westwood on Lombard Street has a country-western vibe with a spotlight on smoked meats from its custom-built smoker, and a fun bar with live music. Here you'll find brisket, smoked chicken, pulled pork shoulder, and baby back ribs with classic sides like baked beans, coleslaw, and cornbread. Veggie lovers can enjoy Westwood signature cactus nachos with grilled cactus, mushrooms, house-made sauce, pico de gallo, and cheese ($12), or you can select your smoked meat dishes by the plate or by the pound or rack. Plate prices range from one meat ($20), two meats ($24), and so forth. Westwood's performance stage is draped with an American flag and features a mechanical bull. The bar serves up an ample selection of specialty cocktails; whiskeys; draft, bottled, and canned beer; and house red or white wine. Both Wilder and Westwood serve weekend brunch. 415-887-8575, enterwestwood.com
Opened earlier this year is Jaranita, a Peruvian hotspot created by the culinary team of the Acurio International Restaurant Group, owners and operators of popular Le Mar Cebicheria on the Embarcadero. Executive chef Javier Cussato oversees the kitchen where lunch and dinner dishes such as cebiche, rotisserie and charcoal-grilled chicken, corn, and other meat, salads, and empanadas rule. Prices range from $12–$26, and a full range of creative cocktails is available including the Zen-gria, with sake, red wine, orange peel, cinnamon, and lemon juice for $13 for a glass or $65 for a pitcher. 415-655-9585, jaranitasf.com
IT'S ALWAYS GOLDEN HOUR IN THE MARINA
Marina darling The Dorian is debuting "Golden Hour" Tuesday through Friday from 4–6 p.m. showcasing two renditions of classic and dirty martinis as well as a collection of spritzes made with botanical vodkas, channeling the era of supper clubs catering to "bohemians, libertines, and freethinkers." "Golden Fare" includes the Golden Oyster, a Hog Island oyster with crème fraîche ($9), and the Wild Burger crafted from Wagyu beef, bone marrow torchon, Dijon-truffle aioli, watercress, pickled red onions, and a 33-carat edible gold brioche bun ($50). The Dorian's classic American menu continues to include contemporary pub fare, including burgers. 415-814-2671, doriansf.com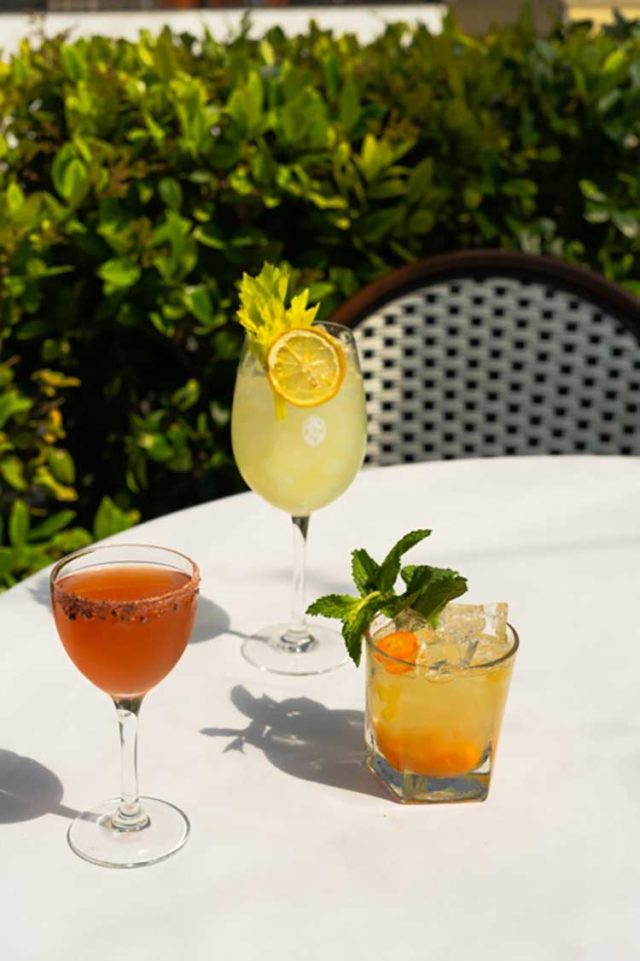 Traditional Marina steakhouse Izzy's has upped its game by revamping its menu and its bar offerings. Mixologist Greg Lingren has developed a cocktail menu that incorporates summertime flavors into a refreshing selection that includes the Pluma Rosa with tequila, mezcal, ancho Reyes (chili liqueur), strawberry balsamic, lemon, and pink peppercorn, and a tart pisco sour.
Izzy's wine experts Debbie Zachareas and Peter Granoff have created a dynamic, changing wine list at Izzy's with varietals to please every palate, many from Sonoma County and Napa Valley as well as Germany, France, Italy, and beyond. The menu offers plenty of starters and salads and of course, steaks and chops, with a choice of sides and vegetables ($8), and sauces like chimichurri, peppercorn, and bordelaise; most meat entrees are priced between $38–$69. Fish, chicken, and burgers are also available, and Izzy's has a new lunch menu that adds salads and sandwiches to the list. 415-563-0487, izzyssteaks.com
CONSIDER COW HOLLOW
Chubby Noodle, with two locations, one on Union Street and one on Green Street in North Beach, is continuing to serve its Chinese comfort food, but it has juiced up its dinner and brunch offerings with an expanded menu of small and large plates, specialty cocktails, wine, and beer. Favorites include fried chicken, and five-spice-brined short ribs ($15). Beer, wine, and cocktails are also available. Brunch goers can enjoy a bottomless brunch featuring mix-and-match brunch items and three mimosas over the span of 90 minutes ($49). 415-400-4522, chubbynoodle.com
The venerable Balboa Cafe has added Thursday night summer specials created by new executive chef Santos Lugo. Inspired by past visits to Spain, Lugo has crafted a rotating paella menu accompanied by tapas like patatas bravas, and flan for dessert. Sangria pitchers start at $45 for two. With three spacious parklets, dining al fresco at the Balboa is a delight. Paella flavors and the sangria of the week will be posted on the cafe's Instagram page. 415-921-3944, balboacafesf.com
While the Baker Street Bistro, which closed during the pandemic, will surely be missed, a new contemporary French bistro has opened in its place. La Côte Ouest (the West Coast) is led by partners Laurent Monchicourt — who was a previous manager at the Baker Street Bistro — and Martin Sarraih, previously at Le Garage in Sausalito.
Serving lunch and dinner, the new bistro features traditional dishes from Southern France, including soups, salads, and charcuterie, in addition to classic steak frites ($32), and a plant-based lentil curry with French green lentils, red curry, coconut mile, mushrooms, and tomatoes ($17). Classics like a croque monsieur with spinach bechamel, jambon de Paris, and Emmental cheese on rustic bread ($16); a grass-fed burger on a brioche bun ($19); and a French omelet with leeks, bacon, and blue cheese served with roasted tomatoes ($16) round out the lunch and brunch menus, and of course chocolate mousse, crème brûlèe, and an apple tart are served for dessert ($9). An extensive menu of mostly French wines complements the menu. 415-896-4709, coteouestbistro.com 
For simple comfort food, turn to Total Meltdown on Union Street. Developed in the Mission during the pandemic by Mohamed Abdelmequid and Francisco Bastidas, who operate the fruit bowl and smoothie truck Ruru Kitchen, the partners recently opened this second location. The spot offers grilled cheese sandwiches, mac 'n' cheese, potato wedges, tater tots, and soups and salads. Though you can order a simple grilled cheese sandwich or macaroni and cheese, Total Meltdown puts a unique spin on the menu, including the Cuban O So Good with pulled pork, ham, pickles, Gruyere, and mustard ($14) or the Green Thumb with Brussels sprouts, parsley, green goddess drizzle, and goat cheese. Prices are in the $10–$15 range. Vegetarian and vegan options are available. 415-851-8394, totalmeltdownsf.com
UP AND OVER THE HILL
Hummus Mediterranean Kitchen on Polk Street is making a splash, serving flavorful specialties from the Aegean coast prepared with extra virgin olive oil and fresh herbs and spices, making its dishes both tasty and nutritious; menu items can be tailored to accommodate low-fat, low-carb, vegan, and gluten-free diets. In addition to several types of hummus, the restaurant offers gyros and kebabs; salads; large plates that include a meat or fish item served with salad, rice, and pita bread; wine; beer; and baklava for dessert. House plates range from $14–$19. 415-655-3340, hummusmed.com 
Over in North Beach, beloved Tosca Cafe has fully reopened with an all-star team including new owner Nancy Oakes, formerly with Boulevard, Anna Weinberg of Marlowe and Leo's, and designer Ken Fulk, who says, "Tosca is a place that's part of San Francisco lore." The three quietly reopened the cafe with an expanded menu and a refreshed interior. Tosca's iconic red walls and long mahogany bar remain, but the bar stools have been reupholstered, the banquettes now sport real leather, and the original vinyl, checkerboard floors have been burnished. Its parklet sparkles with red-and-white tablecloths, green vines, and twinkle lights above.
Tosca continues to offer a fixed-price menu starting at $75 per person with entrees like Tuscan fried chicken, asparagus risotto, lamb ragu, and pan-roasted Alaskan halibut. Antipasti and pasta are included, and desserts, salads, and items from the raw bar are extra; you can order any menu item à la cart as well. And weekend brunch is also now being served. Italian wine expert Shelley Lindgren, formerly of A16, overseas the expansive wine list.
And of course, you can always get a top-notch cappuccino, too. 415-986-9651, toscacafesf.com
All in all, San Francisco restaurant dining is in full summer swing, making it about time to get out and explore our city's revitalized culinary scene.
Email: [email protected]