Diversity and inclusion have become hallmarks of the entertainment industry. Contrary to what some reactionary factions might say, it's overdue in some cases, and simply refreshing in others. You can see it in action by watching Mr. Malcolm's List, the new U.K. romantic comedy, or Ms. Marvel, the latest television series from the Marvel Cinematic Universe. And they are just two current examples of the changing nature of movies and television programs, making what appears on screen more closely resemble the real world — to a point and sometimes to surprising lengths.
Mr. Malcolm's List, which debuted in theaters on June 1, is a whimsical 1800s period piece about a wealthy nobleman with a considerable number of women who seek to marry him. Though the film could have been adapted from a book by Regency Era author Jane Austen, its main cast is populated by various people of color, including British-Nigerian actor Sope Dirisu (Gangs of London) as Mr. Malcolm; Indian actress Freida Pinto (Slumdog Millionaire) as kindly minister's daughter Selina Dalton; and Zawe Ashton (Velvet Buzzsaw) of English and Ugandan heritage as the scheming rich girl Julia Thistlewaite. Even Korean-American actress Ashley Park (Emily in Paris) has a comedic turn in Mr. Malcolm's List as scatterbrained aristocrat Gertie Covington.
The characters go through their largely proper social interactions and silly mix-'em-ups with zero reference to their ethnic differences. Historical veracity isn't the point here. And the cavalier approach works, helped along by the light touch of director Emma Holly Jones and the immense charm of the players who voice Suzanne Allain's lively script amid posh, plush settings. Whatever was intended by bringing in this particular group of actors, they inject energy into what might have been a pedestrian knock-off of a Merchant Ivory production in the wrong hands.
A 'BRIDGERTON' FAR ENOUGH
There is already an obvious precedent for Mr. Malcolm's List that served as proof of concept and execution. With two seasons already running on Netflix and proving wildly popular, the sexed-up soap opera Bridgerton also has a sumptuous Regency Era setting and features a handsome multiracial cast, launching the career of at least one starry leading man in Regé-Jean Page. Regardless of their respective melanin quotients, the lords, ladies, dukes, duchesses, counts, countesses, barons, and baronesses of Bridgerton have enchanted millions. Their counterparts in Mr. Malcolm's List are just as appealing, if not more so. To some, the casting in both may seem more preposterous than the over-wrought storylines, but all of it is narrative fiction that's as much in the realm of fantasy as your standard issue Harlequin romance. Speaking of fantasy …
Ms. Marvel, streaming on Disney Plus, is the first mainstream television or film project to feature a Muslim-American superheroine: Kamala Khan, a typical teenager from Jersey City with most of the usual adolescent angst. She and her two best friends are considered weirdoes by the cool kids at school. Her Pakistani-born parents expect academic excellence from her, restrict her comings and goings, and, in a thoroughly understandable aspect of the situation, would like her to eventually marry a good Muslim boy. Because this exists in the aforementioned Marvel Cinematic Universe and is based on Marvel Comics, Kamala is obsessed with the superhero group the Avengers and one specific member, quantum-powered Carol Danvers a.k.a. Captain Marvel. Of course, Kamala's mother, father, and her devout, mosque-going, yet unmistakably American brother don't get her fascination with the Avengers. Then, the girl — assembling a Captain Marvel costume for a cosplay contest at the first AvengerCon fan gathering — adds a strange bracelet that she found in a package sent to her family by her aunt, and the bauble changes her life.
In keeping with the inclusionary aspects of the series, the ethnicity of the performers appears appropriate to their characters. They are, for the most part, immensely likable — none more so than Pakistani-Canadian newcomer Iman Vellani whose youth, guilelessness, and genuine enthusiasm as Kamala ground the science-fictional (or is that mystical?) aspects of the property. Mohan Kapur and Zenobia Shroff, both born in India, play Kamala's parents and could very well be her father and mother, lending authenticity to a property with extraordinary elements that require some suspension of disbelief.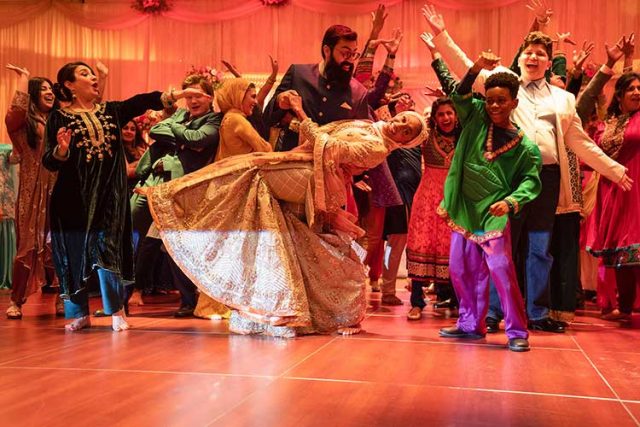 EMPOWERMENT OR THREAT
Those who follow the Marvel movies and television shows will be on board with the action and the quips from an expectedly put-upon heroine and her sidekicks. At the same time, Ms. Marvel features an elegant balancing act as it addresses serious issues of cultural identity and assimilation (including the conflict between tradition and modernity that faces a segment of the faithful) without being heavy-handed or undercutting the super-powered flash. And it delivers down-to-earth coming-of-age antics with Kamala and her peers. There are even cute bits of animation that look like comic book art imbedded into scenes as visual commentary on the plot. By any standards, the series is a winner.
Representation, whether it embraces the racial, ethnic, or gender spectrum, is empowering to so many and, sad to say, threatening to a certain segment of the population. The protagonist in the globally adored BBC sci-fi series Doctor Who, which has been in existence for almost 60 years, is an alien time-and-space traveler known as the Doctor. A do-gooder from a distant planet, he looks like a human and can regenerate into another body when dealt an otherwise fatal blow. This has enabled a relatively seamless change in lead actors when contracts expire, performers decide to move on, or health issues come up. That aside, the Doctor had been male and played by a white man for more than 50 years — until 2017 when British actress Jodie Whitaker took on the role and set off a firestorm of thinly disguised misogyny from a shockingly large and vocal contingent on social media. The show went on, as usual, and though saddled with uneven writing, Whitaker did a fine job as the first female Doctor.
This year, Whitaker is ready to depart the role for fresh acting challenges, and she's being replaced by a young Scottish actor named Ncuti Gatwa, best known for his funny and endearing stint on the sitcom Sex Education. That should appease the naysayers, except that Gatwa is a Black man of Rwandan descent and makes no bones about being gay. Will anyone bitch about the first Black, gay Doctor — even though the character's sexuality won't necessarily be a part of his journey? Count on it. The rest of us who enjoy the series will hope that Gatwa brings passion and humanity to the role of this wondrous, wandering alien. When it comes to storytelling, that's what matters.
Michael Snyder is a print and broadcast journalist who covers pop culture on KGO Radio's Mark Thompson Show and on Michael Snyder's Culture Blast, via GABNet.net, Roku, iTunes, and YouTube. You can follow Michael on Twitter: @cultureblaster.