While traditionally looked upon as a month so merry that it often commences with maidens dancing around a pole, this particular May marks a celebration in our city that should also inspire some cheery footwork: the one-year anniversary of the San Francisco Music Hall of Fame. The facility, honoring a number of significant Bay Area musicians, is located in the Bush Street property that also houses the Music City Hotel, featuring themed rooms that pay homage to a selection of legendary performers that includes the Grateful Dead, Janis Joplin, and others. And there's more to come on the block.
Cleveland has the Rock and Roll Hall of Fame, Los Angeles has the Grammy Museum, and Seattle has MoPop, a.k.a. the Museum of Pop Culture (formerly the Jimi Hendrix Museum/Experience Music Project), to single out a few of the American destinations devoted to honoring regional, national, and international music and musicians. Considering the wealth of talented singers, songwriters, and instrumentalists who have made their homes in the Bay Area or found fame here, it's nice to have a venue like the San Francisco Music Hall of Fame to acknowledge that rich history.
The set-up is simple yet impactful. It's a two-floor gallery space including 91 large-scale multimedia photo installations that showcase famous and influential artists such as Santana, Neil Young, Metallica, 2Pac, Sly and the Family Stone, Green Day, E-40, Stevie Nicks, Charles Brown, Dead Kennedys, the Kingston Trio, Huey Lewis, The Tubes, and the Flamin' Groovies. The shots are iconic images taken by renowned photographers. Each honoree has a plaque with biographical text alongside their photograph, as well as an audio tour component that can be accessed via QR code on most mobile phones. The appreciations were curated by longtime San Francisco rock journalist Ben Fong-Torres. Additionally, the walls are adorned with pithy quotes on the nature and power of music by respected musicians — sure to inspire fans and musicians alike.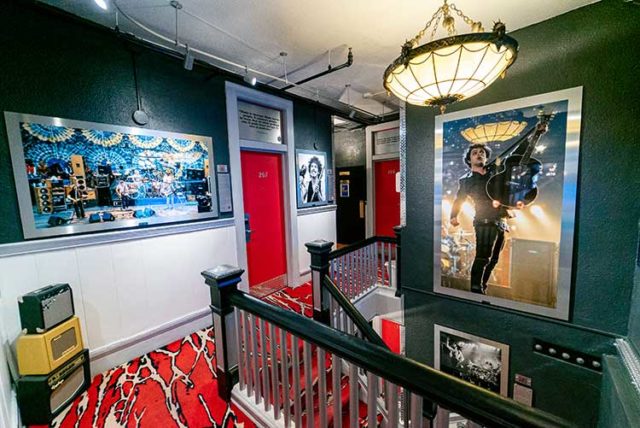 AN AMBITIOUS EXPANSION
The Music Hall of Fame and the hotel are just two elements of a Music City complex being constructed at 1353 Bush Street between Polk and Larkin, by San Francisco musician, real estate developer, and the building's owner Rudy Colombini. Some of the space had already been home to a number of rehearsal studios, so Colombini felt it was a natural progression to develop the adjacent hotel in tune with the people who were honing their musical skills on the property. Now, Colombini has something much more ambitious in store: an $11.6 million reconstruction of Music City into a five-story music incubator and hospitality complex.
The project finally got underway after almost a decade of planning, and Columbini says that all involved are aiming to complete the work by year's end. Although the Hall of Fame, the hotel, and a few of the rehearsal spaces are open and running, the bottom three floors of the building are currently being transformed into 23 fully equipped sound stage/rehearsal rooms capable of livestreaming and recording, a dedicated music education program with mentors for emerging artists, four separate venues for live performance, a full bar, and a restaurant specializing in Mexican cuisine. Already in place out front is the Music City Brick Walk that immortalizes 300 people and venues that shaped the San Francisco music scene.
Colombini is a lanky, energetic guy who's been playing on Bay Area stages since he was a kid in the late 1960s, starting out by sitting in with jazz saxophonist Jules Broussard, and still performing today as the lead singer of the Unauthorized Rolling Stones tribute band. In between, he's had his share of small triumphs. As part of the hard-rock group The Twist, Colombini had a song included on the soundtrack of the 1983 Francis Ford Coppola movie Rumble Fish, then he experimented with Goth rock in the ensemble Divine Comedy.
In 1998, Colombini collaborated with multi-instrumentalist Robert Berry to release an independent album under the name I Am, and "Under the Impression," a track from that record, scored impressive radio play on hundreds of classic-rock stations, despite the duo never touring. Berry went on to join 3, a prog-rock band fronted by superstar keyboardist Keith Emerson, while Colombini became more involved in his real estate holdings.
REALIZING A DREAM
Colombini's true passion could not be denied, regardless of his business dealings. "My heart is all music," he said during a recent conversation in the middle of the Music City construction site. "Although my days are lately pretty much all finance and real estate and that takes some time away from performing, my careers are dovetailing with Music City."
His dream is to a build a music hub unlike any other — one that will be an expediter and creative incubator to stimulate a local scene that has faced serious challenges. "Younger artists, the lifeblood of the music world, can't afford to live in San Francisco these days," Colombini said. "So many clubs have closed over the past decade, and the pandemic made it worse. And there are fewer and fewer affordable rehearsal spaces. But Music City will function as a cultural and musical epicenter for San Francisco, where musicians can come together and express their artistry and music fans can come and enjoy themselves."
Music City's audio and video systems will capture performances, and Colombini is lining up media platforms and producers to scout new talent. "If all goes as we hope, we'll be developing local artists into international legends," he said. Meanwhile, the Hall of Fame is there to motivate the next generation, while giving tourists and music enthusiasts an introduction to the giants of Bay Area music.
Note: Interested parties can join an escorted tour of the Hall of Fame and nearby rock-music landmarks, as led by knowledgeable guide (and musician) Blandina Farley at 4 p.m. daily.
S.F. Music Hall of Fame: Mon.–Sun. 11 a.m.–8 p.m., $12, 1353 Bush St., sanfranciscomusichalloffame.com, musiccitysf.org
Michael Snyder is a print and broadcast journalist who covers pop culture on Michael Snyder's Culture Blast, via GABNet.net, Roku, Spotify, and YouTube, and The Mark Thompson Show on KGO radio. You can follow Michael on Twitter: @cultureblaster