Potency and purity.
This is the motto of Dripp, where the raw essence of cannabis is preserved during a precise extraction process that yields some of the most robust terpene profiles you'll ever taste. The Dripp team has enhanced and streamlined the standard extraction process, resulting in a vaping experience that highlights potency, profile and consistency in a way that hasn't been done before. 
"Dripp is California's finest extract company," explains Daniel Gastelum, CEO of Dripp Extracts. "Throughout every step of our meticulous process we ensure that the essence of the cannabis plant is properly preserved. We utilize the highest quality raw material, the most cutting edge technological advancements, and proprietary methods to craft perfection."
The two p's at the end of Dripp aren't simply for enhanced verbal aesthetic, but rather, they are meant to represent their biggest goals as a company: Potency and Purity.
Dripp's purpose in the cannabis industry is to help it progress in a manner that both sets them apart from others in a manner most appealing to consumers and allows them to set vital precedents and trends that help the industry ultimately move in a more positive direction. With their purpose and their consumers in mind, perfection is the only acceptable standard of development and progression in the Dripp product lifecycle. To the team at Dripp, true perfection is when they have the same satisfaction from the connoisseur as they do from the first-time smoker and vice-versa.
Why embark on this goal? Because it's worth it.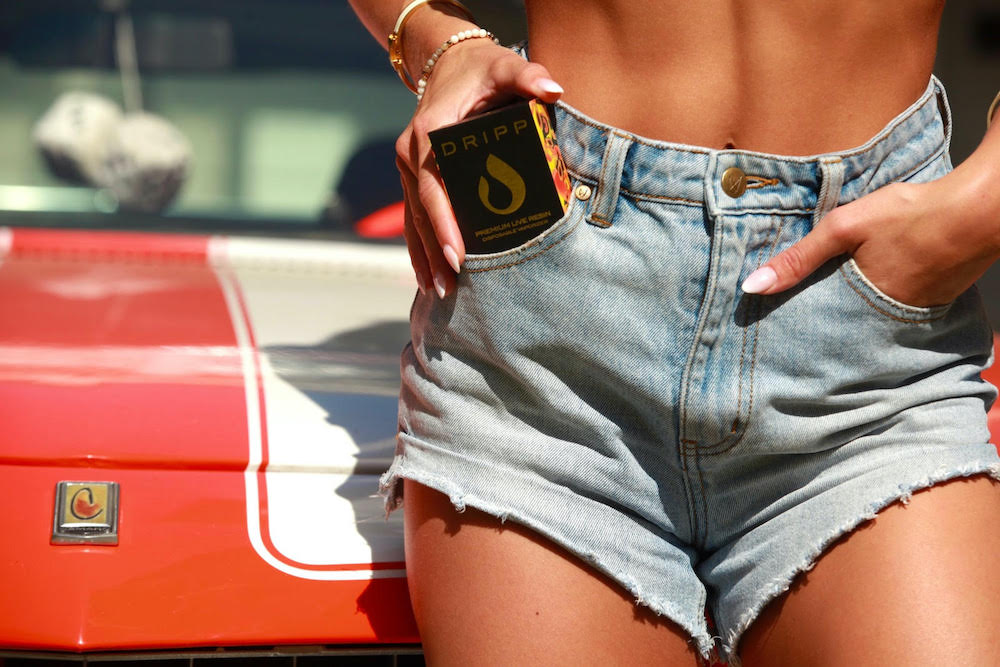 "To take flower a step further and enable the numerous cannabinoid components to be expressed in a way that truly captures their astounding qualities," answers Gastelum. "We've spent countless hours determining which approach honors this incredible plant appropriately. From the nostalgic aromas, the awe inspiring aesthetics, to the miraculous effects, it has been our mission to accurately capture those aspects."
All Dripp products are manufactured using a refined and incredibly precise series of extraction procedures that allow them to draw and derive the most from their premium-quality raw materials. After an initial quality control inspection of their finished bulk products, they are then transferred to their dedicated distribution assembly team, where the products are packaged and filled with utmost attention to detail and are then subjected to a strenuous round of quality control procedures to ensure a product that exceeds all expectations they may have.
"What sets us apart is our attention to detail, knowledge of the intricacy of cannabinoid profiles, and the relentless pursuit of providing the ultimate representation of purity," explains Gastelum. "We sought out to create products that are unmatched in quality and have achieved that goal. We have been a part of the culture for nearly our entirely lives and respect what it stands for. In order to truly honor that respect, we've focused all of our efforts to create extracts that exude the sensational traits cannabis has to offer."
For multiple decades, Dripp's network of experienced and dedicated farmers have been producing some of the highest quality, all natural premium cannabis grown on California's legendary soil. Dripp's extensive network of suppliers stretches from San Diego to Humboldt and their cannabis sourcing team makes frequent visits to all the farms they have relationships with to ensure top quality product from seed to sale.
Dripp vape products are the perfect blend of live resin and distillate delivering a delicious flavored and potent product to the consumer. Dripp believes that true quality is achieved through an elevated, purified extraction process, where time is taken to get the perfect product, every time.
"Considering that we are true connoisseurs, we've seen nearly every rendition of what the industry has to offer," says Gastelum. "Many of those products fell short of capturing the aromatic components, purity, potency and robust terpene profiles. We feel that our interpretation of concentrates honors cannabis ideally and are confident you'll share the same sentiment."
Dripp can be found in the following shops: West Coast Cannabis, Downtown Patient Group, The Vault Cathedral City, The Micro Buddery, From The Earth Santa Ana, and Hueneme Patient Collective. With more to come.
To learn more, check them out on Instagram @drippextracts