After a period of quiet due to the pandemic, international delegations from across the globe have resumed visiting the Bay Area and making stops at the Bay Area Council's historic Klamath ferry to engage with the local business community.
The ferry boat served as a primary method of transit from San Francisco to Oakland and San Rafael to Richmond in the early to mid-20th century, but was put out of commission in 1956 with the opening of the Richmond-San Rafael Bridge.
In 2020, it was purchased and renovated into an event space and headquarters for the Bay Area Council, a group that advocates for businesses in the Bay Area and Silicon Valley, and represents more than 330 employers. (A member of the BAC's Board of Directors Kevin Xu is also an investor in Marina Times.)
The Klamath has seen many international delegations over the past several months. When foreign governments organize business and investment trips to big American cities, they tend to be received by the chambers and economic development groups run by the metropolises.
"But the Bay Area is a bunch of cities," Alex Foard, senior director of global programs for the BAC, tells us. "So when governments come to visit, they don't know where to go for a panoptic look. The Klamath is one of the few places for them to get introduced to the whole Bay metro."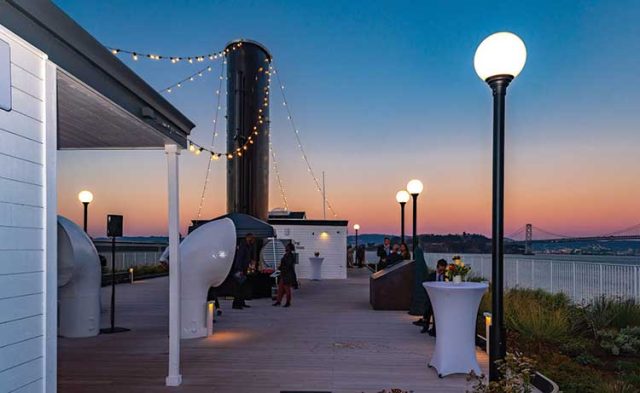 Economic interruption and travel restrictions from the Covid-19 pandemic caused these international visits to come to a grinding halt. But now with travel restrictions lifted and global economies humming again, delegations from across the globe are back in Silicon Valley.
The primary host for these delegations is BAC's Global Business Investment Committee, which receives visiting groups and informs them as to how to reengage with local businesses.
Since the start of the year, the Klamath has been a meeting place for a number of delegations — primarily foreign affairs ministries and departments of commerce — representing a slew of nations, including Israel, Canada, Ukraine, Ireland, the UK, China, India, Germany, Mexico, and Chile.
Foard says that the consistent schedule of these meetings is a product of the pent-up energy caused by the pandemic, with countries now eager to reenter the American market.
"The Bay Area is seeing a girth of international activity — it's open for business and our partners from around the world are coming back and wondering how to work in Silicon Valley again, and the Klamath is a destination for that activity," Foard summarized.
Feedback: [email protected]