Chef Traci Des Jardins is a local luminary in our food community. For 22 years she's been at the helm of several of the city's most popular restaurants including Jardinière in Hayes Valley, Mijita in the Ferry Building; Public House at AT&T Park; The Commissary in the Presidio; and now Arguello in the historic newly refurbished Presidio Officer's Club. Owned by the Presidio Trust, and overseen by Des Jardins with support from Bon Appétit Management, Arguello features contemporary Mexican food celebrating the cultural heritage of the former military base. The menu is also influenced by Des Jardin's own heritage — she learned to cook under the tutelage of her Mexican and French-Acadian grandparents.
But all you really need to know is that Arguello, which opened in early October, is a bustling, brilliant success due both to its fabulous menu and its homey yet stylish vibe. Seating 118 both indoors and outdoor on the heated patio — complete with a comal (griddle) for tortilla making — Arguello features a bar crafted from 125-year-old Douglas fir (salvaged from a historic Presidio building), original pendants and wall sconces, and modern chairs with woven leather straps inspired by traditional Mexican chairs.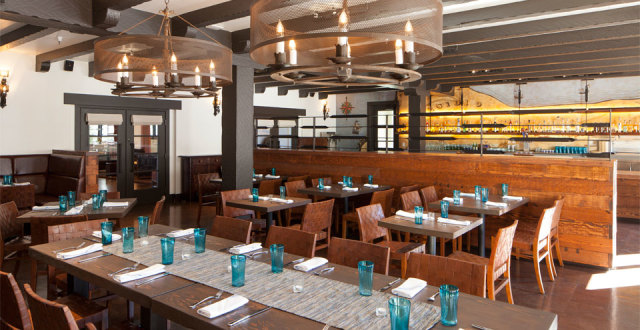 You can start your meal at Arguello with one of several craft cocktails — many featuring one of more than 50 types of tequila — or wine or beer from a menu with offerings from Spain and California. Then head straight for one of the classic Mexican starters such as chips and two salsas ($3.50) or chips and guacamole ($6). Soups and appetizers ($4.50–$12) on the dinner menu range from a traditional albondigas soup to a mushroom quesadillas with a tomatillo salsa; grilled fish tacos with cilantro mayonnaise and cabbage; and a little gem salad with radish, cilantro, cojita cheese, and pumpkin seeds.
Platos, or larger plates ($12–$18), are served with house-made corn tortillas and feature just four options: a vegetarian dish of roasted squash, onions, poblano chilies, queso fresco, and herbs; whole shrimp al ajillo (garlic sauce) and cilantro rice; chicken chile verde, also served with rice; and a caramel pork shoulder with orange-Serrano pico di gallo and cabbage salad — a standout dish. There are nightly specials as well. Sides are rice, refried beans, and spicy toasted pumpkin seeds. The dessert offerings ($4) are short and sweet with highlights being flan-caramel custard, paletas (frozen fruit pops), and chile-cinnamon chocolate truffles. A kids' menu is also available, and all of the smaller plates and sides are served at lunch.
Each plate at Arguello is appetizingly presented with plenty for two to share, and the flavors are familiar yet elevated beyond typical Mexican food by the deliberate combining of heat, texture and complexity. Des Jardins has said that she considers Mexican food to be her "soul food," and when she dropped by our table to chat about her new hot spot in the Presidio, it was clear that she has put her heart into these winning dishes.
Arguello: 50 Moraga Avenue 415-561-3650, arguellosf.com; Wednesday–Saturday lunch 11 a.m.–3 p.m., bar menu 3–5 p.m., dinner 5–9 p.m.; Sunday brunch 11 a.m.–4 p.m.