As foodies and culture junkies, it's no surprise that San Franciscans are consummate Francophiles. Last month's column focused on accessible French wine, and this month we turn to a brand-new, traditional French bakery located right on Chestnut Street.
Le Marais opened its doors July 2. And within just a few days patrons were buzzing in and out, stopping by for a cup of Stumptown Coffee Roasters' brew or an iced loose-leaf tea, but mostly to sample the exquisite array of French pastries, breads, tarts, and gâteaux (cakes) — the smell of which fills the air of this beautifully appointed shop.
Owners Patrick Ascaso and his wife, Joanna Pulcini, created Le Marais over the past year to fulfill Patrick's 30-year dream of owning a bakery. Originally from Paris with an American background in finance, Patrick pulled together a dream team of designers, bakers, and pastry chefs to create a Parisian patisserie in the heart of the Marina. Handcrafted from local redwood and repurposed Parisian iron, with soaring ceilings and bright skylights, Le Marais feels as light and airy as the brioche, pain au chocolat, and croissants on display.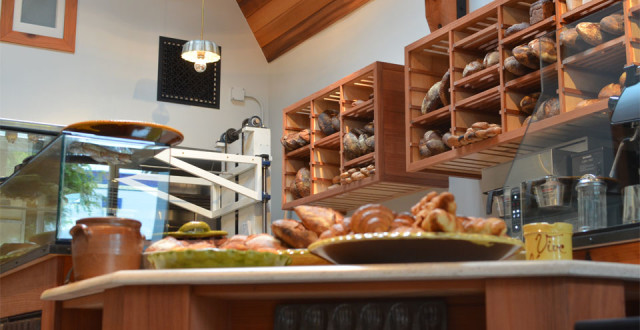 All you need to know is that Le Marais is the place for traditional French breads.
Ascaso turned to the team at San Francisco's renowned Paxton Gate to help design the space. He then searched high and low until he found head pastry chef Phil Ogiela (whose experience includes stints at Fifth Floor, Elisabeth Daniel, and Dandelion Chocolate), and head baker Justin Brown, imported from the Bien Cuit Bakery in New York. Together, along with their assistants, Ogiela and Brown blend locally sourced organic ingredients to create artisanal breads, cakes, tarts, madeleines, and viennoiseries (yeast-leavened baked goods that include croissants and brioche) using a long-fermentation, high-hydration process.
But all you really need to know is that Le Marais is the place to go for tasty, traditional French breads, including baguettes, country levain, wheat, rye, and pain de mie, and the aforementioned pastries and cakes, small and large. You can nibble on a petit fruit tartlette or little fruit-infused cake, or pick up a larger one for a dinner party, not to mention a lemon-ricotta Bundt or flourless chocolate cake. Even chocolate chip and oatmeal raisin cookies are on the menu, and if you want lunch, you can choose from several savory quiches and sandwiches, including that French standby, the croque-monsieur. Salads are also available.
Judging from the rave reviews from already repeat patrons, Le Marais has found a sweet spot on Chestnut to make a Parisian pastry lover's dream come true.
Le Marais: 2066 Chestnut Street (at Steiner), 415-359-9801, www.lemaraisbakery.com; daily 7 a.m.–7 p.m.