Rather than serve up my annual carafe of whine about the burden of compiling yet another best-movies-of-the-year list, I've accepted that it's in-line with my responsibility as a critic of popular culture to provide a consumers' guide to quality cinema. It can be a struggle to objectively assess quality when you factor in the subjective nature of personal taste, so I decided I could just note those films that I was certain would get Oscar nods. (No, that catalog wouldn't include Marvel's slammin' superhero trifecta of Captain America: Civil War, Deadpool and Dr. Strange, as much as I enjoyed them.) Then, I had another thought: What about great movies that somehow fell through the cracks or were released too early in the year to get the love many months later? I covered some of them in earlier columns: Don't Think Twice, Eye in the Sky, Kicks, Maggie's Plan, The Wave (Bolgen), etc. There were at least a dozen more movies released in 2016 that might or might not get awards recognition, but were among the finest I saw over the past 12 months. I'm spotlighting three of them, with more listed on this page. If you're inspired to seek out any of these selections, I will consider my work here to be done—until next January.
A BIGGER SPLASH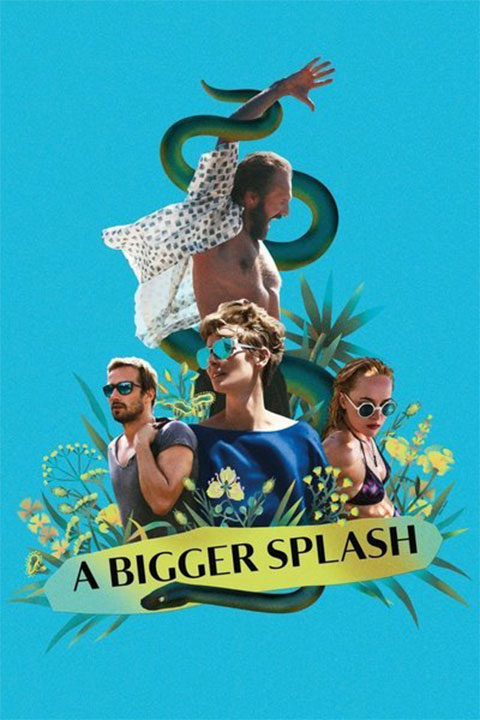 At the start of A Bigger Splash, a famous singer-songwriter and a filmmaker are vacationing on Pantelleria, an island off the coast of Sicily. But the surprise arrival of an old friend triggers mystery and drama in this beautiful, often thrilling movie that calls to mind the sun-kissed Mediterranean film noir of features based on the novels of Patricia Highsmith, such as The Talented Mr. Ripley and the more recent adaptation The Two Faces of January. Marianne Lane, played Tilda Swinton, is one of the biggest rock stars in the world—an androgynous amalgam of Bowie, Mick Jagger, and Chrissie Hynde. She's escaping the limelight and healing her vocal chords on Pantelleria in the company of her boyfriend Paul (Matthias Schoenaerts). But hotshot, arrogant record producer Harry (Ralph Fiennes), Marianne's former lover, unexpectedly shows up with his nubile daughter Penelope in tow, and chaos ensues. This exotic getaway—the sort that one would expect from a rocker and her consort in hardly-roughing-it mode—becomes a quiet battleground as sex, jealousy, manipulation, and the incipient threat of violence undermine the peace and tranquility Marianne and Paul had sought.
Director Luca Guadagnino previously guided Swinton through his lush, sexy European drama I Am Love, but their reunion on A Bigger Splash is even better. Swinton, ever the quirky iconoclast, is ideally suited to play the mercurial Marianne, and Matthias Schoenaerts makes for a fine partner and foil as Paul. A Bigger Splash also gives Ralph Fiennes the meatiest role he's had in a decade, and he responds with his most memorable performance in ages. Even Dakota Johnson, primarily known as the actress who landed the female lead in the uninspiring movie version of the erotic best-seller Fifty Shades of Grey, brings a sense of seductive danger to Penelope. To put it mildly, this is one project that should have made a bigger splash when it was released.
EVERYBODY WANTS SOME!!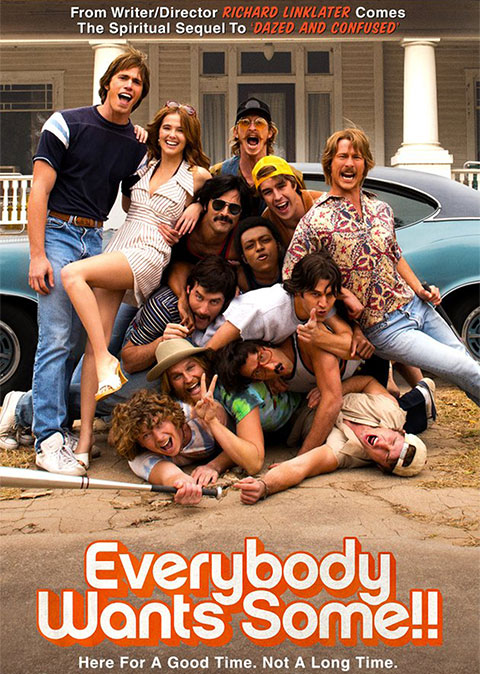 Writer-director Richard Linklater is one of my favorite filmmakers, and his latest effort, Everybody Wants Some!!, just enhances his status with me. It's sweet, honest, thoughtful, and naturalistic in its depiction of the weekend before fall-semester classes begin at a Texas college in 1980. Everybody Wants Some!!, which gets its title from a Van Halen song of the day, follows Jake—a bright, genial freshman who is slated to pitch on the school's vaunted varsity baseball team—as he gets acclimated to college life over this handful of days and nights, as he moves into one of two houses designated by school authorities as the official dorms for the ballplayers. In lively fashion, he meets his teammates, jokes, bickers, and parties with his new comrades at a succession of local clubs—disco, country, and punk-rock—and a big freaky party thrown by the school's art students. We even see the athletes practice once before the end of the weekend, and the interaction of all these distinct personalities is fun and fascinating. It's sort of like the measured, non-burlesque flip-side of Animal House.
Much like Linklater's first triumph Dazed & Confused, of which this is a "spiritual sequel," and his recent Oscar-winner Boyhood, Everybody Wants Some!! displays the filmmaker's capacity to see the beauty, depth, and human comedy in the ordinary occurrences of life and the exuberance, promise, and uncertainties of youth. Linklater and his young, on-the-rise ensemble cast make it so vivid and real. Special mention should go to the immensely likeable Blake Jenner as Jake, Glen Powell as the dryly witty, philosophical scholar-athlete Finnegan who takes Jake under his wing, and Zoey Deutch as the adorable theater major who gives Jake his first taste of college romance. As for the costume and hair people, they nail those occasionally odd and goofy fashions of the late '70s and early '80s. Plus you get nostalgia-fueling hits of the day. As the credits rolled, I already wanted more of Everybody Wants Some!!
SING STREET
Having already made a pair of music-oriented feel-good movies (including the Oscar-winning Once), Irish writer-director John Carney has struck all the right chords again with Sing Street—a perfectly charming coming-of-age story with the requisite comedy, drama, and teen romance. It's purportedly inspired by Carney's experiences growing up in Dublin during the 1980s when new wave dominated the pop music scene in the U.K. and Ireland, and rock videos were becoming the main promotional tool for rising bands. Conor (Ferdia Walsh-Peelo)—a smart, creative, nerdy 14-year-old—is miserable at home, where his parents are facing marital and economic problems, and is on the run from bullies at the rough school he's been attending since his family relocated from a nicer neighborhood. Plus, he has a crush on a fashionably trendy, super-cute older girl named Raphina (Lucy Boynton), who intimidates him.
So he does what he thinks will be his salvation: He starts a rock group with some of his fellow school outcasts and convinces Raphina to star in his homemade music videos. The kids who play Conor, Raphina, and their peers are crucial to the success of Sing Street, as are the old pros in the cast, including Jack Reynor as Conor's stoner older brother, Maria Doyle Kennedy as their mother, and Aidan Gillen as their father. And the songs that Conor and his bandmates perform are canny, catchy originals, not to mention believable evocations of '80s-style chart-toppers, proving fundamental to a movie about the transformational, inspirational power of music.
16 more movie gems from 2016 that are worth unearthing
Bang Gang: A Modern Love Story
Green Room
Captain Fantastic
Don't Think Twice
Eye in the Sky
Gold
Hunt for the Wilderpeople
Kicks
Land of Mine
Maggie's Plan
Marguerite
Midnight Special
The Nice Guys
The Shallows
The Wave (Bolgen)
The Witch
2016's 16 likeliest Oscar contenders
20th Century Women
Arrival
Elle
Fences
The Handmaiden
Hell or High Water
Hidden Figures
Jackie
La La Land
Lion
Loving
Manchester by the Sea
Moonlight
Silence
Sully
Zootopia
2016's 5 most animagical movies that aren't zootopia
April & the Extraordinary World
Kubo and the Two Strings
Moana
The Little Prince
The Red Turtle
2016's 5 most daring or delightful documentaries
Dark Horse
Holy Hell
The Lovers and the Despot
Tickled
Weiner