Recently I wrote a column called "Broadway Kaleidoscope," the Back Story about what I called the Golden Years of Broadway in North Beach. I said that in the 1960s — my Broadway's golden years — the street had a palpable, almost nonchalant ambience and was an exciting kaleidoscope of pleasures some might classify as naughty, but nice.
I believe that column got more favorable comment than any other I have written for the Marina Times. I described the restaurants, the jazz clubs, and the places I just hung out. Those who wrote me about the column recalled their own memories of those golden years. One reader stopped me on the street to praise the story. But he said I left out one of the bright spots that really made Broadway tantalizing in those days. It was called Finnochio's and was located on the second floor right above Enrico's. And, of course, he was right — Finnochio's, the saucy nightclub that featured female impersonators, was one of biggest attractions in North Beach.
GOLD RUSH ENTERTAINMENT
Female impersonation has a long history in San Francisco. It began right after gold was discovered at Sutter's Mill in 1848. Two years later a druggist, Dr. D.J. "Doc" Robinson, who liked to do comic impressions of prominent San Francisco citizens, opened a small theater on California Street near the Customs House. It was called the Dramatic Museum and seated 280 wild and raucous gold and entertainment seekers. It featured topical satire. Doc Robinson's partner in the venture, James Evrard, was a female impersonator and performed there. Also, in 1850, the Jenny Lind Theater opened above the Parker House Saloon on Portsmouth Square. Before it burned down a few months later, it featured Shakespeare's Twelfth Night — a comedy in which a male actor, playing a woman, pretends to be a man.
Our city has nurtured a long list of female impersonators in this hilarious journey through the years. So here, with a wild leap through time, let's land at Finnochio's, 506 Broadway.
RED HOT MAMAS
Joe Finnochio, an Italian immigrant, worked in his father's North Beach speakeasy. One night a customer who had tasted a little too much of the "sauce" provided by the establishment, performed a shaky but moving performance mimicking the legendary vaudeville singer Sophie Tucker who was billed frequently as The Last of the Red Hot Mamas. This gave Joe Finnochio an idea for Red Hot Mamas in drag that would continue to excite San Francisco for more than 60 years.
(And, by the way, the word "finnochio" — and that was Joe's real family name — is the Italian word for fennel, the licorice-scented bulb used frequently to flavor Italian cookery. A less salubrious and now antiquated definition of finnochio is what most of us now call "gay.")
Joe Finnochio opened his own speakeasy in 1929 at 406 Stockton Street. He featured a female impersonator as part of a floorshow. It was a modest beginning. When prohibition was repealed in 1933, he expanded it and then in 1936, exuberant with his success, moved to the Broadway location. There he began featuring elaborate productions with lots of pizzazz and glittery costumes. Despite San Francisco's tradition of risqué entertainment, there was a police bust shortly after the Broadway opening. Joe Finnochio was arrested for "keeping a disorderly house and selling liquor after 2 a.m." Apparently, the issue of the entertainers mingling with the customers was a no-no.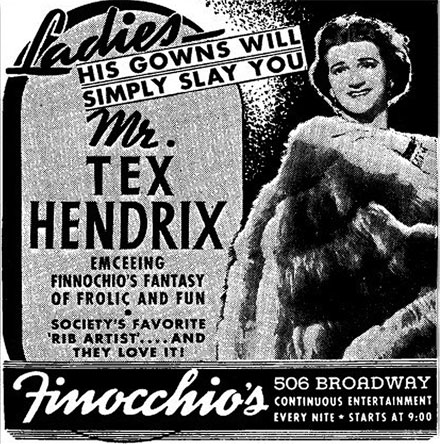 FINNOCHIO'S HEADLINERS
Joe promised to run his club in an orderly fashion — like a theater, he said. And down through the years he did, with scores of female impersonators appearing on his stage. Some became well–known personalities. Among Finnochio's headliners was Lucien Phelps, a Sophie Tucker expert who starred for 27 years. Another was Don McLean, whose stage name was Lori Shannon. He became known nationally after playing the Archie Bunker drag queen on TV's All in the Family. He had a great opening line to his Finnochio's act: "Welcome to Boy's Town. I'm Father Flanagan."
THE MASTER OR MISTRESS OF SURPRISE AND DISGUISE
A favorite was Charles Pierce, who had trained as an actor in the well-regarded Pasadena Playhouse. Pierce appeared in several New York Off-Broadway shows and in the early 1950s, he was doing comedy sketches and impersonations all over the country. He loved San Francisco and first appeared here at Ann's 440 Club in North Beach. Never approving of the title drag queen, he preferred to call himself a male actress. But for his Finnochio's performances he was billed as The Master or Mistress of Surprise and Disguise. In time, his routines included Jeanette MacDonald, Bette Davis, Tallulah Bankhead, Marlene Dietrich, Katharine Hepburn, Joan Crawford, and Carol Channing. Pierce died in 1999 at 72.
No one has been able to fill his high heels.
Carol Channing spoke at his funeral in North Hollywood and said, "He did Carol Channing better than I did."
Not only did locals flock to Finnochio's but visiting celebrities did as well. Bob Hope, Frank Sinatra, Bette Davis, and Tallulah Bankhead (the real ones) all made the scene. Howard Hughes escorted Ava Gardner to Finnochio's. There was a rumor in 1945 that Errol Flynn and David Niven had escorted one of the Finnochio's stars (Pussy Kat) to a suite at the Fairmont Hotel. Hollywood gossip columnist Louella Parsons got wind of it but her publisher forbade her to run the story.
WHAT A DRAG
Joe Finnochio died in 1986 at 88. His wife, Eve, kept Finnochio's alive until 1999. Citing a rent increase and dwindling attendance, she finally closed it, packed up the props, swept up the glitter, and retired to live with her memories.
Female impersonation had reached the mainstream. One no longer had to seek it out on Broadway.
When poet-painter Lawrence Ferlinghetti heard the news that Finnochio's had closed, he responded, "What a drag."