This is the third of a three-part series.
Here's an update from Parts one and two:
San Francisco narrowly missed becoming the film capital of the world. Perhaps it's just as well. The city has enough narcissism and other "isms" without being Hollywood by the Bay. Nevertheless, San Francisco, in fact most of the Northern California Bay Area, has had a long love affair with the movies.
Motion pictures were invented down on the Stanford Palo Alto farm (1878). The first public motion picture exhibition took place in San Francisco (1880). The first complete movie studio on the Pacific Coast was not in Southern California but San Francisco (1906). The classic western with the strong, silent cowboy hero was first developed across San Francisco Bay in Niles Canyon (1907). Movies in color were developed across the Golden Gate in Marin County (1918). The first talkie, The Jazz Singer, was filmed near Union Square (1927).
Ambitious and wanting a piece of the motion picture action, in 1902 four San Francisco brothers, Harry, Herbert, Joseph, and Earle Miles organized a company to rent films to exhibitors. This was a revolutionary idea at a time when exhibitors purchased movies directly from the manufacturers. In addition to their rental business, they formed the Miles Brothers Motion Picture Company. Soon they were making simple, single-reel travel films. Then, in 1905, planning to add fictional story lines to their films, the brothers built a complete film studio in San Francisco on Mission Street. Bad timing: April 18, 1906 changed everything. The catastrophic San Francisco earthquake and fire stopped motion picture making in Northern California for several years. Meanwhile, Southern California became dominant in filmmaking.
THE FIRST TALKIE
The year 1927 changed movies forever. It was the year of The Jazz Singer, the first motion picture talkie. It featured Al Jolson, son of a cantor, who ran away from home to join a circus, became a black-faced minstrel, and then a New York stage legend. In The Jazz Singer, much of it shot in San Francisco around Union Square, Jolson ad-libbed, "You ain't heard nothin' yet." It was true: From The Jazz Singer onward, film audiences heard more and more.
SOME SAN FRANCISCO FILMS
How many movies have been shot, at least in part, in or around San Francisco over the years? Who's counting? But here's an even dozen good ones on a personal short list: The Maltese Falcon (1941), All About Eve (1950), Pal Joey (1957), Vertigo (1958), The Graduate (1967), Bullitt (1968), Dirty Harry (1971), What's Up Doc (1972), American Graffiti (1973), Birdman of Alcatraz (1979), Basic Instinct (1992), and Mrs. Doubtfire (1993).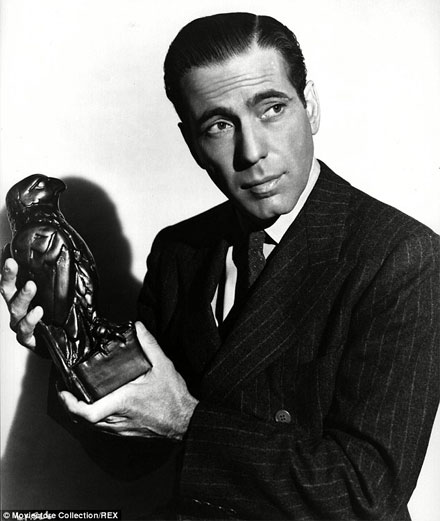 HOLLYWOOD BY THE BAY?
So why isn't San Francisco Hollywood by the Bay? What went wrong? Or, depending upon your viewpoint, what went right? Pioneers like D.W. Griffith, Mack Sennett, and Cecil B. De Mille favored Southern California for their filmmaking. Yes, the weather was good for outdoor shooting, and local booster groups did much to encourage filmmakers. A major consideration was the area's proximity to Mexico. Lawyers in the East were diligent about tracking down infringements against the Thomas Edison motion picture camera and projector patents, so the movie people could easily skip over the border for a while. Then the San Francisco earthquake and fire of 1906 put the skids to Northern California's ambitious moviemaking — at least for several years.
THE REAL HOLLYWOOD
So how did Hollywood get to be Hollywood? In 1887, Horace and Daeida Wilcot, who had migrated to Southern California from Kansas a few years earlier, bought 160 acres of fig and apricot orchards and planned to build a house and subdivide the rest. Mrs. Wilcot planted English holly bushes by her house and named the place Hollywood. In a few years, the movie people began arriving. D.W. Griffith was the first. An actor turned motion picture director, Griffith had 288 films to his credit by 1908 with the Biograph Company of New York. He rented facilities in the small, sleepy village of Hollywood in 1910. Mack Sennett, a Griffith disciple, soon was producing his famous Keystone Comedies nearby with Charlie Chaplin. Cecil B. De Mille, a stage actor of modest ability who had never directed a film, joined the pioneers. It was the start of what would become mythic Hollywood, the world's film capital. By 1915, film companies in or near Hollywood included Fox, Goldwyn, Metro, Paramount, United Artists, Universal, and Warner Brothers. San Francisco had been out-maneuvered, out-smarted, and out-gunned with some help from an earthquake and fire.
HOLLYWOOD IN SAN FRANCISCO
However, over the years, there was never a time when San Francisco was not a mecca for ambitious filmmakers wanting to produce films here, use the area as a film location, or for visiting movie stars up from Hollywood just wanting to dine out or hang out.
The area abounds with movie societies, organizations, and events: the Pacific Film Archive in Berkeley, the Bay Area Film Alliance in San Francisco, the San Francisco International Film Festival, the San Francisco International Lesbian and Gay Film Festival, the San Francisco Silent Film Festival, the San Francisco Jewish Film Festival, and others.
Today, while Hollywood cossets actors who want to become politicians and politicians who are acting, San Francisco offers — well, whatever San Francisco offers. The San Francisco Film Commission, overseen by City Hall, has a program to encourage filmmakers to film here. It has had considerable success and benefits the city in fees and the hiring of local talent and production personnel. Woody Allen's Blue Jasmine starring Cate Blanchett, who won an Academy Award for her role in the picture, worked here for more than a month. Many moviemakers and movie stars live and work in the area. Perhaps those producers, directors, actors, and technicians living here and only occasionally journeying to Southern California have the best of both worlds. They can immerse themselves in the Hollywood magic broth when and if they choose. If they don't, they don't. Among these are George Lucas, Francis Ford Coppola, the late Saul Zaentz, Phil Kaufman, John Korty, Sean Penn, Robert Redford (we are told he has a residence in Marin County), and the late Robin Williams.
Although shooting films in San Francisco has dropped off in recent years, these days, a week doesn't go by — so it seems — without a movie star sighting in San Francisco, a carefully choreographed car chase, a virtual bridge collapse, or a rogue detective trying to make someone's day.