It's the most wonderful time of the year — for journalists in the trend-predicting business, anyway. As a food writer, a restaurant critic, and a cook (I often write recipes for this publication), I look at trends in several ways. First, what are the chefs and restaurateurs likely to be doing this year? Second, what ingredients do I find myself gravitating toward? And what will be the forward focus of food on a cultural level?
Here, in no particular order, are my predictions for San Francisco culinary trends in 2016.
SAUCE SWAP
I've kept a bottle of Sriracha in my fridge for as long as I can remember. I use it in everything from my "Best Deviled Eggs" to a key ingredient in a marinade for slow-braised, crispy skin pork belly. Named after Si Racha, a coastal city in eastern Thailand's Chonburi Province, the bright red viscous sauce is made from chili peppers, distilled vinegar, garlic, sugar, and salt.
While I still love Sriracha, over the past year, I've been gravitating toward gochujang, a more pungent dark red paste favored in Korean kitchens. Made from red chili, glutinous rice, fermented soybeans, salt, and sometimes a little syrup or honey, I find the flavor, due to the fermentation of the soybeans, to be more complex than Sriracha, and yet the heat, while definitely there, is subtler.
LESS WASTED
Over the past decade, chefs led by pioneers like Chris Cosentino have realized what my Sicilian grandfather knew many years before: It's important to respect ingredients, and that means using the whole animal, offal and all. For the month of March 2015, chef Dan Barber's Blue Hill restaurant in New York City's Greenwich Village morphed into a high-profile pop-up called WastED, where a roster of notable chefs created nightly menus made entirely of discarded food from upscale restaurants, using ingredients such as stems, bones, peelings, and rinds.
The nonprofit End Food Waste Now estimates the average American restaurant tosses 150,000 pounds of edible refuse per year, from those bones and peelings to vegetables that aren't "pretty" enough for service.
In France, supermarkets are required to donate all edible food to charities. Here in San Francisco many companies donate food to organizations like Food Runners (foodrunners.org), which picks up perishable and prepared food from restaurants, caterers, bakeries, hospitals, event planners, corporate cafeterias, and hotels and delivers it, via a network of volunteers, directly to neighborhood food programs.
With an innovative culinary culture, I'm surprised the trend of serving "refuse food" hasn't already caught on in San Francisco, but I predict it will in 2016. Look for menu items like fish ribs (which I've had in New York City and can attest that they're deliciously addictive), juice pulp cheeseburgers, and cauliflower-stem gratins.
'GET THAT CAMERA OUT OF MY FACE'
It's hard to believe that Bravo TV's Top Chef, which debuted here in San Francisco, is in its 13th season. In fact, it's been on so long that they're running out of culturally significant food cities (the new season is a California road trip). I still think Top Chef is the best chef competition series, but "cheftestants" have become ubiquitous on television reality shows, with many chefs seeking fame rather than respect. Food Network, once a top cable lifestyle brand, has seen its ratings fall dramatically. Like many food writers, I blame the increase of chefs as game show hosts and travel guides, coinciding with the decrease in chefs actually cooking, for the precipitous drop.
Recently, I dined at Scotland Yard in the former Bin 38 space (3232 Scott Street, 415-872-6853, scotlandyardsf.com), a
British pub meets California cuisine mash-up that manages to make Victorian era furniture hip and chic (see New and Notable, page 13). I was blown away by the elevated yet honest cooking of executive chef Jason Raffin, who pours his heart into dishes like clam chowder with charred corn and butternut squash covered in puffed pastry; delicate tuna ceviche tacos with persimmons, watermelon radish, and avocado cream; and the Yard Burger with bone marrow aioli, aged cheddar, and cornichon rémoulade (which is quite possibly the best upscale burger in the city right now). When you talk to Raffin, his passion for cookery, for making everything that he can in-house (no shortcuts), for working with only the best and freshest ingredients, is a breath of fresh air.
I predict in 2016 that more chefs will follow their passion into the kitchen rather than the limelight.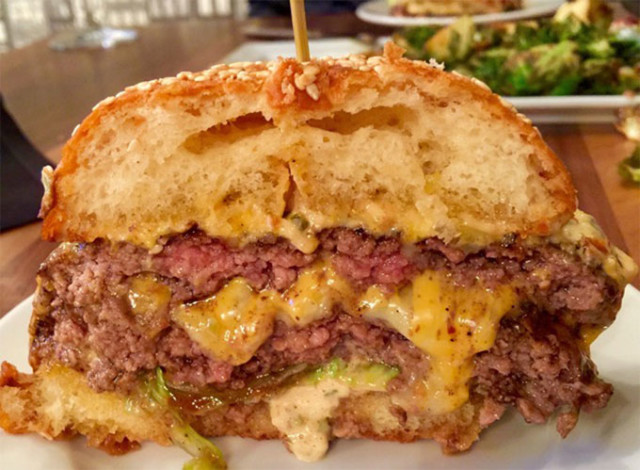 POKE BOWL BARS
I've always been a huge fan of Hawaiian food, so I'm glad to see its popularity rising, especially since the celebrated opening of Liholiho Yacht Club (871 Sutter Street, 415-440-5446, lvcsf.com). Liholiho started as a pop-up from chef and Hawaii native Ravi Kapur (Boulevard, Prospect) and, with help from Nopa partners Allyson Jossel and Jeff Hanak, became one of the hottest tickets in town when it opened as a restaurant in January of 2015. Kapur doesn't do traditional Hawaiian "loco-moco" (like my favorite, kalua pork over a bed of steamed cabbage with sides of rice and creamy macaroni salad), but rather what he grew up eating — simple, balanced food inspired by Chinese, Filipino, Korean, Japanese, and native Hawaiian flavors. One of Liholiho's most popular items is tuna poke (pronounced POH-kay), Hawaii's popular raw fish salad.
In San Jose, which has a large Hawaiian population, poke bars and fast-casual poke bowl restaurants are growing. At Poki Bowl (4750 Almaden Expressway, 669-247-7654, poki-bowl.com), they take the concept even further by allowing patrons to customize their poke (poke purists should stop reading here) by choosing their base (sushi rice, brown rice, or salad greens), poke (select three or four, including spicy tuna, salmon, octopus, shrimp, tuna, and yellowtail), and toppings (such as wasabi, ginger, seaweed, or fish roe).
With San Francisco's love of sashimi and newfound love of Hawaiian cuisine, I think poke bars could hit the city in 2016.
FARM-TO-SHOP BUTCHERY
Last August, I wrote about Belcampo Meat Co. (1998 Polk Street, 415-660-5573, belcampomeatco.com), a wonderfully classic but modern-thinking butcher shop and restaurant that sells meat from its own farm, located at the foot of Mount Shasta in California's Cascade Range. Certified as organic by California Certified Organic Farmers and as a humane handling facility by Animal Welfare Approved, the animals are pasture raised, meaning they're free to graze and express natural herd instincts.
Belcampo in Russian Hill is their sixth California outlet and features a restaurant serving lunch, brunch, and dinner alongside a butcher shop that sells beef, pork, poultry, sausages, jerky, bacon, and fresh eggs (among other things). With ever-increasing occurrences of food-borne illnesses like the recent E. coli outbreak linked to the Chipotle restaurant chain (more than 50 people from multiple states got sick) and salmonella linked to factory-farmed chickens and eggs, people are more concerned than ever about where and how their food is raised and sourced.
Supporting local, sustainable, humane, farm-to-shop butchery operations like Belcampo Meat Co. is a trend we need more of in 2016.