This is the first of a three-part series.
San Francisco narrowly missed becoming the film capital of the world. Perhaps it's just as well. The city has enough narcissism and other "isms" without being "Hollywood by the Bay." Nevertheless, San Francisco, in fact most of the Northern California Bay Area, has had a long love affair with the movies.
Motion pictures were invented in 1878 down on the Stanford farm in Palo Alto. The first public motion picture exhibition took place in 1880 in San Francisco. The first complete movie studio on the Pacific Coast (in 1906) was not in Southern California; it was in San Francisco. The classic western with the strong, silent cowboy hero was first developed in 1907 across San Francisco Bay in Niles Canyon. Movies in color were developed across the Golden Gate in Marin County in 1918. The first "talkie," The Jazz Singer, was filmed near Union Square in 1927.
All true. None of these "firsts" happened in Southern California. So in moviemaking parlance, let's cut to the chase.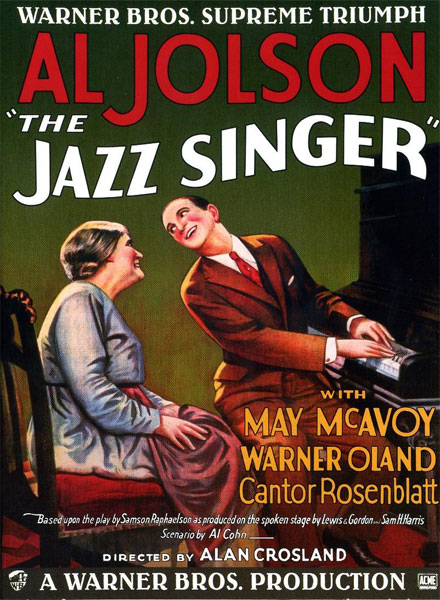 THE ZOOPRAZISCOPE
In the 1870s, railroad baron and former California Governor Leland Stanford made an intriguing wager with a friend that ultimately led to what we know today as movies. Stanford bet $25,000 that at full gallop all four of a horse's hooves are off the ground at the same time. All he had to do was prove it. On Stanford's Palo Alto estate in 1878, English-born photographer Eadweard Muybridge rigged a series of 24 cameras and set them to release their shutters in sequence when one of Stanford's thoroughbreds, Sallie Gardner, galloped by. The experiment proved two things. First, Stanford was correct in his assumption about galloping horses. But it was the second discovery that led to what we know today as Hollywood: Motion could be reproduced in a realistic fashion. Then Muybridge, with financial aid from an enthusiastic Stanford, constructed a primitive, sequential photo projector called the zoopraziscope. Muybridge presented the first public movie screening on May 4, 1880. It was held at the San Francisco Art Association Exhibition Hall, on Pine Street between Montgomery and Kearny and was called Illustrated Photographs in Motion. Admission was 50 cents. The show featured the thoroughbred Sallie Gardner and a gymnast named William Lawton. Sally was the precursor to Lassie; Lawton to Arnold Schwarzenegger.
THE NICKELODEONS
A few years later Thomas Alva Edison invented a more sophisticated and practical motion picture camera and projector and in 1893 at the Chicago World's Fair, spectators were charged a nickel to view Edison's lab assistant sneezing. Then in Paris in 1895, the French brothers Lewis and Auguste Lumiere, with their own version of motion pictures, exhibited a projection of a baby being fed and a train coming into a railroad station. Along came the Great Train Robbery in 1903, produced and directed by former Edison cameraman Edwin S. Porter. The film ran about 10 minutes and it had a story — a quantum leap forward for movies. To see it cost a nickel and it played in small halls that were becoming known as nickelodeons. That was the start of the great silent films, which continue to intrigue filmgoers today.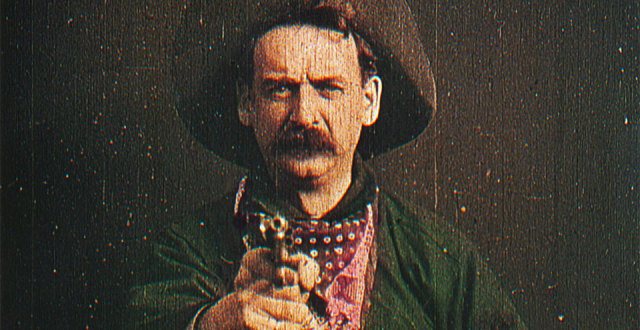 BRONCHO BILLY WESTERNS
Gilbert M. Anderson, a largely unsuccessful stage actor, teamed with George K. Spoor, a motion picture exhibitor and distributor in 1907 to form the Chicago-based Essanay Film Manufacturing Company. "Essanay" was selected from the initials of their last names. Anderson soon became a single reel film producer and director. Not satisfied with the quality of the actors, he began performing in his own films. He called himself Broncho Billy and became the forerunner of that most endurable motion picture hero — the stoic loner, the brave, sometimes shy, cowboy who fights evil with his six-guns, runs off the bad guys, saves the town, rescues the heroine, then mounts up and rides into the sunset. The classic western movie was born and Broncho Billy Anderson preceded a long line of western heroes: William S. Hart, Tom Mix, John Wayne, Gary Cooper, Clint Eastwood, and almost every other male movie star in film history.
Essanay shot most of its early, single reel films in Chicago. But Anderson, developing his cowboy western genre, soon was shooting in Colorado, New Mexico, and Southern California. Searching for the ideal Western location, he moved north, shot his movies in various Northern California locations and then found his way to Niles Canyon, now part of Fremont in the East Bay. Within a few years, Essanay in Niles Canyon had a complete film studio. As Broncho Billy, Anderson made hundreds of Western "flickers" in Niles Canyon, but cowboy films were not the only short movies that were shot there. Slapstick was popular with nickelodeon audiences and Ben Turpin, who had joined Anderson in Niles Canyon as a carpenter, became a comedian. Turpin turned a physical challenge, crossed eyes, into a comic asset. Later he joined Mack Sennett, whose Keystone Cops pioneered the wonderful slapstick silent films.
Others who made films in Niles Canyon or other San Francisco area sites include Charlie Chaplin, Buster Keaton, Wallace Beery, Mary Pickford, and Mabel Normand.
CHARLIE CHAPLIN THE TRAMP
Charlie Chaplin shot many of the scenes for five of his great silent films in or near Niles Canyon — A Night Out, The Champion, A Jitney Elopement, In the Park and The Tramp. Certainly, the most famous of these was The Tramp in 1915. It featured the unforgettable Chaplin character balanced delicately between whimsy and pathos: a bedraggled little man in a derby hat, tight cutaway coat, baggy pants, over-sized shoes with upturned toes, carrying a cane. Chaplin later explained the Tramp to Mack Sennett: "You know this fellow is many-sided, a tramp, a gentleman, a poet, a dreamer, a lonely fellow, always hopeful of romance and adventure."
In one early scene, he enters a hotel lobby and stumbles over a lady's foot. He turns to her and raises his hat apologetically. Then he stumbles over a cuspidor. He turns to the cuspidor and raises his hat to it as well. The Museum of Modern Art in New York City has in its Film Stills Archive a defining photograph of Chaplin as the Tramp, his back to the camera as he walks down a lonely road in Niles Canyon.
MILES BROTHERS'BAD TIMING
Ambitious and wanting a piece of the motion picture action, in 1902 three San Francisco brothers, Harry, Herbert, Joseph, and Earle Miles organized a company to rent films to exhibitors. This was a revolutionary idea at a time when exhibitors purchased movies directly from the manufacturers. In addition to their rental business, they formed The Miles Brothers Motion Picture Company. Soon they were making simple, single-reel travel films. Then, in 1905, planning to add fictional story lines to their films, the brothers built a complete film studio in San Francisco on Mission Street. Bad timing: April 18, 1906, changed everything. The catastrophic San Francisco earthquake and fire stopped motion picture making in Northern California for several years. Meanwhile, Southern California became dominant in filmmaking.
Correction March 12, 2015:
A fourth Miles brother, Joseph, previously omitted, was added, and the spelling of another brother was corrected from Earl to Earle.