Traveled to each oceans end
Saw all seven wonders, trying to
make some sense
Memorized the mantra
Confucius said
But it only let me down
Tried absolution of the mind
and soul
It only led me where I should not go
Oh and the answer well how
could I miss
Something as simple as this
Something as simple as this
— Simple As This by Jake Bugg
I grew up in the Valley of the Olive Garden, which sprouted numerous tech firms including a little company called Apple Computer, where I worked summers during college and eventually fulltime. When my mother and my boyfriend passed away just six months apart, I needed a change — a big change — so I moved with some friends to a flat in San Francisco's Haight Ashbury district.
San Francisco is a great place when you're young and idealistic and feeling immortal, but as you grow older it can wear on your soul. I was tired of fighting for parking, pushing through crowds, stepping over garbage, and waiting in lines. While wearing on my soul, San Francisco had lost its own. That was evident when I looked up to find well-heeled twentysomethings with iPhones attached to their ears waiting for the Google Bus at what used to be a quiet corner cafe.
THE BI-BAY LIFE
When my stepmother, Kickie, asked if I would move to her home in the bucolic Los Paseos neighborhood of South San Jose, I needed a change — a big change — so it seemed like a good idea. I sold my condo in the city, and Steve offered his apartment in the Lower Haight as a home-away-from-home. Now I had the best of both worlds. South Bay, San Francisco Bay … welcome to the Bi-Bay life.
Skylar had no problem adjusting to the suburbs. She loved the big backyard with squirrels and possums to chase along the fence, and on warm summer nights we could relax under the stars or have friends over for ribs cooked over mesquite on the custom-built brick barbecue. But as Skylar got comfortable, I felt restless. I missed the city and my city friends; I even missed the noise and the dirt and the hard edges. No problem. We had a 10-day trip scheduled.
Back in the city, I felt so comfortable that I wondered if I'd made a mistake. "What's wrong with me?" I asked Steve as we headed out for lunch. "Nothing's wrong with you," he replied. "I'm starting to hate living here, too." I laid on the horn as someone stole my parking space. "But I'm bored in San Jose." Steve smiled. "Sometimes it's good to be bored."
OPEN SPACE AND FARM LAND
Our first morning back in Los Paseos, I took Skylar for a hike along the trails of nearby Santa Teresa Park. As we dipped under a canopy of weeping willows, a family of deer appeared. Sky had never seen a deer, and I don't think I had ever seen one up close. "Just think of them as giant cats," I told my city dog. As we continued our hike, we came upon a clearing where we heard the gobble-gobble of wild turkeys and glimpsed a couple of jackrabbits. "Big squirrels," I told Skylar. At the top of the hill, we took in a 360-degree view of the Silicon Valley, the sun glinting off the shiny new buildings downtown. A red-tailed hawk checked us out from the branches of an old oak and a buzzard stared down as he floated effortlessly on the breeze. "Big pigeons," I said to Skylar, who cocked her head as if she understood.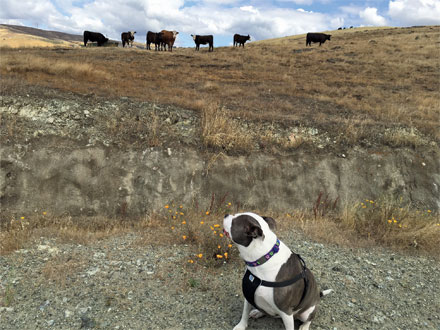 The next day I awoke excited for our next adventure. "What do you think, Sky? Shall we check out the Paseo?" Los Paseos got its name from the series of pathways that run between the houses, providing a lush, winding greenbelt which, when designed in the 1970s, was ahead of its time. While you only need to go a few miles for conveniences like Whole Foods or Trader Joe's, the entire area is surrounded by unspoiled farmland and rolling green hills anchored by Mount Umunhum (Ohlone for "resting place of the hummingbird"), the fourth-highest peak in the Santa Cruz Mountains. Open space conservancies and the water department own the land, so it will never be built upon (much to the chagrin of developers).
At the end of the Paseo, Skylar and I crossed the street and made our way up to a meadow blanketed in bright orange poppies straight out of the Wizard of Oz. As we walked along a well-worn trail, I spotted a herd of dairy cows sauntering over the hill, making their way to a water trough just across the ravine. "More giant cats," I told Skylar, who yawned, found a shady spot, and stretched out for a nap. "I think it's pretty cool that we live down the street from a herd of cows," I said. Skylar took a deep, contented sigh and wagged her tail ever so slightly. "Fine," I said in mock dismay, then I settled down beside my snoring pit bull to watch the clouds crawl slowly across the turquoise sky.