Recently my husband and I had the chance to travel to Spain and spend a month tasting and experiencing the best of what the country has to offer. Part two of the "Best of Spain" stories visits two different parts of the country to explore the wine and spirits — south of Barcelona in the east and the Andalusia region in the south. Upcoming installments will highlight places of interest from museums and fountains to churches and palaces.
PENEDÈS CATALONIA
From Barcelona, it's a quick 45-minute train ride south on a commuter to the small town of Sant Sadurni d'Anoia, home of Cava, Spain's sparkling wine. I reserved in advance for a tour and tasting at Pere Ventura. This well-established family-owned business thrives on farming sustainably with deep regard for the land, their community, and workers. The family has nurtured Pere Ventura since 1992, though their commitment to Cava is decades old: Pere's great grandfather produced one of the first Cavas in Sant Sadurni d'Anoia. Pere Ventura has received numerous awards over the years; the common trait among them is aging the wines from three to five years. The traditional method of making Champagne is employed in the production of their Cava.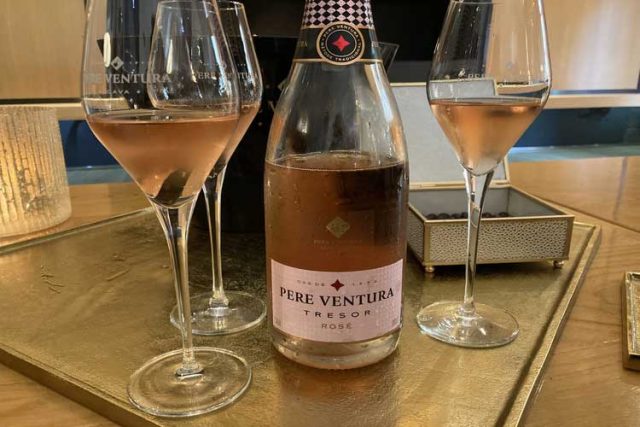 In addition to the verdant vineyards, production facilities, caves and cellars, and stunning main house, the tasting room, with its undulating ceiling, provides a fun environment in which to sample sparkling wines. During your visit, five Cavas are tasted and paired with local Spanish treats: Artisan cheeses, cured sausage and jamon (ham), and picos (mini breadsticks made exclusively from olive oil).
Pere Venture sparkling wines combine freshness and acidity that result in Cavas that are balanced and distinctive. Typical grapes include Macabeu, Xarel-lo, Parellada, and Trepat. These sparkling wines are available in this country and shouldn't be missed (check your favorite stores and restaurants): Tresor Brut Rosé, Vintage Rosé, Gran Vintage, Vintage Brut, Tresor Brut Reserva. Don't wait for a special occasion to savor Cava. Cava is meant to toast life every day.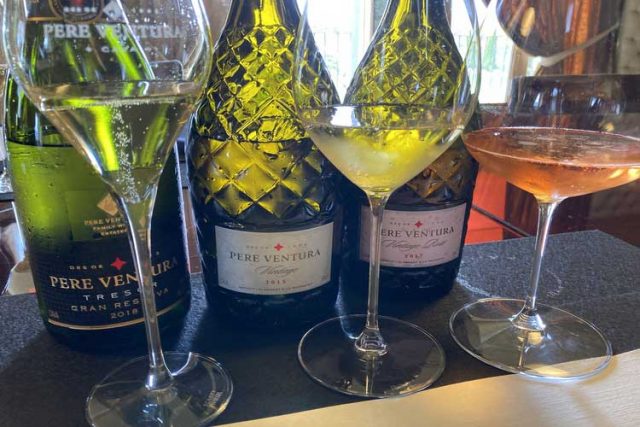 We also visited Can Bas, part of the Pere Ventura portfolio and just a short distance from the Pere Ventura property. We toured the historic land in the Penedès wine appellation that dates back thousands of years and even boasts a chapel (still used) from the 10th century. The property was acquired in 2011. The region is protected by the Mediterranean Sea and Montserrat Mountain Range. The location enhances the clay and limestone soils with a salty minerality that sets their terroir wines apart from others. Can Bas wines are grown organically.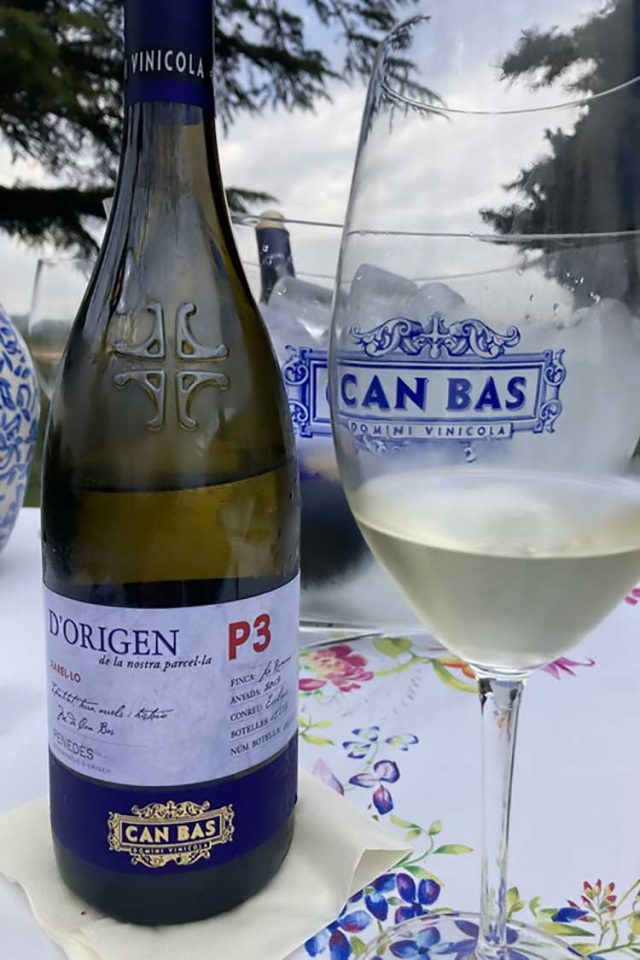 In the modern, airy tasting room, we enjoyed the D'Origen P3 2019 (100 percent Xarel-lo) and the La Capella 2016 (a blend of Syrah and Cabernet Sauvignon). Unfortunately, these wines are not available in the United States.
JEREZ DE LA FRONTERA
Jerez, as the town is commonly known, is located in Spain's southern Andalusia region. Famous for its sherry production, we headed straight to the largest producer: Bodegas Williams & Humbert.
Bodegas Williams & Humbert was established in 1877. Since then, they've used part of the original sherry and brandy (soleras) to form the base of subsequent sherry and brandy production. As a result of the "solaras system" the sherries and brandies are blended and aged, and the taste, color, and aroma are maintained.
The white Palomino grape is predominant in their sherry though Pedro Ximénez and Moscatel de Alejandria are also used. There is a layer of yeast (flor) that forms on top of the wine protecting it from spoilage and oxidation. There are seven styles of sherry, ranging from very dry to creamy and sweet: fino, manzanilla, amontillado, oloroso, palo cortado, cream, and Pedro Ximénez.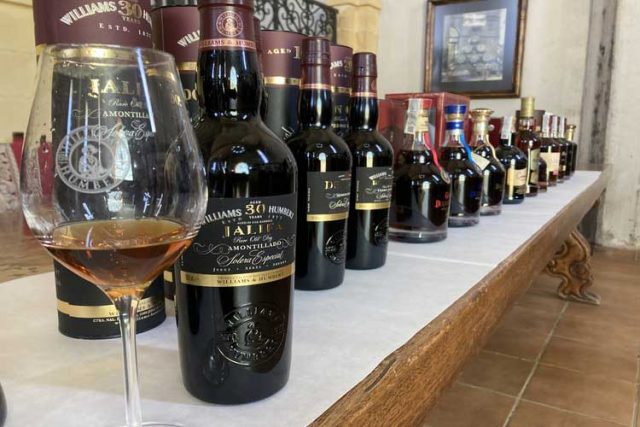 The physical space at Williams & Humbert is quite extraordinary: 18.5 acres under one cathedral-like roof making it the largest bodega in Europe. They've connected eight bodegas to enable the storage of over 60,000 barrels of sherry, brandy, and rum (which they enhance; more on that below). Microclimates flourish within the huge bodega — with the high roof, warm air rises to the top and doesn't affect the barrels. The sandy soil on the bodega floor absorbs the humidity and the large windows keep out the sun but allow in the cool air from the Atlantic Ocean.
The Williams & Humbert product line is extensive so we tasted those that are available in various restaurants and wine shops around San Francisco (Tadich Grill, BevMo!, Bix, and others). We started with their Dry Sack Medium Sherry, the flagship of the bodega. With its honey sweetness, it's 90 percent Palomino with a small amount of Pedro Ximénez.
Next up were these two Amontillados: A 15-year-old Don Zoilo that's unfiltered and bottled directly from the cask, as well as the 30-year-old Jalita that is bone dry.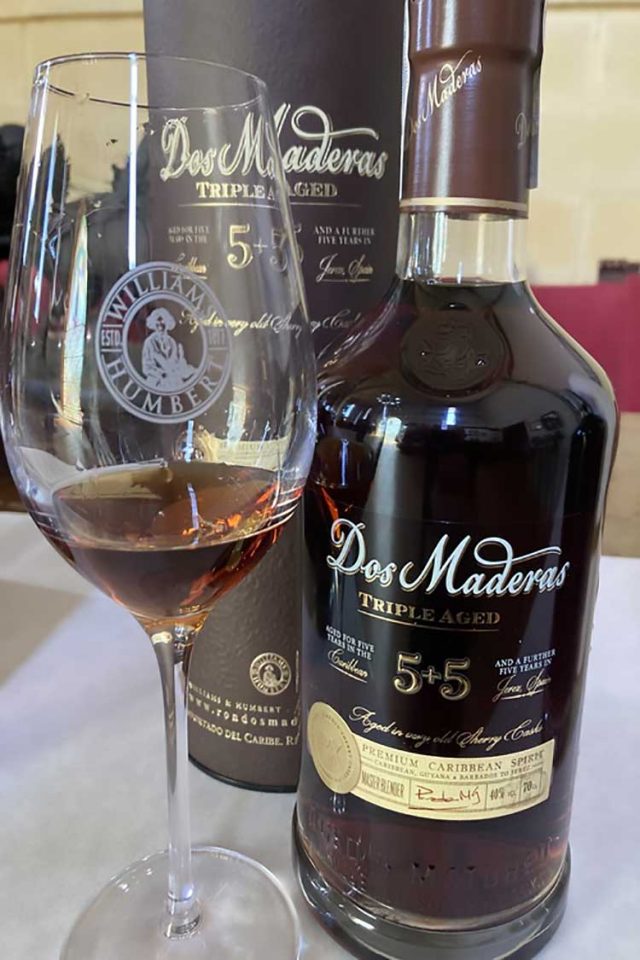 Williams & Humbert is also known for rum that is enhanced through additional aging in specially selected barrels. The Dos Maderas 5 + 5 rum is noteworthy with its triple aging process: Five years in old bourbon barrels in the Caribbean (wood from Guyana and Barbados) and five years in Jerez (in the solera systems of palo cortado sherry casks for three years and two more in the solera systems of Pedro Ximénez sherry casks). The rum is a standout.
Visit the Williams & Humbert site for the latest enotourism offerings.
OTHER ESSENTIALS
Patty Burness can be found on Twitter (@pattygb), Instagram (pburness), and reached by email at [email protected].