Recently, my husband and I spent a week exploring Oregon's spectacular north coast. It's an easy drive south on Highway 101 from Astoria to Nye Beach (130 miles). Along the way, we stayed in Astoria, Cannon Beach, Pacific City and Nye Beach (basically half way down the state's coastline). Each town has its own vibe — Astoria with river traffic, the artsy Cannon Beach, laid-back Pacific City, and serene Nye Beach. Discover miles of beaches, iconic sea stacks, artisanal products, and friendly locals. Find fishing, clamming, oyster harvesting and boat trips everywhere. Part One highlighted Astoria; Part Two follows the road from Astoria to Cannon Beach, and Part Three will focus on the final leg from Pacific City to Nye Beach.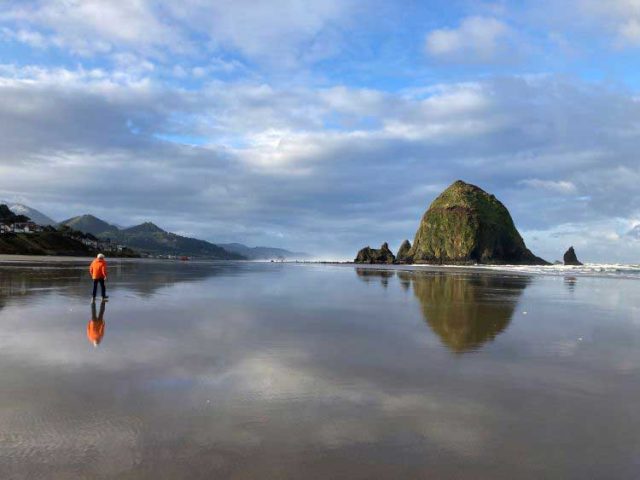 From Astoria, it's less than a 30 minute drive to picturesque Cannon Beach. Along the way, we encountered beautiful scenery and coastal vistas and explored historic forts.
Our first stop was to visit both the Lewis and Clark National Historic Park and Fort Stevens State Park. At the Lewis and Clark Park, find a replica of Fort Clatsop where Lewis and Clark and their expedition spent a brutal winter in 1805–6. Explore sites on the Columbia River and Pacific Ocean, take guided kayak and canoe tours (with admission to the park), and don't miss the Visitor Center. They even have outreach educational programs to schools around the country. Fort Stevens, at the mouth of the Columbia River, was once a military stronghold in use from the Civil War to World War II. Today, the 4,300 acre park has camping (including cabins and yurts), hiking trails, beaches, wildlife, in addition to the remains of the fort. There is even a historic shipwreck.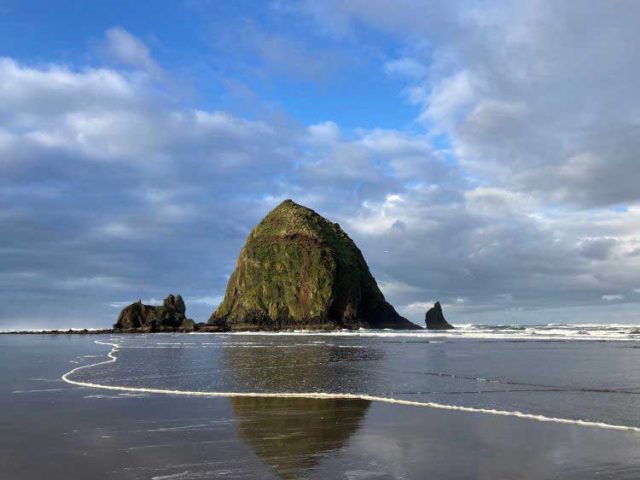 CANNON BEACH
Cannon Beach is an inviting, artsy community that welcomes all to its idyllic town and miles of beach. Find galleries, boutiques, and restaurants. Discover Haystack Rock, a massive stone monolith (third tallest in the world) on the edge of the popular beach. And from here, it's just a short drive to Ecola State Park with numerous hiking trails, lots of beach, and expansive grounds.
STAY
We stayed at the Surfsand Resort, right next to the beach with nonstop views of the Pacific Ocean and the extensive coastline and giant Haystack Rock. The three-story resort is perfectly situated to take full advantage of all that Cannon Beach has to offer.
Our comfortable king-sized room had just the right amenities: Extensive views, fireplace, mini fridge, and more, including a soaking tub and large shower. The resort even provides lanterns for walking on the beach in the evening or early morning. The real treat was the freshly baked cookies available in the lobby in the afternoon. Take advantage of the heated swimming pool and hot tub, as well as the fitness center with sauna. Grab a bike from the hotel to use during your stay for a spin around town or on the beach (hard sand only!).
In season, the resort offers amenities such as an ice cream social on the deck above the pool on Saturdays and nightly from about May through October (weather permitting). Staff will also build a bonfire on the beach and provide all of the ingredients for s'mores!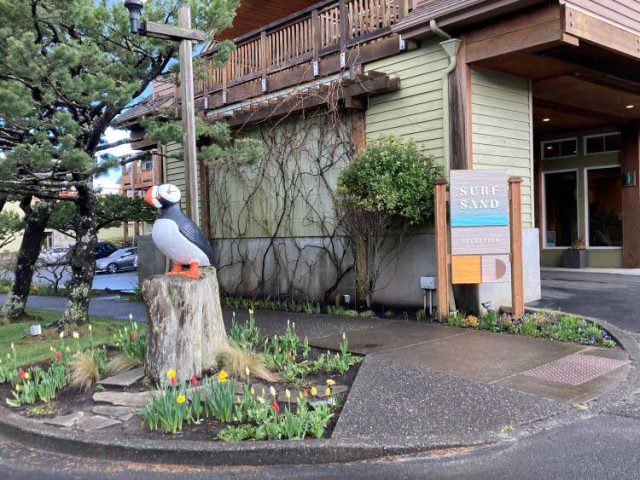 SHOP AND PLAY
It's an easy 15-minute walk from the resort to the center of Cannon Beach (you can also hop on the shuttle). Reminiscent of Carmel (including alleyways lined with small boutiques), find numerous art galleries and specialty shops; there's even a glassblower in town. Favorites include: Icefire Glassworks, the Oil & Vinegar Bar, C&R Mercantile, Basalt, Staghorn Mercantile and Salty Raven. Astoria's Pilot House Distilling has a second tasting room here. In town, we spotted a herd of Roosevelt Elk headed for the woods. They're known for enjoying the habitat of the Pacific Northwest.
Pilot House Distilling is part of The North Coast Food Trail (NCFT). The organization was created to help visitors appreciate the bounty of the area (NCFT is used throughout these articles to identify partners).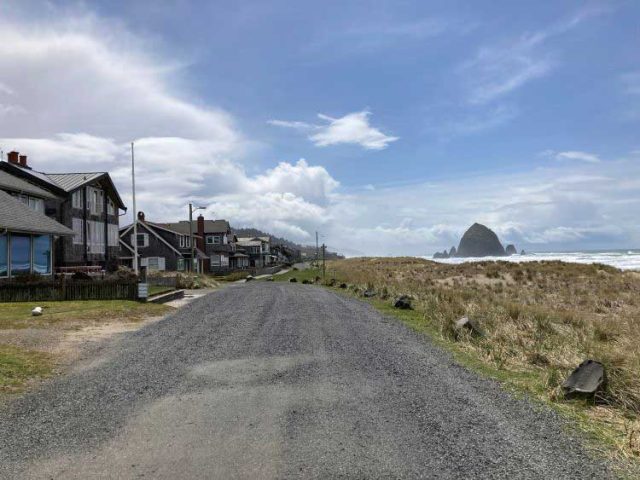 Haystack Rock is the local landmark that everyone talks about. As a part of the Oregon Islands National Wildlife Refuge, its natural habitat is protected. It's a popular home for tufted puffins and other birds as well as crabs, sea stars, and anemones in the adjoining tide pools. At low tide, get up close and explore.
It's a short three-mile drive north of Cannon Beach to Ecola State Park. Discover nine miles of coastline full of sea stacks and breathtaking views. Perched on the edge of Tillamook Head, it offers hiking trails, picnicking, and potential sightings of migrating whales, elk, deer, eagles, and more. On a clear day, spot Tillamook Rock Lighthouse. If you're up for surfing and lying on the beach, visit the park's secluded Indian Beach.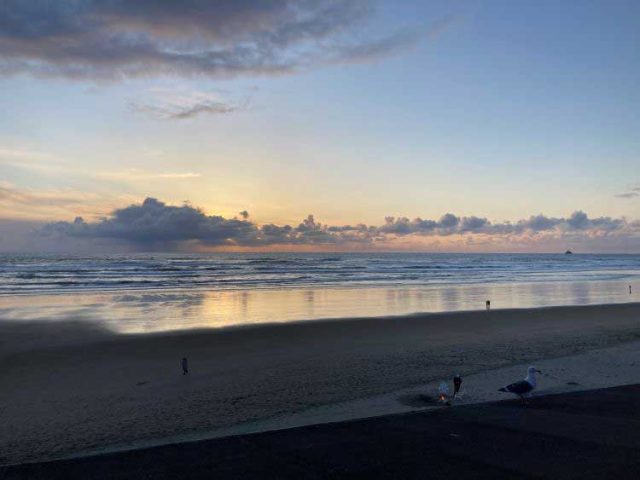 EAT
Just a block from the beach, Insomnia Coffee is the place to head for coffee and fresh-baked pastries. Get there early as the baked goodies are gone quickly!
Part of the Surfsand Resort (and right next door), the Wayfarer Restaurant (NCFT), is popular with locals and visitors alike. With views of the ocean and Haystack Rock, discover freshly caught seafood, grilled specialties, friendly service, and a relaxed vibe. Favorites include Oregon pink shrimp ceviche, steamed manila clams, clam chowder, and the crispy-skinned local salmon. Choose beer on tap from a Cannon Beach brewery, Pinot Noir from their array, or a specialty cocktail like the blueberry pomegranate tequila made with blueberry syrup crafted in-house. Save room for Haystack Heaven before you leave – chocolate buttermilk cake, milk chocolate mascarpone mousse, crushed toffee, and drizzled with warm chocolate ganache.
Ecola Seafood Restaurant & Market is owned and operated by a family of fishermen. Everything is literally fresh off the boat whether you choose Chinook salmon, wild halibut, luscious crab meat or whole cooked crab, steamer clams, and more to take out or savor at the restaurant.
OTHER ESSENTIALS
Oregon Coast Visitors Association
Patty Burness can be found on Instagram (pburness) and reached by e-mail at [email protected].