Isn't it exciting to live in a city that has such wonderful old restaurants?
I'm thinking of places like the Old Clam House, founded in 1861; the Cliff House, 1863; Sam's Grill, 1867; Fior d'Italia, 1886; the Tadich Grill, 1887; and Shroeder's, 1893. Those six, all founded in the 19th century, are among the oldest restaurants — not only in San Francisco but also in the entire country. And not that far into San Francisco's future were others that are still with us: Swan Oyster Depot, 1912; No. 9 Fishermen's Grotto, 1935; and Original Joe's, 1937.
Think of it for a moment. San Francisco has classic, old-school restaurants where you don't have to ask your waiter — with whom you are on a first name basis, of course — if the aspirin sauce served with the deconstructed liquid pea ravioli and freeze-dried pellets of olive essence is Bayer's or generic. That irreverent exaggeration may be over the top, but not by much. I'm not a lab animal in a science class, just a guy who wants to get a good meatball and some spaghetti or a plate of sauerkraut with a garlic sausage once in a while.
It seems the dining-out gods just aren't making my kind of classic, old-time restaurants anymore. When they're gone, they're gone. And when they go, I miss them like I miss the old-time saloons of yesteryear with their accompanying free lunch. I'm just an old-fashioned kind of guy, not a food fashionista.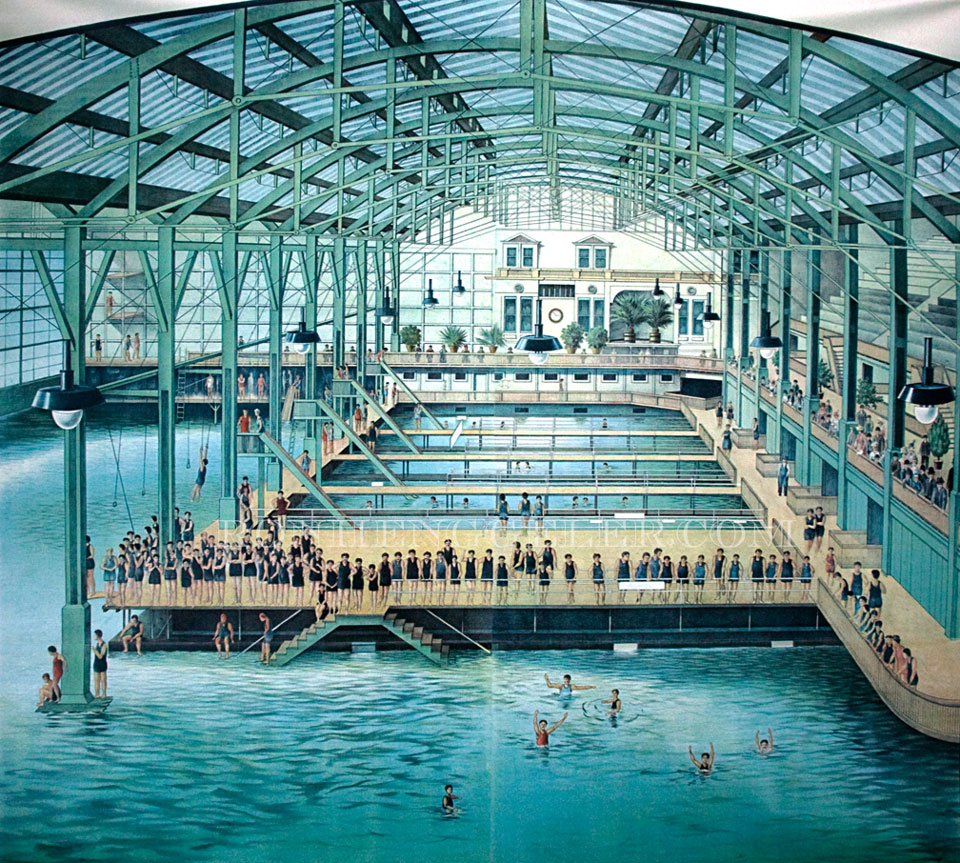 I was reminded of this San Francisco restaurant legacy the other day when I heard that the Cliff House — one of the true San Francisco landmarks — was celebrating its 150th anniversary this month. Imagine it: right there on a cliff overlooking the Pacific still operating after all these years.
A Swim And A Bowl Of Chowder
In the 1930s when I was a boy, my family lived out on Turk Street in the fog belt. Across the street were acres of sand. My father liked to swim. Summer or winter, he and I went by streetcar out to Land's End at Point Lobos, where he shared his passion for swimming by taking me to Sutro Baths, a massive, glass-enclosed Victorian amusement center where we paddled around in one of several heated saltwater tanks. But first we had to rent a swimsuit. That cost a quarter. They were black, scratchy woolen tank tops and bottoms. After we donned swimming "costumes" we ran through a classic Greek portal into a steamy enclosure the size of a dirigible hanger. There were slides, trapezes, springboards, and a high-dive platform. It was balmy with tropical plants everywhere. We pinched our noses and took the plunge feet first. Who cared what the weather was like outside?
And after our swim we walked to the adjacent Cliff House for something warm, usually a white china bowl of clam chowder, which, as I recall, also cost a quarter. It was unctuous, New England chowder, rich with clams — a creamy, sweet butter memory that comes back to me like a briny tide. My dad and I sat side by side, stared out at the fog-bound Pacific and talked about China, which was just over the horizon.
Destroyed By Fire And Rebuilt
The Cliff House traces its history back to 1858. Samuel Brannan, a Mormon printer who became the editor of the California Star — San Francisco's first newspaper — built it with salvaged lumber from a vessel that had foundered on the rocks below the site.
In 1863 it was rebuilt and leased to Junius G. Foster, who operated the Cliff House for the carriage trade and provided meals and even accommodations. In 1881 it was sold to Adolph Sutro, a wealthy, Comstock Lode mining engineer and later mayor of San Francisco. He also built Sutro Baths that same year.
The guest register of the Cliff House included three U.S. presidents and prominent San Francisco families such as the Hearsts, Stanfords, and Crockers.
That Cliff House was destroyed by fire in 1894. Sutro rebuilt it as a giant, seven-story French chateau below his estate on the bluffs of what we know today as Sutro Heights. It survived San Francisco's catastrophic 1906 earthquake and fire only to burn to the ground the following year. Then, in 1909 it was rebuilt in a simple, neoclassic manner and became a San Francisco landmark. Current proprietors are Mary and Dan Hountalas. They leased the property in 1973 and became co-owners a year later.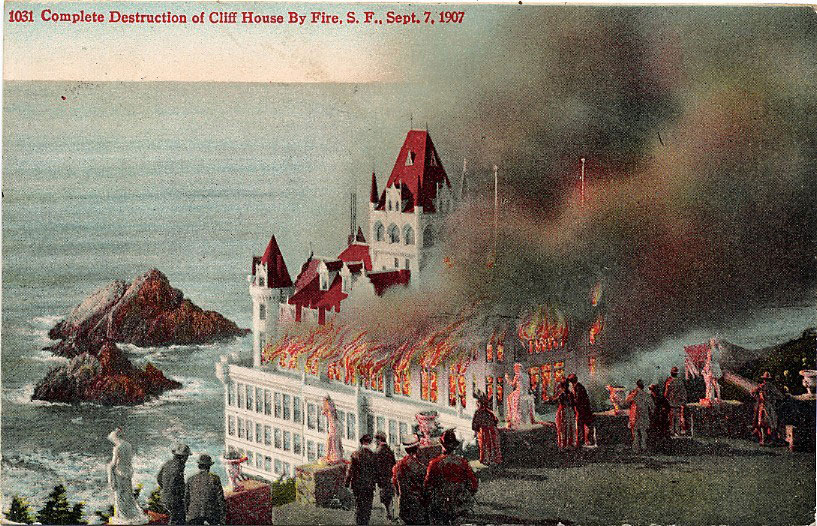 Sutro Baths finally burned down in 1966 and is now a stark ruin with lots of memories lurking about. My father and I stopped going to Sutro Baths in 1937 after its conversion to an ice skating rink. But we continued to take the streetcar out to the Cliff House for the clam chowder and sometimes for that San Francisco classic, the crab Louie, always a special treat for me. I loved the slightly nutty flavor of the fresh Dungeness crab topped with a tangy mayonnaise and chili sauce dressing. Just who Louie was is lost in history, but as early as 1914 Solari's downtown on Geary had it on the menu.
A Toast To The Cliff House
These days the Cliff House is really two restaurants. One is Sutro's in a dramatic wing of the building with panoramic ocean views. Seal Rocks is just offshore and the Sutro Baths ruin is nearby. Sutro's restaurant, open for lunch and dinner, features seafood dishes like pan-seared scallops, local oysters on the half shell, and bouillabaisse.
The second Cliff House restaurant, the Bistro, open for breakfast, lunch and dinner, also has views of the Pacific and offers many of the old Cliff House specials — omelets, clam chowder, steamed clams, and my favorite, the crab Louie with that pink, tangy dressing.
The Bistro is reminiscent of the original Cliff House where I dined as a boy. I still go there occasionally for the clam chowder and to recall those boyhood outings with my father.
So let's raise a glass to the old Cliff House. Then let's raise another to the Old Clam House, Sam's Grill, Fior d'Italia, the Tadich Grill, Shroeder's, and those other San Francisco classics. May they go on forever.