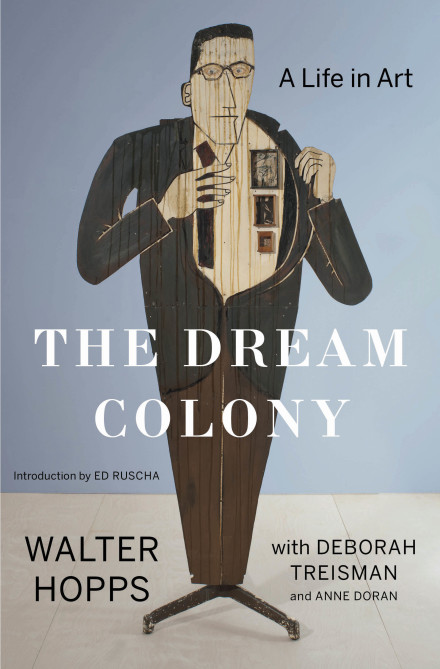 Many of us can't remember a world where Andy Warhol's soup can paintings and Roy Lichtenstein's ben day dots weren't a ubiquitous part of modern art's visual landscape. Once in a while a book comes along to remind us the images we now take for granted were at one point seen for the first time. To look at something new and understand it will someday become an accepted part of the art world requires a visionary.
The Dream Colony: A Life in Art is such a book, a memoir by curator and museum director Walter Hopps (with Deborah Treisman and Anne Doran). Hopps was an eccentric raconteur. He was so often late that the staff at the Corcoran Gallery in Washington, D.C. (where Hopps was the director in 1970) wore buttons that said, "Walter Hopps will be here in 20 minutes." He didn't set out to write an autobiography in the standard way. Recorded interviews between art writer Doran and Hopps make up a great deal of the narrative that shapes the book. What emerges is a portrait of a frenzied, fevered mind obsessed with art and, as Ed Ruscha remembers in the introduction, Hopps was acting as a change agent, bridging the seemingly impossible gap between artists being artists and artists having a career in the arts.
Born in the Los Angeles area in 1932, Hopps also died there in 2005. He studied at Stanford University and UCLA before forming the legendary Ferus Gallery during the late 1950s Los Angeles scene. Along with artist Edward Keinholtz and poet Bob Alexander, the Ferus Gallery was the first West Coast gallery to present a solo show of Andy Warhol's paintings. Hopps went on to become curator and then director of the Pasadena Art Museum (now the Norton Simon Museum) at just 31, making him the youngest art museum director in the United States. There he organized one of the first Pop art exhibitions called New Painting of Common Objects as well as the first retrospectives of artists like Marcel Duchamp and Kurt Schwitters.
Though the book isn't exactly an art history lesson, Hopps's personal anecdotes manage to intersect with major players in the 1960s art world in a way that's entertaining and readable. The anecdotes include firsthand accounts of the unhurried charm of Marcel Duchamp; the introduction of Warhol to Dennis Hopper (via Hopps, of course); the cautious introversion of Joseph Cornell, the multimedia inventions of Wallace Berman; and the entrepreneurial drive that connected Hopps's creative circle to the art-buying public. These episodes capture the curator as a maverick storyteller of contemporary art, and Walter Hopps brings a zany charm to the place where art meets commerce.