Eighty years ago, an ambitious, young knockabout with a wooden leg opened a saloon in a wooden shack on San Pablo Avenue in Oakland. The saloon and the young man both went on to become famous. He became an international celebrity like the celebrity clientele that later favored his restaurants. He created a new and highly popular cuisine and opened a string of restaurants around the world.
The man was Trader Vic, who was born in San Francisco in 1902. He was the son of a French-Canadian waiter who worked at various times in the Ritz Old Poodle Dog restaurant and the Hotel St. Francis and later opened a small grocery store in Oakland. His mother was from the French Pyrenees. When Trader Vic — Victor Jules Bergeron Jr. — was 6, a childhood accident left him with tuberculosis of the knee and his left leg was amputated. Not coddled, he was an active youth who was taught not to consider himself handicapped, merely inconvenienced. In November 1934, he opened his saloon with $800 borrowed from an aunt.
HINKY DINK'S
At first, the shack accommodated only about 30 blue-collar workers from the neighborhood. Prohibition had just been repealed. People were thirsty. The country was in the midst of the Great Depression. Times were hard, and Vic served cheap but good French country food. Beer was five cents. He called the new venture Hinky Dink's for the World War I tune "Mademoiselle from Armentiéres" that had a line "Hinky-dinky parlez-vous." His father and mother were excellent cooks, and Vic learned the basics from them. Soon, Hinky Dink's was attracting a hungry San Francisco clientele that was finding its way to Vic's San Pablo Avenue dive.
When it had been open only two years San Francisco Chronicle columnist Herb Caen heard about the Oakland sensation. He became a regular and reported, "[t]he best restaurant in San Francisco is in Oakland."
In those days, Vic, in his mid-30s, was a gregarious, salty-mouthed, high-spirited scamp. He poured outrageous drinks like a strange concoction of milk, bananas, and rum called a Banana Cow. He sang in a gravelly voice and did card tricks. On occasion, he came out from behind the bar, gained the attention of his customers and stuck an ice pick in his wooden leg.
TRADER VIC'S
His penchant for trading meals for goods and services had earned him the nickname the "Trader" and he changed the name of the joint to Trader Vic's. One is tempted to add — "the rest is history."
The design theme to Hinky Dink's was funky-rustic. On the walls were snowshoes, deer heads, hunting equipment, newspaper clippings, and old photos. Unmatched tables and chairs and a pot-bellied stove set the stage. By 1937, Vic was tiring of funky-rustic. He was about to go Polynesian: shrunken heads, ship models, fishing nets, tiki dolls, and tapa cloth. The new cuisine was a Cantonese-Polynesian hybrid. Vic expanded his repertoire of exotic drinks, most based on rum and strong enough to peel paint off the walls if there had been any paint. He had a "Chinese" oven built to his own specifications, which he said — with typical chutzpah — dated back to the Han Dynasty. And he developed a secret sauce of soy, ginger, and whatever, to coat the meat that would be barbecued in the oven's brick-lined interior.
The Trader himself was becoming a legend as a South Seas roustabout. He lost his leg in a shark attack, many believed.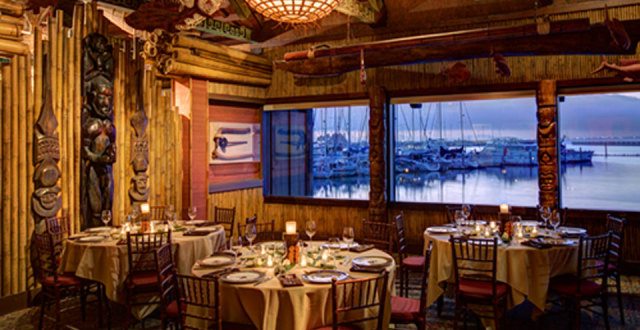 FUNKY AND ELEGANT
Trader Vic's became hot and extraordinarily successful. The completion of the San Francisco-Oakland Bay Bridge in 1936 and the Golden Gate International Exposition on Treasure Island in 1939–40 brought a new customer base. Vic opened a Trader Vic's in Seattle. Other locations soon followed.
But it wasn't until 1951 that Vic decided to open in San Francisco. He discussed it with Herb Caen: "Kid, you think I can make it over there?" Caen answered, "What's the problem? Most of your customers are from San Francisco." Vic found a tin-roofed garage in Cosmo Place, between Taylor and Jones Streets. He hired San Francisco architect Gardiner Dailey to design a kind of South Sea Islands movie set and told him, "When you get through turning this into a restaurant I still want it to look like a shed." Dailey turned out a delicate mix of funky and elegant.
AND A SHRUNKEN HEAD
Trader Vic's entryway was lush with tropical plants and led to an opulent, narrow hall. Glass cases ran along both sides with South Seas artifacts, tiki dolls, and yes — a shrunken head. At the far end, customers encountered not Trader Vic himself, but Michael Gutierrez with the open reservations book before him. Gutierrez was more than a maître d'hôtel. He was keeper of the Trader Vic flame — a former marine with the toughness of a gunnery sergeant and the charm of Cary Grant.
Once past Mike Gutierrez, guests were ushered into one of three dining rooms —the Tiki Room, the Garden Room, or the exalted Captain's Cabin with plush, red leather banquettes. A long, polished bar flanked it where skilled barmen dispensed those Trader Vic-created rum drinks like the legendary mai tai that he created in 1944. This inner sanctum was presided over by maître d'hôtel Hans Brandt. If Mike Gutierrez had the charm of Cary Grant, Hans Brandt, with suave leaps and bounds, was the Mikhail Baryshnikov of the Captain's Cabin.
The food was terrific. Barbecued spareribs, crab Rangoon, bongo bongo soup (an unctuous puree of oysters and spinach), the Cosmo salad (sliced artichoke bottoms, mushrooms and celery with a mustard dressing), and Indonesian lamb roast with Javanese sate sauce.
Soon, the tin-roofed shed was receiving international publicity and attracted the affluent social set much like New York's cafe society but with raw-boned western élan. In the mid-1950s, it was the place to go and the place to be seen. The United States government selected it as the Official United Nations Entertainment Center in the Bay Area, making it the restaurant for foreign dignitaries and prominent visitors. United States presidents, movie stars, sports figures, authors, opera stars, locals from old families, debutantes, college students and their dates all flocked to Trader Vic's. In 1983, Queen Elizabeth II dined there when she visited San Francisco. It was the first, and to that time, the only public restaurant the queen ever visited.
NOT A FATHEAD
Trader Vic, earlier an ebullient, friendly man, began moving from irrepressible to irascible. But the more he exhibited his rough manner or shunned his prominent guests, the more they flocked to his restaurant. Vic had a towering ego that he acknowledged. He said, "Ego is good for the soul. But too much ego turns you into a fathead." Most agreed Vic was egotistical but not a fathead. He was prickly, profane, gruff, charming and, at times, even somewhat boyish.
When Vic arrived at Cosmo Place in the morning, he stumped through the dining rooms and kitchen greeting everyone like an angry warlord, then disappeared into his small, crowded upstairs office. He usually preferred to have a simple lunch there and called in one of the Chinese cooks and discussed what he might enjoy, perhaps leftover roast lamb with beans or shredded cabbage, lightly fried.
Only occasionally would he descend to sit for a few minutes with a special customer. On those occasions, he was fond of pulling his artificial limb from under the table and saying: "Let me tell you something, don't ever get one of these things unless you really need it."
THE PARTS WORE OUT
He developed other interests. He painted, and his work found ready collectors and commanded top dollar. He became a sculptor. In 1979, he completed a granite monument that was placed on Angel Island as a tribute to the Chinese and other Asians who journeyed to California to build a new life and between 1910 and 1940 were detained at the Angel Island Immigration Station.
In 1984, Victor Jules Bergeron Jr. died. Earlier he had lost a lung and had a stroke. "The parts were wearing out," he said.
Trader Vic's on San Francisco's Cosmo Place closed in 1994. The times had changed. Alice Waters had become an international food icon. Her Berkeley restaurant Chez Panisse was riding high. Jeremiah Towers signed in with his chic restaurant Stars and San Francisco society discovered it. The children of San Francisco socialites no longer considered it a rite of passage to have a wallop of rum and tropical fruit juices followed by dinner at Trader Vic's.
Nevertheless, more than a dozen Trader Vic's restaurants still exist in the United States, Europe, Asia, and the Middle East. The mother ship is across the bay in Emeryville where mai tais still abound.
Editor's note: A different version of this story appeared previously in Saveur magazine and the Nob Hill Gazette.