Although the Monterey Coast is breathtaking and Carmel-By-The-Sea is idyllic, there is a whole other side to Monterey County that shouldn't be missed — the Santa Lucia Highlands (SLH) wine region in the lush Salinas Valley and laid-back, dog-friendly Carmel Valley Village with its tasting rooms, restaurants, galleries, and shops.
From San Francisco, it's 101 South to SLH country, where in the morning, you may find cool fog, and in the afternoon, the wind may pick up. From there, it's less than an hour into Carmel Valley Village, nestled on the west side of the Santa Lucia Mountains, where it's usually warm and sunny during the day and cool at night. There's plenty to do for a fun weekend getaway.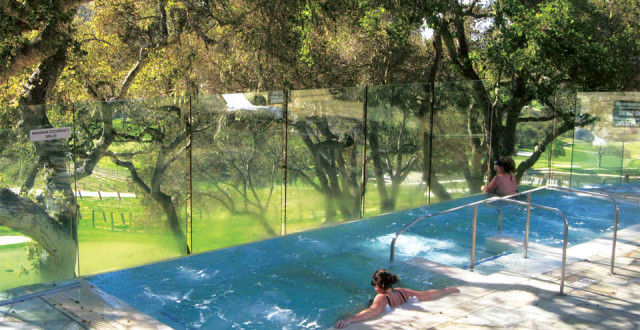 STAY
The Carmel Valley Lodge is steps from the heart of Carmel Valley Village. This charming retreat offers newly remodeled rooms, suites and cottages set on three acres of beautifully landscaped grounds that include a pool. The spacious accommodations feature wood furnishings and beamed ceilings. Some have wood-burning or gas fireplaces, private patios, and kitchen facilities.
In the morning, enjoy a complimentary buffet breakfast in the lodge. This stunning old wood building has lots of character, including a roaring fire in a big stone fireplace (831-659-2261, www.valleylodge.com).
Carmel Valley Ranch is a tranquil haven that discreetly stretches over 500 acres of hills and lavender fields. It's a resort that doesn't quit, offering a sophisticated experience to help you heat up, cool down and everything in between. You're guaranteed to find what suits you best.
The lodge interior and guestrooms combine modern décor, earth tones, large windows, and sweeping views. Suites offer cathedral ceilings, high-end stone fireplaces and bathrooms, private decks, and oversized furniture (831-625-9500, www.carmelvalleyranch.com).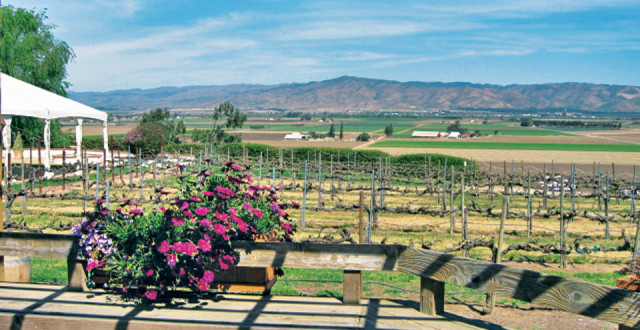 PLAY
Wine tasting in the SLH is beautiful — it's not crowded, the expansive area is agriculturally rich with a focus on sustainability, and the wines are delicious.
Hahn Estate is nestled in the highlands with wonderful views of the valley and Pinnacles National Park. Favorites included the 2011 SLH Estate Pinot Noir and the 2010 Hahn Merlot (866-925-7994, www.hahnwinery.com).
Next door is Paraiso Vineyards, passionately guided by multiple generations of the Smith family. Take in the stunning hills and valley as you sip their wines. The 2008 "Wedding Hill" Syrah and 2009 "Irie" Zinfandel are especially good (831-678-0300, www.paraisovineyards.com).
At Pessagno Winery, the owner, influenced by his grandfather, concentrates on small-lot wines. The open-spaced tasting room and outdoor patio are fun places to taste some of their stars: the 2010 "Intrinity" Chardonnay and the 2010 "Idyll Times" Vineyard Syrah (831-675-9463, www.pessagnowines.com).
Carmel Valley Village offers a difference experience. Stroll around the quaint town and choose from several tasting rooms.
The wines at Talbott Vineyards are 100 percent estate grown. Both 2011 Pinot Noirs — the Sleepy Hollow Vineyard and "Kali Hart" — have a beautiful color, smooth texture, and flavors of ripe fruit (831-659-3500, www.talbottvineyards.com).
Discover Georis Winery in an old adobe building that houses the tasting room and distinctive gift shop. It's set in a flourishing garden with a cork tree and quirky sculpture. Try the 2009 Georis Estate Cabernet Sauvignon and the 100 percent Merlot, the 2006 Georis Estate "Clos des Moutons" (831-659-1050, www.georiswine.com).
At Carmel Valley Ranch, the mantra is play. If you're energetic, there's top-notch golf, hiking, biking, and fitness centers. Or just wander through the gardens, settle into a yoga class or get hands-on classes about bees or lavender. And when total relaxation is your thing, there's a full-service spa and two salt-water pools.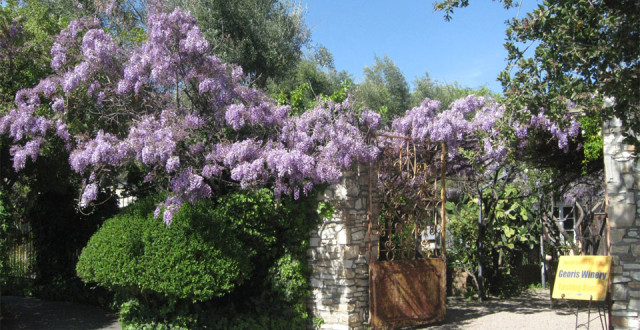 SHOP
It's easy to walk from one end of picturesque Carmel Valley Village to the other — the few streets are lined with small shops, wrought iron, and blooming flowers. Find art galleries; antique, home furnishings, and accessories stores; and olive oil and balsamic vinegar tastings. Wineries and tasting rooms hope you'll buy wine and other products when you visit.
For unusual French hand-carved statues and fireplaces for home and garden, visit Jan de Luz. He's a charismatic figure who also sells linens and his own olive oil (831-659-7966, www.jandeluz.com).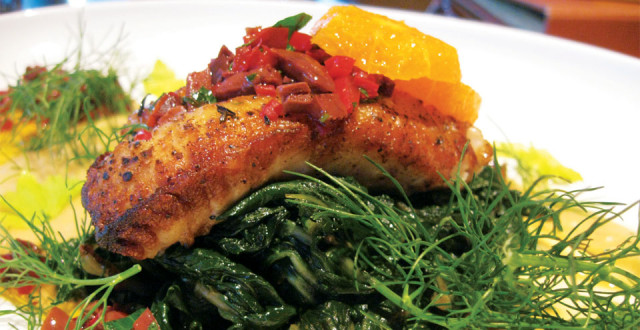 DINE
Follow a path from Georis Winery through the garden and find Corkscrew Café. This eclectic restaurant is a favorite. Eating in the garden is a great choice, and the ambience is upbeat and fun, just like the food. Start with the house-made chips and spicy salsa, then opt for the kicked-up pulled pork sliders on house-made jalapeño cheese buns and served with sweet potato fries. The lemon curd and blueberry shortcake jar was unbelievable. Have a glass of Georis wine with your meal and it's a perfect affair (831-659-8888, www.corkscrewcafe.com).
Lokal is a casual eatery offering new and unusual twists on seasonal ingredients. The intimate room is decorated with reclaimed redwood and hand-drawn sketches on blackboards lining the walls. At dinner, dishes are meant to be shared.
We started with a rich butternut squash soup made with bacon fat, chicken stock, and chilies and garnished with bacon cotton candy. The halibut ceviche was plated with cilantro, blood oranges, kumquats, avocado, and crisp mole "kracklings." Steak tartare had a scoop of tarragon ice cream on top. The surf and turf was an amazing combination of scallops, pork belly, and uni whipped cream. And the delicious Valrhona chocolate dessert was served with arbequina olive oil and pink sea salt. Wines are all local (831-659-5886, www.lokalcarmel.com).
The menu at the Lodge Restaurant at Carmel Valley Ranch is driven by their two-acre garden. Floor-to-ceiling windows and scenic views define the large, open space. The speck crispy kale and burrata salad was a luscious beginning. Tender Manila clams came in a tasty tomato fennel broth, and the tuna poke was served on a delicious wakame seaweed salad. Served atop braised collard greens with a spicy red pepper citrus tapenade, the local black cod was succulent. For dessert, head out to the fire pit and make your own s'mores (831-625-9500, www.carmelvalleyranch.com).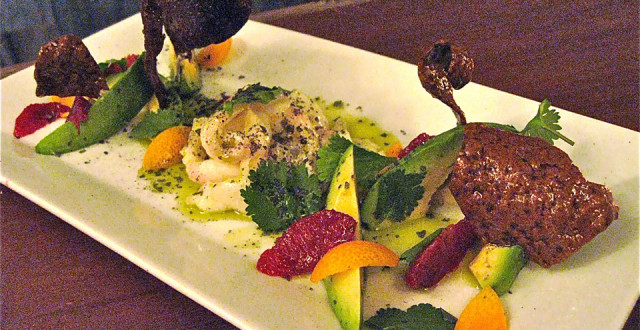 OTHER ESSENTIALS
Monterey County Convention and Visitors Bureau: www.seemonterey.com
Destination Monterey Bay: www.destinationmontereybay.com
Monterey County Wineries: www.montereywines.org