As the economy opens up and travel is more plausible, consider Bandon, Ore. Its coastal location is stunning; there's a laid-back vibe, and it has some of the best golf around.
The town was named in the late 1800s by an Irishman living nearby in honor of his Irish hometown. The beaches are alluring with their renowned sea stacks, miles of sand, and at this time of the year, prickly gorse, hanging on the cliffs and blooming with bright yellow flowers. Abutting the Coquille River, Old Town Bandon stretches for several blocks between First and Second Streets and is replete with shops, restaurants, coffee houses, a museum, and even a boardwalk with marine life sculptures, a picnic area, and outdoor amphitheater.
STAY
We stayed at Bandon's Historic River House, situated on the edge of Old Town, near the mouth of the Coquille River at the Pacific Ocean. Part of the building survived both devastating fires in 1914 and 1936 and is on the Department of Interior's National Register of Historic Places. It's the oldest commercial building in town. Previously, the building housed both antique and cobbler shops. Old Town is within walking distance as are Bandon's beaches.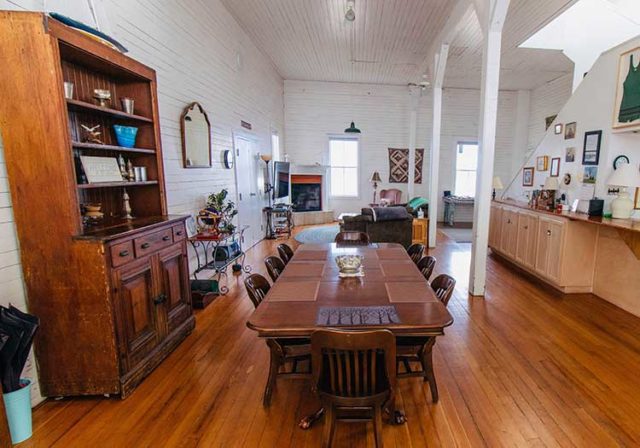 This Airbnb rental has ample room for 10 people. (The second story bedrooms share one large bathroom.) We stayed with a completely vaccinated couple and had plenty of space to spare. From the oversized great room, you might see seal in the river, a special sunset, and certainly, the Coquille River Lighthouse.
Bandon boasts a variety of other rentals (inns, motels, and cottages), some with ocean views, access to the water, and close to Old Town.
SHOP AND PLAY
Old Town Bandon is reminiscent of the time when fishing was the main industry: Fishing boats abound on the crab pier, near where local markets sell the catch of the day. Today, you'll also find boutiques, galleries, a bookshop, general store, and other options. Because Bandon is the Oregon Cranberry capital, Cranberry, Sweets & More is a popular destination. This family-owned store creates small batches of hundreds of items including sweet and savory popcorn, fudge, cookies, jelly, and more.
The Bandon Historical Society Museum houses images of the area; exhibits about the city's history and early Maritime adventures, including artifacts from shipwrecks and ferryboats; as well as stories about the Coquille Native American tribe.
The popular beaches just off "Beach Loop" in Bandon are magnificent. Steep wooden stairs (reminiscent of San Francisco's legendary steps) lead from parking areas to the wonderful beaches below. Go at low tide to take full advantage of the sea stacks and tide pools. Or walk or drive along the coast to take in vantage points from above like Face Rock State Scenic Viewpoint: There's an Indian legend about a maiden, and if you look closely at the mammoth formation, you can see her face. Don't miss other amazing rock formations including Table Rock, Wizard's Hat, Elephant Rock, Haystack Rock and Devil's Kitchen, all part of the Oregon State Parks. And at this time of year, labyrinths in the sand beckon visitors to watch as they're created and then to actually walk them.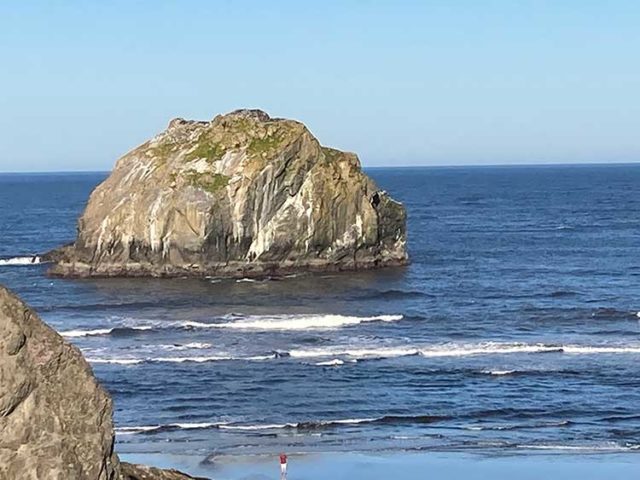 The 1896 Coquille River Lighthouse is one of Oregon's 11 lighthouses; its signal room is open daily for tours. The lighthouse is part of Bullard Beach State Park with multiple campsites to rent and miles of beaches. One of six wildlife refuges along the Oregon coast, the Bandon Marsh National Wildlife Refuge features estuaries, tidal creeks, shallow marshes, mud flats, and other wildlife habitats. Depending upon the time of year, discover migrating birds, newly hatched ducklings and birds and fowl that call the refuge home.
For golfers, Bandon Dunes Golf Resort is the ultimate playground. Every one of their courses is spectacular — and public — including five 18-hole courses and one 13-hole short course. The resort features classic Scottish golf in Oregon: No trees; hard, barren fairways; natural bunkers; and wind by the sea.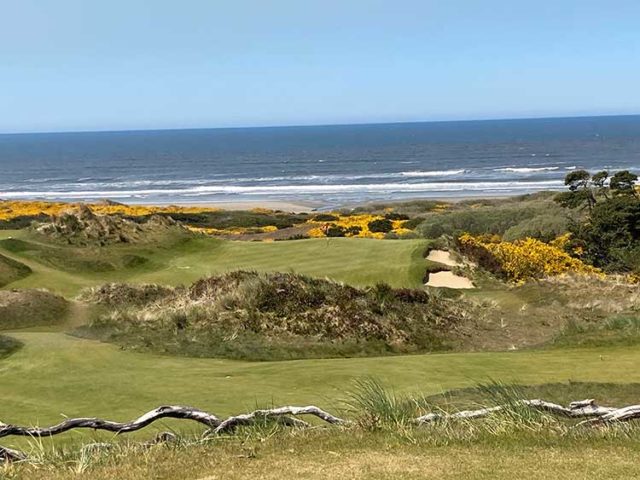 EAT
Here's what we tried in Old Town:
Alloro Wine Bar is a popular neighborhood restaurant specializing in local ingredients, influenced by Italian cooking and inspired by its coastal location. Due to the uncertainty of the pandemic, we ordered takeout, even though they were serving in a tented outdoor patio (interior dining was closed). When choosing from the menu, wine pairings are offered and some splits are available. We started with the antipasti plate and an arugula salad with crispy garbanzo bean croutons, dried craisins, toasted pine nuts, and topped with a sumac-berry dressing. The pan-seared wild halibut was moist, flakey, and served over a mushroom-broccolini risotto with caramelized kalettes. Known for their housemade pastas, we opted for the pasta puttanesca with New Zealand mussels. The puttanesca sauce was kicked up with roasted garlic saffron cream sauce and aged Parmigiano-Reggiano.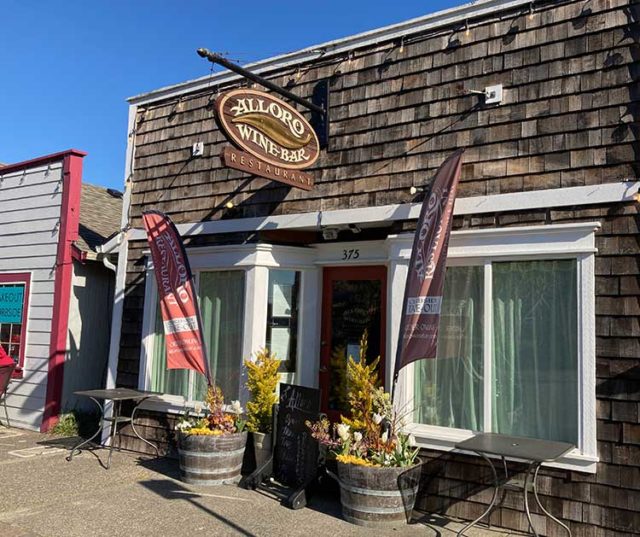 The outdoor seating at Tony's Seafood Shack spills onto the Boardwalk so you can enjoy the food, the coast, and the passersby at the same time. The chalkboard menus are updated with the latest catch; they'll even cook what you've caught! (The original bait shop is right next door.) We sat outside and savored clams, a Pacific halibut sandwich on ciabatta, and cioppino.
Even in the midst of the pandemic, Bandon Coffee Cafe is a great place to hang out: There's plenty of outside space to socially distance. Expect a delicious cup of joe, but don't miss out on pastries, bagels, and cookies baked daily. Each of the breakfast and lunch sandwiches are made to order, so while you wait, sip your coffee and enjoy the scene.
Farm & Sea Bandon sells directly from the producer everything from seafood and meats to vegetables and special pantry items. Within its small space at the end of the pier, you'll even find a food bank.
Located at Bandon Dunes Golf Resort Pacific Grill is the perfect location to relax after golf (or a hike around the resort on one of the hiking trails). We sat outside overlooking the Punch Bowl (the 100,000-square-foot putting course) and the coast and enjoyed local beer and seafood tacos.
OTHER ESSENTIALS
Coos County Visitor Information Center
Patty Burness can be found on Twitter (@pattygb), Instagram (pburness), and reached by email at [email protected].