February is the perfect time to visit wine country — no crowds, no hot weather, and no traffic. Usually bustling with tourists and cars inching along Main Street, St. Helena's popular restaurants, prime parking spots, and space at the wine bar in your favorite tasting room are all available this time of year.
Nestled in the northern end of Napa Valley, St. Helena is home to several National Historic Landmarks (Beringer Vineyards and Charles Krug winery) as well as three downtown blocks declared a National Historic District. The 1860s saw the beginning of wine making and, in 1868, the railroad came to town.
Today, St. Helena is a sophisticated, wine-country-chic destination. Recently, I grabbed some good girlfriend time on a fun getaway.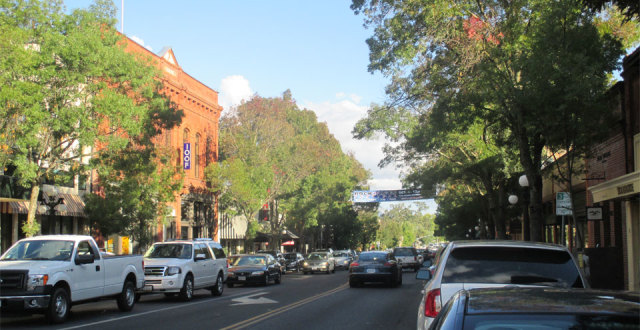 STAY
At the Wydown Hotel, find modern accommodations in a comfortable setting. Named for a tree-lined boulevard in St. Louis, the Wydown has an enviable location in the heart of tree-lined downtown St. Helena. The lobby, a.k.a. the Living Room, is a natural gathering place — read, play games (a puzzle is left to be worked by guests), watch TV, or just relax on a couch.
The contemporary design of this boutique hotel is evident throughout the 12 rooms in the Victorian-era building. Enjoy spacious bathrooms with marble countertops, top-notch amenities, king-size beds, and great views of Main Street and the mountains (707-963-5100, wydownhotel.com).
PLAY & SHOP
It's tempting to leave your car parked during your stay and visit what's within walking distance. But if you're feeling a bit more adventurous, there's a lot to see and do just a short drive from downtown.
Cairdean Estate sits north of town at the base of Spring Mountain. Taste delicious wine and indulge in tempting foods (see DINE) in their epicurean village. In the open, modern tasting room, try interesting wines like these 2011s: Napa Valley Rosé, Carneros Pinot Noir, and the Cabernet Franc from their Acquaintance Vineyard in Coombsville (707-968-5434, cairdeanestate.com).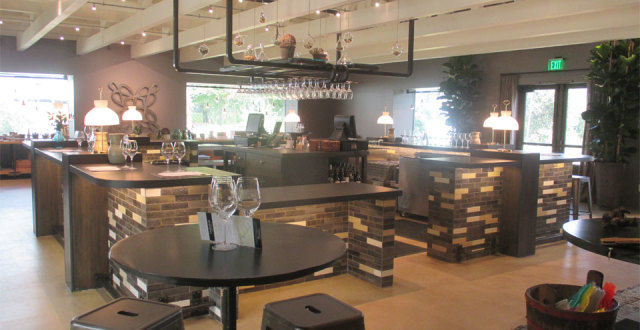 Drive to the peak of Spring Mountain and discover Charbay, the Still on the Hill, as it's affectionately named. Run by the 12th and 13th generations, the family has hand-distilled spirits since 1751. The grounds and the interior of the cozy tasting room are decorated with classic copper pot stills, one still in use. From a diverse selection of wines, brandies, spirits, and ports, savor the green tea aperitif, pomegranate dessert wine and the Still House Port. Due to California law, spirits can't be poured, but there's plenty to purchase. Appointments encouraged (707-963-9327, charbay.com).
Travel south of downtown and you can't miss the 35-foot-tall polished stainless steel sculpture of Bunny Foo Foo (a character in a children's poem) that welcomes you to Hall Wines. The Halls have combined their passion for wine, art, architecture, and the environment in their everyday operations. Taste wonderful wines — like the 2011 "Craig's Cuvée" red and "Ellie's" Cabernet Sauvignon, and the limited 2012 Walt "The Corners" Anderson Valley Pinot Noir — and stroll the lush grounds and gardens (707-967-2626, hallwines.com).
It's hard to miss the modern architecture of the Flora Springs tasting room that resembles the estate's hillside caves. Named for the family matriarch and the natural springs on the property, their estate vineyards are organically farmed. Choose a place at the long bar inside or head out back to the casual courtyard or rooftop lounge with views of the vineyards. Enjoy the 2011 Sangiovese and these 2012s: the Ghost Winery Cabernet Franc and the "Poggio del Papa" red blend (707-967-8032, florasprings.com).
Before heading back downtown, consider a hike in Bothe-Napa Valley State Park. It's a 1,900-acre park with over 10 miles of trails (707-942-4575, napavalleystateparks.org).
Along Main Street, you're guaranteed a good time at Orin Swift Cellars. High energy abounds here as does great wine. All of the wild labels (except the Palermo) are made in house. Favorites included the 2013 "Abstract," a Grenache blend, the 2012 "Papillon," a red blend with 60 percent Cabernet Sauvignon, and the 2012 "Mannequin," a white blend with 48 percent Chardonnay (707-967-9179, orinswift.com).
After a busy day, nothing is more relaxing than a visit to a spa — and with a stay at the Wydown comes a complimentary pass to Health Spa Napa Valley. There's a fitness center, outdoor pool, hot tub, and soothing treatments from which to choose (707-967-8800, napavalleyspa.com).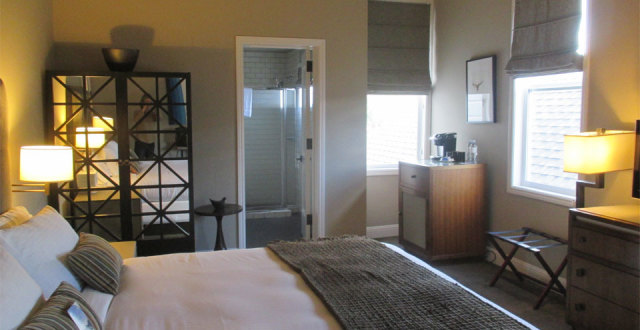 Main Street is a treasure trove of art galleries and boutiques and a wonderful place to window shop. Try some of these fun shops: Toss (tossdesigns.com), Steve's Hardware & Housewares (707-963-3423), and Woodhouse Chocolate (woodhousechocolate.com).
DINE
Located on Main Street, Gillwoods Cafe is the place for a hearty breakfast and friendly service. With a commitment to classic home-style cooking since 1991, it's where you can find all of your favorites including freshly made breads and pastries. Choose from farm fresh eggs, applewood bacon, steel-cut oats, and more (707-9631788, gillwoodscafe.com).
One of the culinary destinations at Cairdean Estate is Butterscots, a casual cafe. Open throughout the day, enjoy specialties inspired by Scottish and English heritage like house-made Scotch eggs and freshly baked crumpets. Nearly a dozen unique salads come in three sizes — and save room for the blackberry-filled doughnuts. You'll also find cookbooks and specialty foods (707-302-5104, cairdeanestate.com/Butterscots).
Just steps from the Wydown, Archetype is a local favorite. Inside seating by the open kitchen or in the cafe garden offer light-filled options to savor the food, centered around the oak-fired oven and grill. We loved Mr. Little's potato and cardoon soup and the Thunder Ridge beef sliders. Be sure to try the curried cauliflower gratin, Dungeness crab crepes, and the oven-roasted Brussels sprouts. Pairing with artisan cocktails and regional wines makes for a relaxing wine country experience (707-968-9200, archetypenapa.com).
Press is a mecca for Napa wines, prime beef, and ingredients sourced from local gardens. Fish, lamb, and poultry are on the menu for non-red meat eaters. Find high ceilings, towers of varietals, and roaring fireplaces both inside and out. Try great Napa wines like the 2013 Hendry Albariño, the 2011 Calder Wine Company Meyer Vineyard Charbono, and the 2010 Silverado Vineyards Cabernet Sauvignon (707-967-0550, pressnapavalley.com).
OTHER ESSENTIALS
Special events: Napa Valley Restaurant Month (throughout February; sthelena.com/restaurant-month)
St. Helena Chamber of Commerce: sthelena.com
Napa Valley Tourism: visitnapavalley.com