Suffering from a holiday hangover? Here's a cure to start the new year off right. Head straight to Calistoga and relax in alluring hot springs and mud baths, then savor delicious wines and dishes driven by local ingredients. You're guaranteed to decompress after the crazy holiday season.
The National Trust for Historic Preservation has named Calistoga a Distinctive Destination. The town has history and character and best of all, it's laid back and inviting.
Stay
From retro motels and country inns, to a sprawling resort, Calistoga has a little bit of everything for those hangover blues. Here's what we tried.
Recently opened after a complete redo, The Sunburst Calistoga, sits on the eastern edge of Lincoln Avenue near the Silverado Trail. Despite the modest profile, find bright interiors (think orange, green and white), comfortable contemporary furnishings, and large floor plans. It's a good walk to downtown, or submerge in the thermal waters of the mineral pools. In the morning, a boxed breakfast (choices include cold cereal, yogurt and juice) is delivered to your room (707-942-0991, www.thesunburstcalistoga.com).
Dr. Wilkinson's Hot Springs Resort, closer to town on Lincoln Avenue, has been a mainstay in Calistoga for over 60 years. From poolside rooms to a Victorian House, find a variety of options to stay the night. Even with all of the upgrades at the resort, you'll always find the mud baths, mineral pools, and the original neon sign (707-942-4102, www.drwilkinson.com).
Play
At the northern tip of Napa Valley, the Calistoga AVA is home to more than 45 wineries. Downtown is dotted with tasting rooms, but before we started on Lincoln Avenue, we toured Schramsberg Vineyards just south of town.
The winery's rich history begins with Joseph Schram who purchased the stunning hillside property on Diamond Mountain in 1862 and began growing grapes. The magnificent caves were built in the late 1800s. The winery became a California historical landmark in 1957. Since 1965, they have followed the French method of making sparkling wine, including hand riddling the bottles. Be sure to try the 2010 Blanc de Blancs and the 2005 J. Schram (800-877-3623, www.schramsberg.com).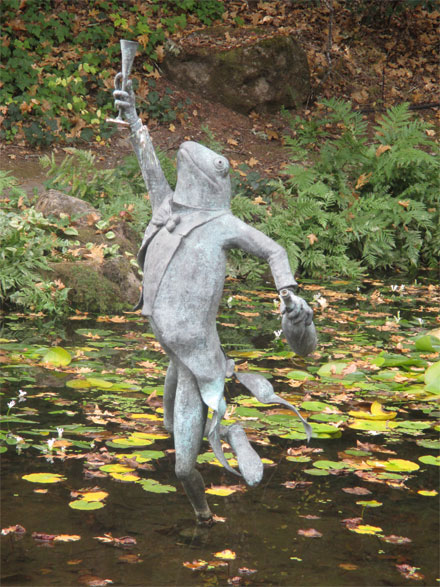 In the center of Calistoga, our wine-tasting adventure started at Up Valley Vintners. This comfortable venue includes a rear outdoor patio that now highlights five boutique wineries (four on our visit). We enjoyed these handcrafted wines: the 2010 Zacherle Wines "Las Tres Hermanas," the 2010 Tofanelli Charbono, the 2008 Kenefick Ranch Cabernet Franc, and the 2007 Barlow Vineyards Merlot (707-942-1004, www.upvalleyvintners.com).
Next door, W.H. Smith Wines sells both wine and a variety of accessories. Their 2009 Pinot Noirs, Hellenthal Vineyard and Marimar Estate are rich, fruity and balanced (707-942-1194, www.whsmithwines.com).
If you're energetic, Bothe State Park offers 1,800 acres of hiking trails, picnic areas, a historic Visitors Center, and more. Every Saturday, there's a Farmers' Market in full swing ((707-942-4575, www.napavalleystateparks.org; www.calistogafarmersmarket.org).
When it's time to immerse in thermal waters and warm mud, there are many tempting options including Indian Springs Resort & Spa. Operating since 1862, the 16-acre property sits in the shadow of the mountains and next to the active Indian Springs' geysers. The mud-bath ritual includes sinking into the warm volcanic mud for 15 minutes, then rinsing off in the shower and soaking in geyser water. A cleansing steam of eucalyptus and lavender follows, and finally a heavenly wrap in a flannel blanket, cucumbers on the eyes and a blissful rest. If this isn't enough, there are always spa treatments and lounging in the Olympic-sized mineral pool naturally heated to over 90 degrees (707-942-4913; www.indianspringscalistoga.com).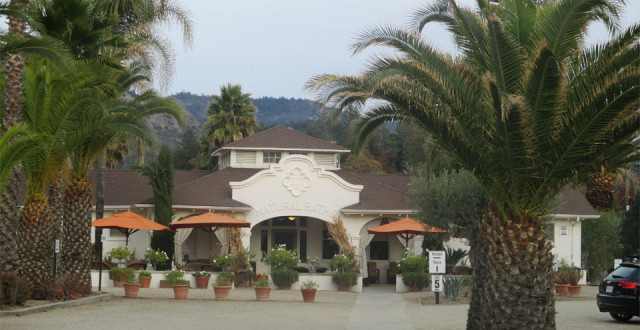 Dr. Wilkinson's Hot Springs Resort offers a similar experience. You can't help but feel pampered and tranquil. Skin care treatments, massages and three mineral pools add to the serenity (707-942-4102; www.drwilkinson.com).
At the Sunburst, there are three mineral pools to soothe your aching body (includes full size, wading and a Jacuzzi).
Shop
Lincoln Avenue is Calistoga's main drag. In addition to inns, spas and wine-tasting rooms, you'll find an interesting selection of art galleries, consignment shops, a candy store, pet store, bookstore, and Maxine's. This intimate shop sells antiques and new items with six individual dealers represented in the space (707-942-4300). And for great-tasting olive oils, spices and bath products, it's the Calistoga Olive Oil Company (707-942-1329; www.calistogaoliveoilcompany.com).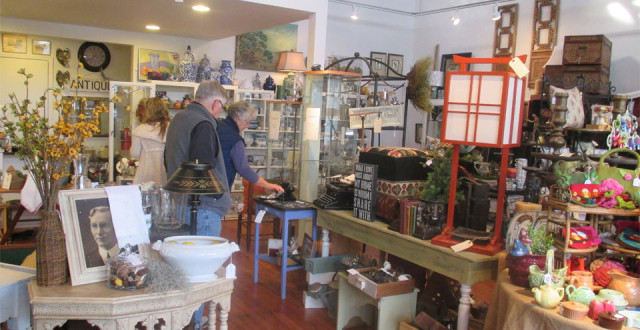 Dine
For a relaxing brunch, try Michelin star-rated Solbar. The signature restaurant at Solage Calistoga triumphs in the use of local ingredients in its creative dishes. Its interior combines the dining room seating and bar in an open area. On the lush outdoor patio, the Mayacamas and Palisades Mountains, the 22-acre resort, bocce ball courts, and glowing fire pits surround you.
The menu offers both lighter options and hearty fare. We chose a few of each: the sumptuous sugar-pie pumpkin bruschetta combined queso cotija, Mexican chorizo, tatsoi, and toasted pumpkin seeds. The spicy shrimp lettuce wraps are kicked up with pickled carrots, tamarind dressing, and nam pla dipping sauce. The sol fries with picanté sauce are a great accompaniment. Several good wines from the tap included the 2012 Fisher Vineyards "Unity" Pinot Noir and the Qupé 2009 Sawyer Lindquist Vineyard Grenache (855-942-7442; www.solagecalistoga.com/dining).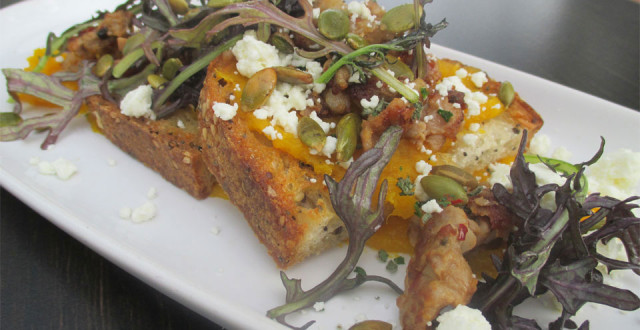 Located in a 1888 restored historic building, Boskos Trattoria has served traditional Italian cuisine since it first opened as a deli in 1983. Exposed stone and lots of wood add a rustic feel to the interior. We ordered the flavorful Crispino, a thin-crusted wood-fired pizza made with prosciutto, mozzarella and fontina cheese, and arugula. We devoured the rich and delicious mushroom risotto. The Arborio rice was cooked al dente and the portobello, shitake, oyster and white cap mushrooms gave it a wonderful umami flavor. With our meal, we paired the 2011 Alta Vista Vineyards "Krooked Horn" Pinot Noir. Vanilla bean gelato was a sweet finish. Boskos is real Italian cooking made with the same enthusiasm you find in Italy; close your eyes and you might think you were in a trattoria in the middle of a piazza (707-942-9088, www.boskos.com).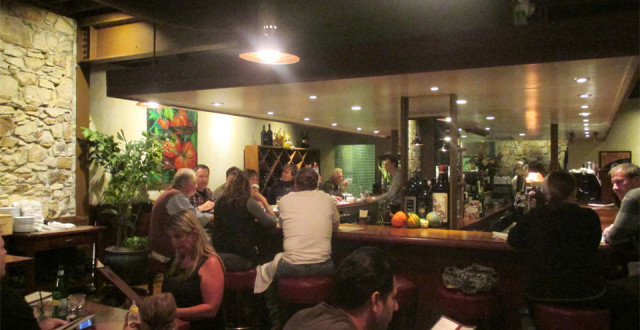 OTHER ESSENTIALS
Calistoga Chamber of Commerce: www.visitcalistoga.com
Napa County Visitors Bureau: www.visitnapavalley.com
Calistoga Winegrowers: www.calistogawinegrowers.com
SPECIAL EVENTS
• Napa Valley Restaurant Month: Jan. 1–31; www.visitnapavalley.com
• Calistoga Winter in the Wineries Passport: through Feb. 9; www.visitcalistoga.com