If you're out to lose the 24/7 stress, here's a remedy: Head straight to Catalina. You'll find this beautiful island just off the Long Beach coast at the end of an hour-long ferry ride. In no time, relish island hospitality and function on "island time." It's an ideal destination for those who crave outdoor adventure or the tranquility of a quiet beach.
Santa Catalina Island has a rich history full of smugglers and hunters as well as sheepherders and ranchers. (A herd of North American Bison has been roaming the hills since December 1924.) The island has been inhabited for 7,000 years — at times by American Indians, Spaniards, Mexicans, the English, and of course Americans. In 1919, it was purchased by chewing gum magnate William Wrigley who set out to preserve and sustain its natural beauty.
STAY
Avalon is Catalina's picturesque main town (Two Harbors is the other smaller one). Find numerous accommodations on Avalon's palm tree-lined main streets (Crescent Avenue and Casino Way), directly across from the busy harbor. At the Pavilion Hotel, guests enjoy lush gardens and proximity to the beach. The rooms are airy and comfortable, most with their own patio. The open-air lounge and interior courtyard are great for people watching and relaxing with complimentary wine and cheese in the afternoon and a continental breakfast every morning. If you need to connect to the real world, the hotel will loan you an iPad. Guests receive priority cabana and chaise lounge reservations at the Descano Beach Club (310-510-1788, visitcatalinaisland.com/avalon/hote_pavilionHotel.php).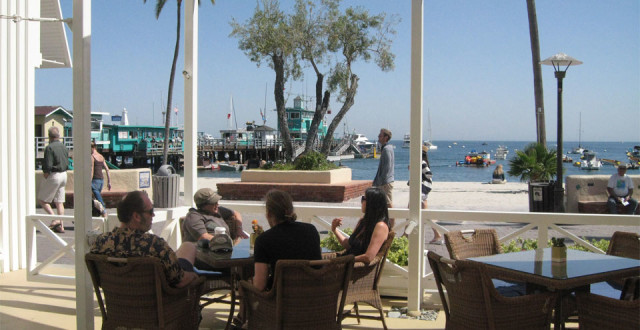 SHOP & PLAY
Catalina has much to offer, not only in the town of Avalon, but also around the interior of the island and venturing to Two Harbors. Find tours and information all over town.
Cars are restricted on the island, so walk, ride bikes, or use a golf cart. Avalon is compact and walking is easy — even up the terraced hillsides. It's here you'll get knockout views of the ocean, the horseshoe-shaped yacht harbor, and the famous Art Deco Catalina Casino (visitcatalinaisland.com/avalon/poin_casino.php) that dates from 1929. Tour the grand ballroom and movie theater, still in use today. It is also home to the Catalina Island Museum (310-510-2414, catalinamuseum.org).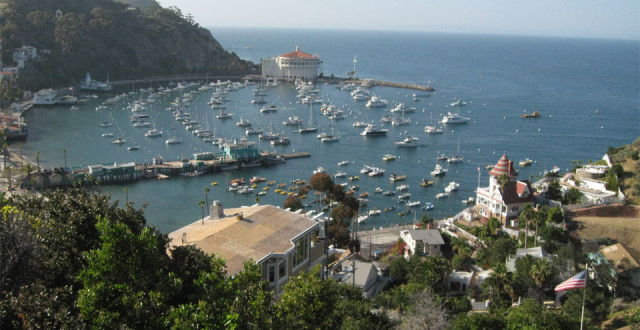 If golf is your game, there's a scenic nine hole layout at the Catalina Island Golf Course (877-778-8322, visitcatalinaisland.com/avalon/acti_golf.php) in an idyllic setting.
For an exhilarating adventure, take the Zip Line Eco Tour. Get driven into the interior and zip down five lines from 500 feet to 60 feet above sea level. At the same time, you're rushing through the Descanso Canyon, learn about Catalina's wildlife and history (800-626-1496, visitcatalinaisland.com/avalon/tour_zipline.php).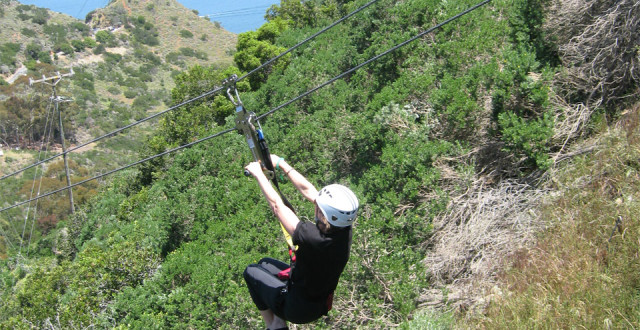 The zip line ends at the Descanso Beach Club (310-510-7410, visitcatalinaisland.com/avalon/poin_descansoBeach.php). Set in scenic Descanso Cove off the harbor, it's an enticing spot to lounge on the beach, swim, snorkel, kayak, stand-up paddle board, or get a couple's massage. In the privacy of your own beach cabana, Massages by the Sea will ease your tension as waves gently lap against the shore (310-510-3331, visitcatalinaisland.com/avalon/acti_massage.php).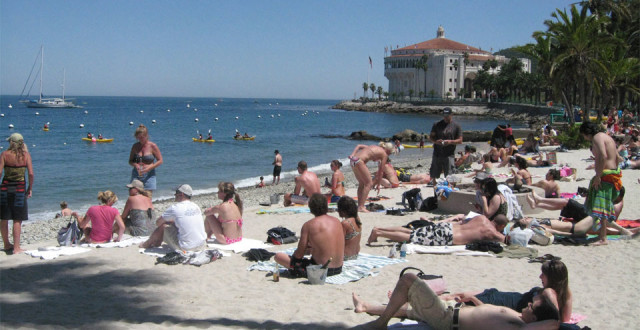 Get an up close and personal tour of the marine life on one of the many boats. Use a fish finder guide to help identify whatever is swimming by. You can also skin dive in the kelp forests. And if catching fish is what you're after, join a guided tour or find your own special spot.
Catalina is made for hiking and biking. Before you head out, pick up a mandatory hiking permit then hit the many back roads and trails. The endless views and rolling hills are captivating. Just outside of town, find the Wrigley Memorial and Botanical Garden (310-510-2595, visitcatalinaisland.com/island-info/points-of-interest/wrigley-memorial-botanical-gardens). Learn about the native plants, tour the grounds, and take in more spectacular vistas.
At an island resort like Catalina, shopping is in the center of town. Venture down pedestrian walkways or visit the shops as you walk along the street. Either way, find gifts and souvenirs as well as every beach essential. Galleries are plentiful. The Catalina Island Museum Store (310-510-2414, catalinamuseum.org) has a selection reminiscent of Catalina's history.
EAT
It's easy to satisfy your cravings for sweets as ice cream and candy tempt from an endless number of storefronts. Cafes, pubs, bars, and restaurants with great views are plentiful, including:
The Descanso Beach Club is the only bar and restaurant right on the beach in Avalon. During the day, sit on the outdoor patio, at the bar, or have your meal and drinks delivered to you on the beach. Specialty cocktails include a Tree Top Breeze made with blueberries, vodka, and lemonade. The popcorn shrimp and the chili-lime-spice fish tacos are great seaside dishes (310-510-7410, visitcatalinaisland.com/dining-nightlife/avalon/descanso-beach-club).
The Avalon Grille is a popular spot in the center of town just across from the harbor. The Margatini is a house classic and kicks up starters like fried green beans with black garlic aioli and crispy octopus with a warm barley herb salad. Large plates include dishes such as the ahi tuna burger with wasabi aioli, soy glaze, and pickled ginger and the Angus skirt steak with tomato jam. Try pairing them with the 2013 Rusak Santa Maria Valley Pinot Noir. Don't miss the restaurant's house-made ice cream and sorbet (310-510-7494, visitcatalinaisland.com/dining-nightlife/avalon/avalon-grille).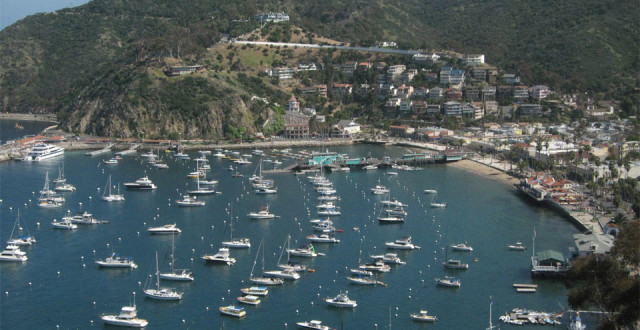 The Catalina Country Club is the former spring training site for the Chicago Cubs. It's just a short walk from the center of town. The ornate main dining room is more formal; opt for the outside patio or bar area if you prefer casual dining. Try the lump crab cakes with ancho purée and aioli and the peppered, seared ahi with wasabi mashed potatoes, edamame salad, and a roasted tomato coulis (310-510-7404, visitcatalinaisland.com/island-info/points-of-interest/catalina-visitors-country-club).
OTHER ESSENTIALS
Upcoming Events: Check the Chamber Calendar for Fourth of July Events and special Family Activities (catalinachamber.com/event-list/?start=2016-07-01&end=2016-07-31)
Santa Catalina Island Company: visitcatalinaisland.com Catalina Island Chamber of Commerce & Visitors Bureau: catalinachamber.com Catalina Express: catalinaexpress.com