The California coastline is a stunner any time of year. On a clear day, it really can't be beat. Heading south on Highway 1 to the Central Coast from San Francisco, my husband and I drove through Monterey and Carmel, Big Sur and across the Bixby Bridge, past San Simeon to Cambria for a couple of days, then on to San Luis Obispo (read about SLO next month). And with the wildfire that has been raging, the locals really need your business.
Developers first arrived in Cambria in the 1860s and created a successful dairy industry. Bypassed by the railroad, Cambria became an isolated community. When Hearst Castle was opened to the public in 1958, tourists started arriving to what has become today, an idyllic beach town "where the pines meet the sea."
STAY
Located in the popular Moonstone Beach area, the Blue Dolphin Inn offers casual comfort and easy access to the area. Our street level beachfront room with expansive patio had unparalleled views. The spacious room is decorated in warm colors and boasts a kitchenette, large bathroom with Jacuzzi tub, gas fireplace, and complimentary Wi-Fi (although sometimes intermittent). No need for a sleep machine with the ocean waves just outside the door. Make your breakfast choices at night and in the morning find them freshly prepared and conveniently packaged to eat in or take on a picnic (805-927-3300, cambriainns.com/blue-dolphin-inn-cambria-ca/).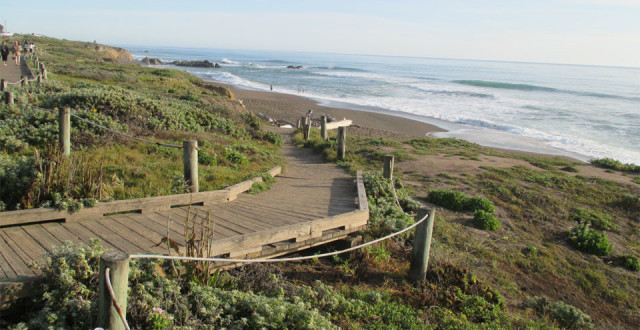 SHOP & PLAY
Ten minutes north of Cambria, Hearst Castle sits on "The Enchanted Hill." Open daily for tours, this magnificent estate heralds the glam Hollywood era of the 1930s. Built over the course of three decades (and not finished even today) William Randolph Hearst and architect Julia Morgan delighted in the grand rooms, lush gardens, majestic pools, sprawling terraces, and acres of land on which the castle was built (800-444-4445, hearstcastle.com).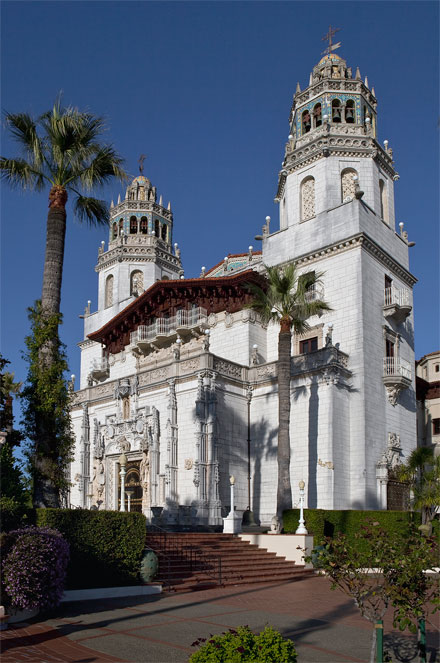 Find everything you need at Sea for Yourself Kayak Outfitters to explore the beautiful San Simeon Cove. Time your launch according to the waves, and you'll be out on the water in no time. Depending on the season, you might see whales, otters, harbor seals, and more. Experienced guides offer insightful information on safety, habitats, wildlife, and local history (805-927-1787, kayakcambria.com/).
The Pacific Coast Wine Trail snakes its way along Highway 1. On Main Street in Cambria, discover three of the 11 wineries that are part of the experience (pacificcoastwinetrail.com/).
The vibe is casual and the wines are delicious at Moonstone Cellars. Made from grapes grown in Paso Robles and the Santa Lucia Highlands, these reds are favorites: 2013 Zinfandel and the Vin de Tableaux, a blend of 50 percent Merlot, 23 percent Zinfandel, and 23percent Syrah (805-927-9466, moonstonecellars.com/).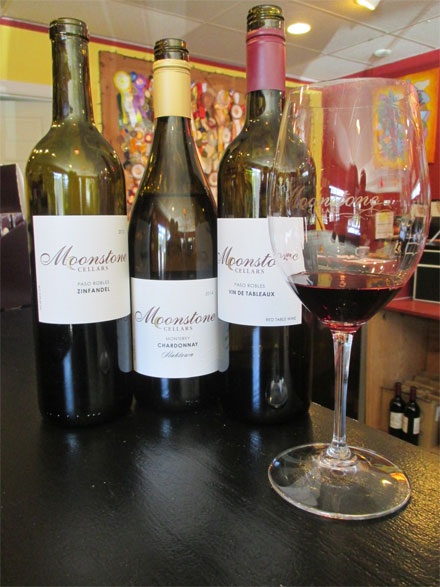 Black Hand Cellars delivers on good wine and interesting stories (like how the brand evolved from family history with the Black Hand Mafia). Known for their blends, grapes are sourced from Paso Robles. Try these 2012s: Hit'n Run, a Rhone blend with 52 percent Grenache, 30 percent Syrah, 18 percent Mourvedre and The Deal Maker, a blend of 50 percent Syrah and 50 percent Tempranillo (805-927-9463, blackhandcellars.com/).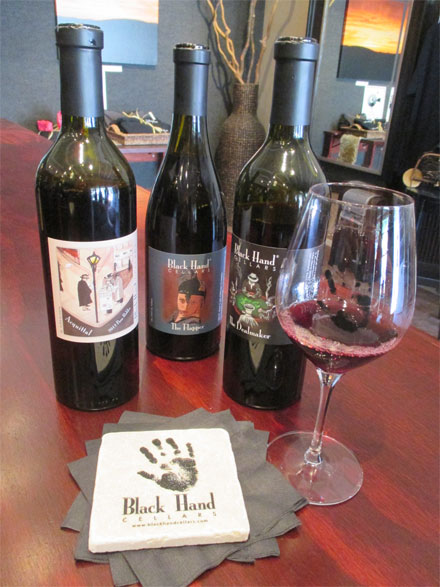 Cutruzzola Vineyards occupies a spot at the very west end of Main Street. Stand at the bar in the high ceiling, light-filled tasting room, and sample the 2013 Pinot Noir Gloria Estate among others (805-927-2670, cutruzzolavineyards.com/).
The small town of Cambria has ample room to stretch your legs: Stroll Main Street and discover its East and West Villages full of historic buildings, restaurants, art galleries, wine tasting, and boutiques; or hit Moonstone Beach Boardwalk along the Pacific Coast with its enticing views. Both Hearst San Simeon State Park (parks.ca.gov/?page_id=590) and Fiscalini Ranch Preserve (ffrpcambria.org) offer nonstop trails and vistas. For something crazy and whimsical, check out Nit Wit Ridge, a California Historical Landmark. This folk art house is made from items others threw away — think car parts, beer cans and old stoves (nitwitridge.com/m.php?qrcode=4YA6B&qr4biz=1).
EAT
Linn's Restaurant has been owned and operated by the Linn family since 1989 and originally relied on local fruits and vegetables and olallieberry pie. Now, in addition to the many homemade jams and preserves and fresh-baked pies and pastries, Linn's serves comfort food with a modern flair. Don't miss the flavorful artichoke and kale soup and the seared ahi starter. In addition, find a variety of salads and Hearst Ranch beef burgers (805-927-0371, linnsfruitbin.com/).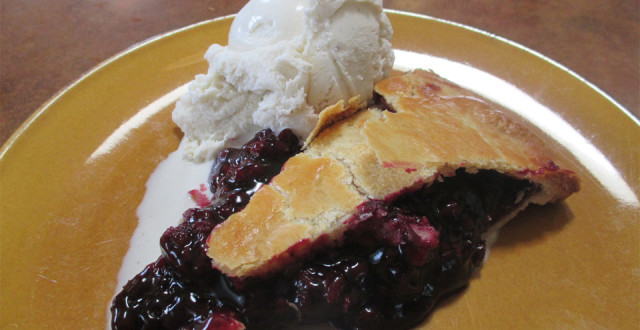 Indigo Moon is housed in a "kit house" that dates to the 1930s. With its expansive al fresco dining area and beautiful garden, the restaurant is a favorite casual eatery. It's locally driven and seasonal menu features a soup of the day like corn and crab chowder. We also enjoyed the crispy blue crab cakes with a chili lime sauce; dry rub salmon tacos with mango salsa, and a garlic shrimp Caesar salad, paired with a Tap It IPA from San Luis Obispo. On the way out, stop at their Wine & Cheese Shop next door (805-927-2911, indigomoonrestaurant.com/).
Enjoy an intimate, candle-lit dining experience at the Black Cat Bistro with delicious food and friendly service. Inspired by what's fresh from the farms, the menu offers creative fare like beet gnocchi with shitake mushrooms and shrimp in a saffron cream sauce. The Caesar is kicked up with lightly seared romaine and a classic dressing with lemon served with bacon jam crostini. The Maple Leaf duck breast is tender and juicy and comes with mushroom and red wine barley risotto and baby bok choy in a cherry duck jus. For dessert, try the decadent dark chocolate sea salt pot de crème with a bacon shortbread cookie. Wines from California, especially the Central Coast, are highlighted on the international wine list (805-927-1600, blackcatbistro.com/).
OTHER ESSENTIALS
Upcoming Events:
2016 Pinedorado Days (Sept. 3–5, pinedorado.com/); Cambria Art Stroll (1st Saturday of the month); Coastal Cleanup Day (Sept. 17 around SLO County, ecoslo.org/event/coastal-cleanup-day-2016/?instance_id=174)
Cambria Visitors Bureau: visitcambria.com; cambriachamber.org
Visit San Luis Obispo County: visitsanluisobispocounty.com/