Hood River, just an hour east of Portland, is a place many call the windsurfing and kite boarding capital of the world. To get there, simply drive along the magnificent Columbia River Highway Scenic Byway with stops along the way to view the many falls and lookouts into the gorge and river below. Hood River is known for its laid-back vibe, outdoor sports, wineries, breweries, abundant farms, cideries, and more.
The mighty Columbia River flows to the Pacific between Oregon and Washington, creating not only great scenery, but a gorge with winds that whip up daily for kiteboarders and windsurfers. It is a magnet for folks worldwide. In the heart of town, historic Hood River stretches for several blocks. Within walking distance closer to the river and Waterfront Park, find more coffee houses and breweries that have popped up next to where some boarders and surfers gear up for a windy take off. And just south of town, is the verdant. Fruit Loop. We visited as Covid-19 restrictions were lifting, but issues with staffing and masking still exist especially as the variants surge; check state and local guidelines.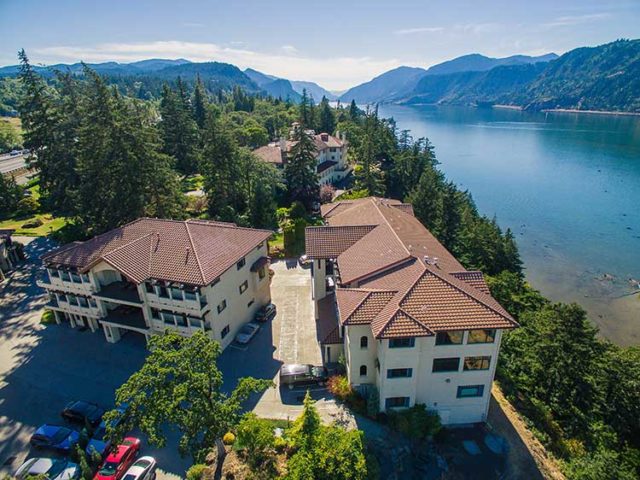 STAY
We stayed at The Columbia Cliff Villas Hotel situated, as its name describes, on the edge of the cliffs overlooking the river. Most of the accommodations are privately owned and rented. Many of the rooms have views, and they range from one bedrooms to three-bedroom suites and a Penthouse (where rooms can be closed off for smaller parties). The interiors are spacious with modern features and comfortable furnishings. Several kitchens have ample room for others (including hiring a private chef) as well as living rooms and primary bedrooms with fireplaces. Huge showers with multiple shower heads are part of some bathroom designs. The rooms and suites with views (including the Penthouse) have large windows that bring the action on the river up close and offer panoramic vistas of sunrises and sunsets. Whether you're sitting on your patio or in an Adirondack chair on a bluff next to the hotel overlooking the river, relish the sights and sounds of the gorge.
From the hotel, it's a quick drive to the historic town center.Hood River has a variety of other rentals (inns, B&Bs, vacation homes), some with river views and close to downtown.
SHOP AND PLAY
Hood River is a port city on the Columbia River, at the juncture of the gorge and the Cascade Mountain Range. It is reminiscent of San Francisco with hills and views around every corner. Downtown has numerous historic buildings that are home to boutiques, wine tasting shops, outdoor gear stores, restaurants, many with views of the Columbia. Here are a few highlights:
The History Museum of Hood River County brings alivestories of Native Americans, pioneers, local Japanese Americans and others who made Hood River the vibrant town it is.
Cascade Cliffs Winery & Tasting Room draws from Washington vineyards to produce a number of exceptional wines including the 2020 Rosata, the 2019 Blood Red Barbera, and the 2019 Syrah. The tasting room is a casual haven for sampling interesting varietals.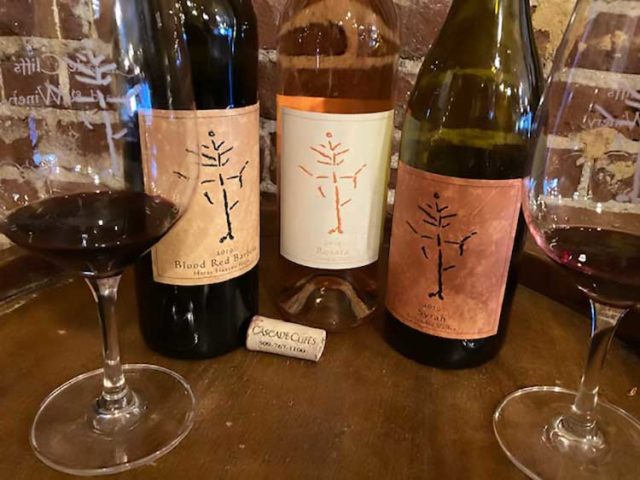 Evoke Winery, sassy and hip, offers numerous wines: Try the 2019 Too Classy Too Sassy Blend (Zinfandel, Syrah, and Petite Syrah), and the 2018 Oh! Orgasmic Meritage (Petite Verdot, Malbec, Merlot, Cabernet Sauvignon).
Big Art Outdoor Gallery guides you around downtown and along the river to view large sculptures; as you stroll, enjoy galleries and annual art events.
Cathedral Ridge Winery,just shy of downtown, has an incredible view of Washington's snow-covered Mt. Adams from its outdoor patio. Known for their "big bold reds" some favorites are the 2017 Bordheauxed Red (Cabernet Sauvignon, Merlot, and Syrah) and the 2016 Rhett's Red Reserve (mostly Barbera).
Kiteboarding and windsurfing: If you're feeling adventurous, find equipment rental facilities that offer lessons, too, in Waterfront Park.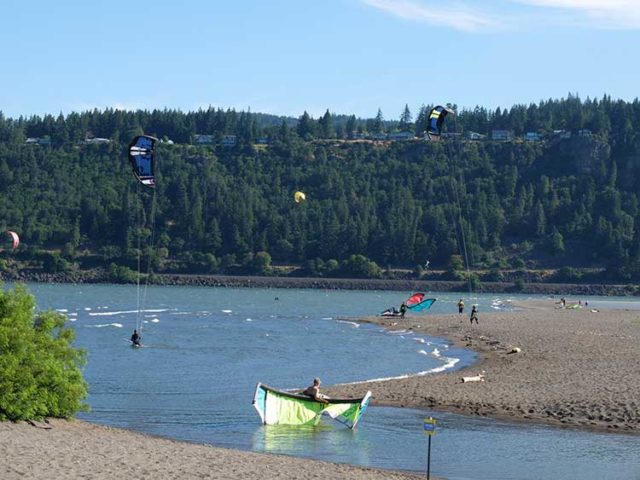 The Columbia River Highway Scenic Byway, begun in 1915, is on the National Register of Historic Places and is the first planned scenic roadway in the United States. Leave time to explore some of the many viewpoints (like Crown Point); falls (including Multnomah — now requires tickets — and Bridal Veil); Bridge of the Gods; Cascade Locks (where the sternwheeler cruises launch), and the Bonneville Dam. Find numerous biking and hiking trails along the Historic Columbia River Highway State Trail, old route 30.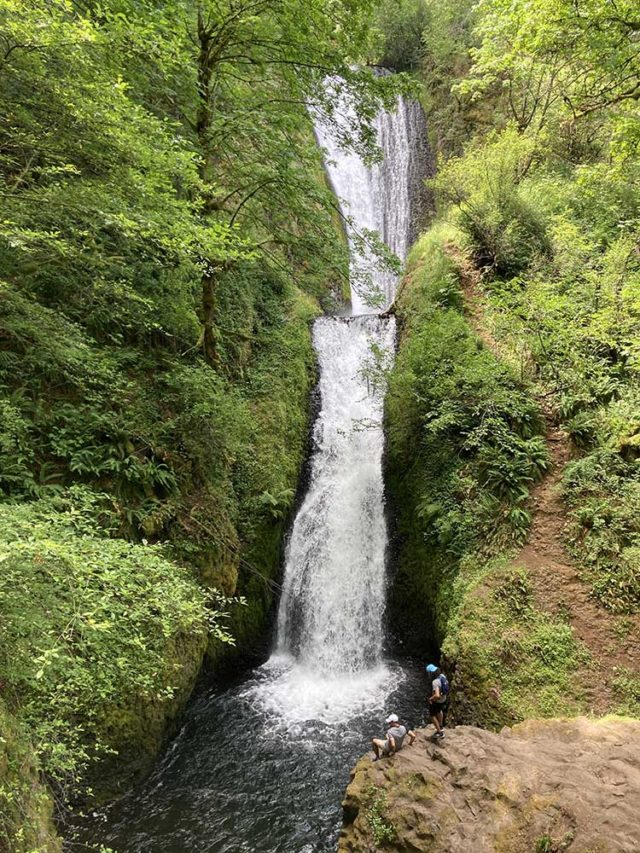 Take the Mt. Hood Scenic Byway south of town and you'll drive right into the thriving Hood River Fruit Loop. Depending on the season, find the best lavender, stone fruit, wine, berries, and much more. Here's what we sampled:
The Gorge White House, a fourth generation, family-owned farm is home to berries, ciders, wines, beers, vegetables, flowers, and a gourmet food truck (think fresh blueberry flatbread). Favorite hard ciders are the honey lavender and apple with cascade hops. There are dynamic views from the farm of both snow-covered Mt. Hood and Mt. Adams in the distance.
Wy'East Vineyards is an ideal place to taste estate wines. Relax on the back patio surrounded by lush gardens, vineyards, and a bocce ball court and try these Pinot Noirs: the 2017 Reserve and the 2016 Vinette's Cuvée. Don't miss the 2018 Zinfandel.
Mt. Hood Winery offers a 2019 Estate White Pinot Noir to taste as you take in the knockout view of the mountain from the expansive patio. Unwind as you sip the 2020 Estate Pinot Gris and the 2017 Summit Red (Tempranillo, Pinot Noir, Syrah, Merlot, and Barbera).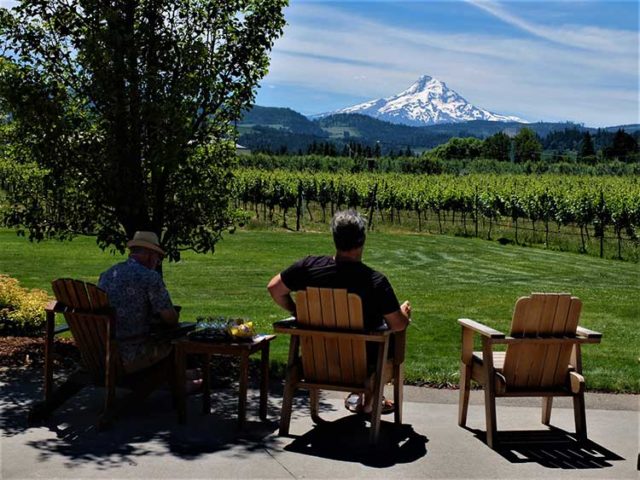 EAT
Here's what we tried around town (parking is easy):
Pine Street Bakery is a popular neighborhood spot with outside seating and good people watching. Get great coffee and baked goods, including loaves of bread straight from the oven. It's in the Heights area of Hood River, right next to downtown.
Doppio, another great people watching spot in the middle of town, offers specialty coffee drinks, breakfast sandwiches, and other panini inside or on the patio.
3 Rivers Grill is worth the climb up steep steps for the river views that await (a handicap accessible entrance is available). Ask for a table on the north side of the patio for the best views. Savor Oregon beers and wine and pair with appetizers like shrimp and lobster cakes and the Ahi tuna stuffed avocado. Popular entrées include hazelnut-crusted fried chicken and Cajun seafood and andouille sausage pasta.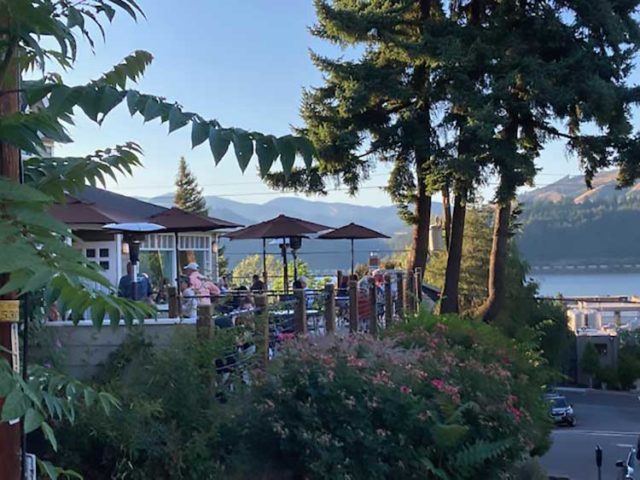 Solstice Wood Fire Cafe, in Waterfront Park, offers creative, locally inspired season-dependent dishes. The pizzas stand out: Country Girl Cherry, Siragusa Pear (named for the farmer, Bosc pears used now) and Cremini, to name a few.
Sixth Street Bistro & Pub is the place for burgers and ribs. Save room for the warm Oregon Berry Cobbler covered with Tillamook vanilla bean ice cream.
Mike's Ice Cream is not to be missed. The tiny store is big on outdoor seating and delicious homemade flavors: Mint Oreo, Salted Caramel, Red Raspberry Cheesecake for starters.
OTHER ESSENTIALS
Oregon Health Authority Covid-19 Updates
Hood River County Health Department Covid-19 Information
Hood River Visitor Information
Patty Burness can be found on Twitter (@pattygb), Instagram (pburness) and reached by email at [email protected].