You won't hear many San Franciscans complaining about our lack of seasons in the dead of winter. Having to don an extra layer while a good portion of the country shovels their way out of snow banks is certainly California privilege. But come fall, we may feel left out. It's such a romantic season when the air turns crisp, the light shines golden, and day-to-day life slows just a tad. For me, the hallmarks of autumn are being comforted by food and nature. If no one were looking, I'd cozy up in a cabin in the country and eat homemade pie all day. How lucky then to have West Marin in our proverbial backyard. With its pastoral scene of rolling hills, quaint 19th century towns and exceptional food, it provides an indulgent fall getaway.
Stay
Realize your farmstead fantasies at Olema Cottages. A handful of humble yet carefully curated cottages rest on a bucolic acre of land in rural Olema Valley. Relaxed gardens filled with year-round blossoms and eclectic objects offer peaceful corners to unwind. Hens roam the grounds hoping that you'll feed them from a bucket filled with scratch. Cottages are homey and stocked with essentials: a comfy bed, wood stove, and lots of books (415-663-1288, www.olemacottages.com).
Play
West Marin is filled with areas of natural splendor, but none more dramatic than Point Reyes National Seashore. Try the picturesque Abbotts Lagoon trail for an easy introduction. It's a level stroll through meadows kept vibrant green from the constant spray of coastal fog. You'll end up at an expansive, windswept beach where said fog lends an otherworldly aura. You know you're somewhere special when every other person has a photojournalist's camera. Sibley fans take note: It's a birding mecca this time of year.
To hasten your heart rate, consider the Mt. Wittenberg trail. My wife and I refer to it affectionately as The Butt Burner. It climbs a steep 1,300 feet to the park's highest peak before leisurely winding back down through forest and meadows. The less ambitious can concentrate on the muscles in their right foot by driving the scenic Mt. Vision Road to its namesake peak. You'll enjoy top-of-the-world views of Tomales Bay, the Point Reyes seashore, and its twisty, sculpted estuaries (415-464-5100, www.nps.gov/pore).
Urban pumpkin patches make the Halloween spirits cry. Nicasio Valley Farms offers redemption for townies with a prototype patch in a picturesque rural setting. It's the kind of patch Charles Schultz would send Linus to (415-662-9100, www.nicasiovalleyfarms.com).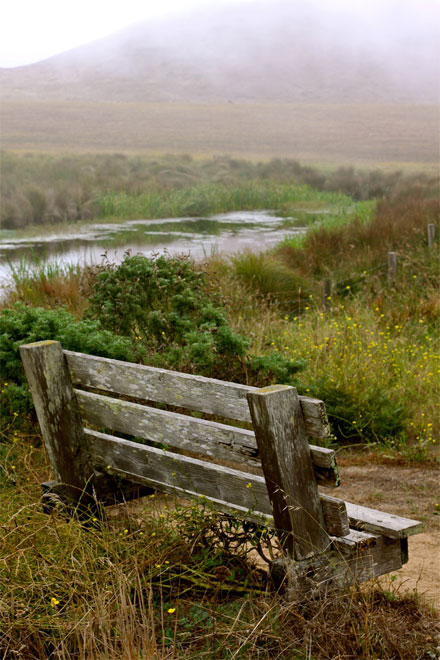 Eat
Join the morning buzz of activity at Toby's Coffee Bar in Point Reyes Station. Plop down in a chair with your paper or get the real scoop by chatting up a local. Just across the street, a line forms outside Bovine Bakery for a pick of their organic baked goods. Snag a loaf of Brickmaiden bread for a taste of local manna (415-663-1223, www.tobyscoffeebar.com; 415-663-9420, www.thebovinebakery.com).
If you closed your eyes and pictured what brunch heaven might look like, you'd probably envision Saltwater. It's a modern seafood shack in Inverness with a sunny — and heated — deck that peeks over Tomales Bay. Raw oysters are like precious art forms so pristine you almost feel bad devouring them. Cooked oysters raise the bar with bacon, basil, and brown butter. Add a vibrant panzanella salad and a glass of rosé and call it a very good day (415-669-1244, www.saltwateroysterdepot.com).
Marin Sun Farms needs no introduction to Bay Area foodies who tout their high-quality, pasture-raised meats. In a stroke of genius, the shop took an adjacent lot and propped up tables, plunked down hay bales, and created the perfect country setting for their meat-heavy menu. Try the lamb burger topped with manchego, chimichurri, and a glorious lamb bacon. They also pour flights of cult wines from Bolinas-based Sean Thackrey. If you made this your only stop, your trip would be a success (415-663-8997, www.marinsunfarms.com).
The cozy Farm House Bar at Point Reyes Seashore Lodge is a good spot for a predinner cocktail. The ruggedly charming interior feels backwoods, but the craft beer and artisanal spirits selection says otherwise. Salute the setting with St. George's aromatic Terroir Gin made from botanicals collected from nearby Mt. Tam (415-663-1264, www.pointreyesseashore.com).
For a casual meal, try Cafe Reyes for delicious wood-fired pizza. Skip the sparse dining room for a seat on the back patio, and enjoy a gorgeous background of Point Reyes' forested ridgeline and moody, shape-shifting clouds (415-663-9493).
You'll love Osteria Stellina for it's well-executed Italian fare and easygoing vibe. The food speaks to its surroundings with hearty dishes like braised meats and pastas. The wine list shuns the locavore gods and goes boldly overseas. Servers are relaxed, knowledgeable, and friendly. You'll have a difficult time not being happy here (415-663-9988, osteriastellina.com).
The newly opened Sir and Star should be a highlight of your trip. Housed in an 1870s inn painted a dramatic gray, it features a minimal interior of plank floors, artful taxidermy, and tree branches that cast shadows from freestanding candelabras. It feels like the home of some particularly hip Shakers. Dishes are a refined version of rustic comfort. A thick cut of local smoked salmon is topped with salt-cured marsh greens (yep, as in what you hiked by earlier), and a quail over rich, savory dressing is possibly the best poultry dish you've eaten. Special occasion or regular Sunday night, dining here is a treat (415-663-1034, sirandstar.com).
Shop
Point Reyes Station is a pleasant place to window shop, peeking in and out of the storefronts that line its main drag. Pop into Point Reyes Books to find something to while away your weekend. Or take home a memento with one of the numerous photography or history books of the local area (415-663-1542, www.ptreyesbooks.com).
The center of activity is at Toby's, an upscale general store and working feed barn. Both yuppies and horsies are well taken care of here. Gourmet foods, various gift items, and an art gallery encourage idle browsing. It's also the site of a Saturday farmers' market, which runs through Nov. 2 (415-663-1223, www.tobysfeedbarn.com).
Source the picnic of your dreams at Tomales Bay Foods. All manner of cheese, wine, bread, and spreadables fill this former hay barn. It's also the original home of beloved Cowgirl Creamery. Picture windows display future deliciousness in the form of resting Red Hawk rounds, a cheese unique to Point Reyes, thanks to native bacteria (415-663-9335, www.cowgirlcreamery.com).