The first time I saw San Francisco was when I emerged from the Waldo Tunnel (now known as the Robin Williams Tunnel) going south on Route 101. It was a late afternoon in mid-September, and before my eyes was the iconic vision of the Golden Gate Bridge — a landmark burned into my brain from countless photos, movies, and TV shows. The sun was going down, the top half of the bridge was red-orange in the waning golden rays, and beyond it, the city lights were starting to wink on like fireflies. Or were those jewels bedecking the skyline?
San Francisco, in all its glory, with Coit Tower and the Transamerica Pyramid crowning the unmistakable panorama, was imprinted on my psyche. It was an eye-widening, jaw-dropping, speech-halting vista that still stuns me every time I see it — even if it's now dominated by the inescapably phallic excess of the Salesforce Tower. I was in the passenger seat of a refurbished VW van that was driven by a friendly singer-songwriter who I had seen performing the previous night at a Mendocino café. We struck up a conversation at an adjacent bar after her set and discovered that we shared certain tastes in music. As it happened, we were both single at the time. One thing led to another, and…
Morning came. She wanted company on her ride back to S.F., and I accepted her invitation. I was grateful for the lift, and I was more than delighted to gaze out the window as we snaked down the craggy, surf-splashed coast, then cruised through verdant hills and redwood forests, getting a glance at Mt. Tam from the highway traversing Mill Valley as well as my initial glimpse of the San Francisco Bay as we passed Sausalito. Exiting the Waldo, I saw the shimmer and sparkle of the city, and at that moment, my life would change for the better. I knew I was home.
ON THE ROAD TO SOMEWHERE
I was in my early 20s and recently graduated from college back east. My plan was to connect with friends who had preceded me to the Bay Area — a promised land of sorts that was known in story and song for embracing Bohemians and rebels. I counted myself among them, and sought to join the fun. I actually hitch-hiked across the country from Philadelphia to Boulder, Colorado, then up to Banff National Park in Alberta, across Canada to Vancouver, B.C., side-tripped to Victoria and Denman Island off the coast of Vancouver Island, then down to Seattle, through mountains and forests of the Pacific Northwest to Portland and Ashland, Oregon. Eventually, I reached California and followed the coastline to Mendocino, where I encountered the woman who would provide my entry to San Francisco.
At the end of my western odyssey, I met up with my tribe and put down roots in the bountiful California soil. Okay. The loam was metaphorical. After a few moves to various Bay Area enclaves, I ended up on Russian Hill where I remain for the immediate future — a denizen of this most European-like American city, a seven-by-seven-miles patch of hills, valley, and urbanity. The roof of my apartment building offers a straight shot of the Marina and Golden Gate, so whenever I've been in need of a reminder of how fortunate I am to be living in this beautiful place — even as the tragedy of the homeless problem and the heedless greed of over-development and soaring prices besmirch it — I can scamper upstairs and marvel at our town from a more macro perspective.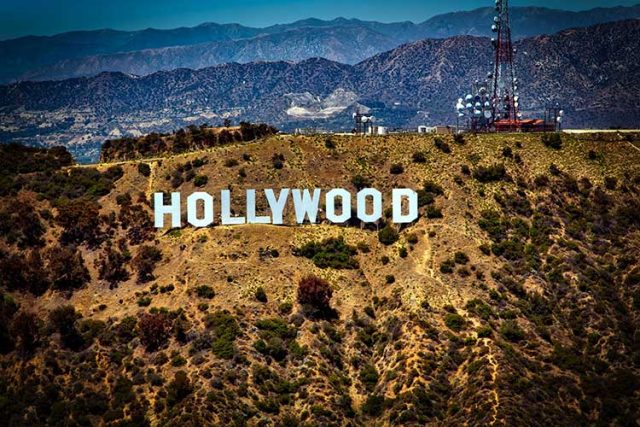 GOIN' HOLLYWOOD
Speaking of views from on high, I was on a flight from SFO to LAX when I got my first look at the massive sprawl that is Los Angeles and its adjacent regions. I was on my way to interview a band (since defunct) for a piece I was writing at the behest of a Bay Area publication. As the pilot veered over the metroplex to position the plane for landing, I could — to my delight and in a sort of omen regarding my career path — make out the "HOLLYWOOD" sign at the top of the Hollywood Hills. I also saw the skyscrapers of Century City and, in the distance, those of the once-neglected, now-vital downtown L.A., as well as the beaches of Malibu and Santa Monica and the Ferris wheel on Santa Monica Pier.
Although it might not have been as magical as my introduction to San Francisco, it was a dream-spawning precursor to many more gratifying trips to the Southland and my eventual time-share between S.F. and L.A., which has allowed me to dive deeper into the entertainment industry on professional and personal levels. I'm not saying that either inaugural exposure to these two remarkable places could be unequivocally classified as love at first sight. But I wouldn't argue with anyone who comes away from this column with that idea.
Michael Snyder is a print and broadcast journalist who covers pop culture on "The Mark Thompson Show," via YouTube, and on "Michael Snyder's Culture Blast," via GABNet.net, Roku, and iTunes. You can follow Michael on Twitter: @cultureblaster