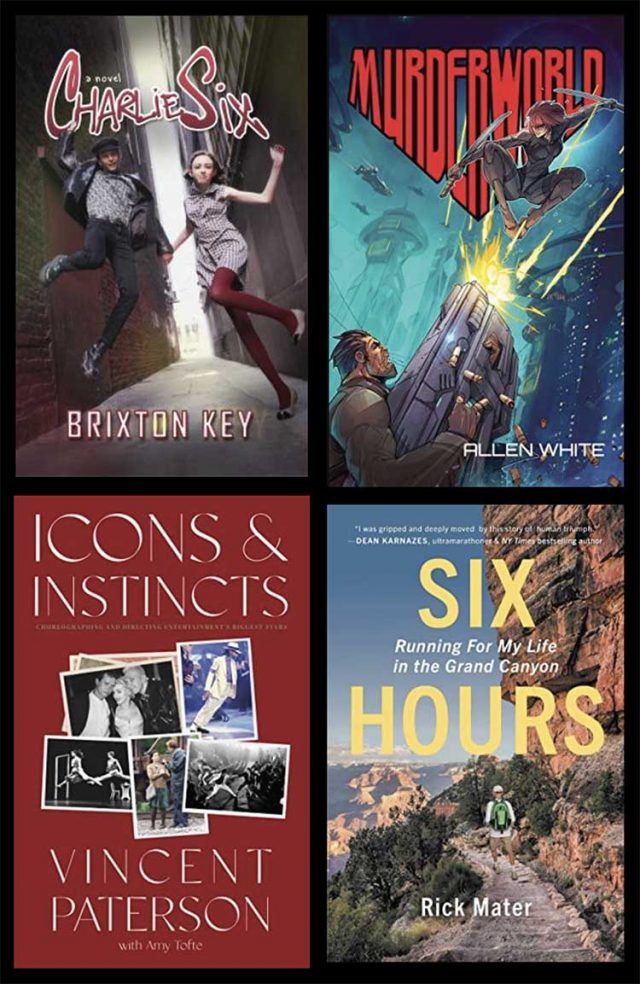 Despite years and years of cranking out countless column inches and pontificating on the air about various aspects of popular culture and my sometimes picaresque life, recent literary accomplishments by four friends of mine have left me a bit intimidated. They've each done something that I have not done in my career to date: written and published books.
To be fair, I'm also immensely proud of the guys, because as far as this highly critical (albeit not that impartial) reader is concerned, they've produced engaging, thoughtful, and extremely readable tomes. What's more, two of them are totally autobiographical in nature and depict extraordinary and radically different accomplishments by their authors.
The first of the bunch to complete his manuscript and get it into the marketplace was music business veteran and former artist's manager Brixton Key, whose coming-of-age novel Charlie Six might not be considered a legitimate autobiography but is based on his own life growing up amid mods, rockers, and gangsters on the mean streets of London, England during the turbulent 1960s. Published in 2011, Charlie Six swings like its setting and brings to mind elements of the London Trilogy by U.K. novelist Colin MacInnes which excavated the rough and tumble side of the English capital in the late 1950s. Brixton has been hard at work on a sequel that brings Charlie to America and even more exotic locales, and I wouldn't put it past him to eventually complete a trilogy himself.
When my screenwriting partner Allen White told me he was banging out a science-fiction adventure set in a dystopian near-future San Francisco, I was beyond intrigued. The novel, bearing the provocative title Murderworld, was issued in 2018, and its kinetic action, frequently going down in the digital realm of globally popular, cruelly hazardous role-playing games, was certainly my cup of nanites. Plus, Allen's contextual commentary on the all-pervasive corporatization, classist oppression, and disregard for certain people's lives in contemporary society is as relevant as tomorrow's bad news. Though Murderworld is currently out of print, Allen is hard at work on two — count 'em, two — sequels! Game on!
AN ICONIC CREATOR AND HIS FAMOUS COLLABORATORS
Speaking of challenging realms to conquer, Icons & Instincts: Choreographing and Directing Entertainment's Biggest Stars — recently published by Rare Bird and available in select book stores and via Amazon and other websites — is an addictive memoir by the prodigiously talented, crucially influential and indefatigably charming choreographer, dancer, director and actor Vincent Paterson. I've known Vincent for many years and have been exceptionally pleased to witness his personal and professional accomplishments, plenty of which are detailed in Icons & Instincts, a star-studded, engaging, sometimes painfully honest and always inspiring account of his life and career to date. He not only choreographed the scintillating video for Michael Jackson's hit single "Smooth Criminal"; he co-directed and choreographed Madonna's watershed Blond Ambition tour, which changed the very nature of live pop-music extravaganzas.
His creative collaborations with Jackson, Madonna, Robin Williams, Mike Nichols, Lars von Trier, and numerous others are the stuff of legend, but there's been so much more to Vincent's journey, as detailed by the man himself with co-author Amy Tofte. After all, this is a guy who came up with the Madonna crotch-grab that infuriated the Pope and who actually threw a pie in Lucille Ball's face for a skit on a television special. Although Vincent continues to work (recently directing a production of the musical Evita in Vienna, Austria), Icons & Instincts is his testimony to the virtues of never giving up on your dreams. It's a veritable banquet of show-business insights and anecdotes, and it's incredibly honest and revealing about the struggles he faced and the obstacles he had to overcome to get where he is today.
MOVING FEET AND A POTENT BEAT
Which brings me to a pair of volumes by my lifelong buddy Rick Mater — the latest, Six Hours: Running for My Life in the Grand Canyon, being a forthright account of his attempt to continue his passion for distance running, despite having undergone two surgical procedures in the wake of harrowing cardiac events. In addition to detailing the events directly leading up to his run into the depths of the Grand Canyon and back, Six Hours delves into Rick's experiences as a runner since high school and college; his family background, with a nod to the genetic markers that may or may not impact his health as the years mount up; his youthful foibles; his relationship with his ex-wife and their children; and his ongoing career and personal philosophy. It even covers aspects of the Canyon's geology, its political history, and its significance to Native Americans.
Although I'm not a runner myself, I was fascinated by Six Hours and a little in awe of the determination needed to accomplish the feat that Rick attempted. And I had no problem connecting with his previous book Beat. This evocative novel functions as a veritable trip through time to mid-1970s San Francisco when the youth culture, represented by casual dope dealer and wannabe writer Billy and his comrades, was immersed in sex, drugs and rock & roll. The hippies had fallen by the wayside, and the Haight-Ashbury scene that fostered the Love Generation was giving way to punk. The Ramones and The Damned were doing Bay Area club dates. Local acts like the Nuns and Leila and the Snakes were in the mix. And the hedonism was starting to take a toll. Something had to give . . . and did. Whether you lived through the period or not, Beat captures an era and a place — and the people who inhabited it — with exacting detail. Beat and Six Hours are both purchasable on Amazon.
So kudos to Rick, Vincent, Allen, and Brixton. Perhaps I will join them and produce a book of my own at some juncture. Meanwhile, I'm thrilled to have read their work and excited to see them expand their audiences, and I welcome their next endeavors.
Michael Snyder is a print and broadcast journalist who covers pop culture on "The Mark Thompson Show," via YouTube, and on "Michael Snyder's Culture Blast," via GABNet.net, Roku, and iTunes. You can follow Michael on Twitter: @cultureblaster