As much as I glory in the unique experience of a transcendent concert by accomplished musicians, there is also something special about hitting the right dance club when the disk jockey is deft and the playlist is inspiring. San Francisco and Los Angeles offer up vibrant DJ-driven theme nights at various venues — some weekly, some monthly, some downright irregular, and a few that float from space to space. Depending on the breadth of your musical taste, they can be a blast, a sweat-and-smile-generating workout, and even a little time travel.
I have long championed the San Francisco-spawned Bootie mashup parties that spanned the globe for two decades (including residencies in Los Angeles) and moored its flagship on Saturday nights at S.F.'s DNA Lounge, until shifting to different local venues such as the Oasis on a sporadic basis for the moment. With glamorous co-founder and pop-wise producer Adriana Roberts in the DJ booth since the start, Bootie's selection of genre-blending-and-busting mashups (if you know, you know) assures a stylistic range with wide appeal. But other clubs are more specific in their programming. A thriving example is New Wave City — the monthly '80s-themed dance party that celebrated its 30th anniversary this past October. NWC continues its current residency at the Cat Club on Folsom with event creators/DJs Shindog (a.k.a. public relations whiz Steve Indig) and Skip and their friends playing a thrumming mix of synth-pop, Goth-rock, and other new-wavy goodies.
Another cheerfully focused, disc-jockey-driven gathering is Bardot a Go Go, the '60s French yé-yé pop gathering dedicated to classic recordings and videos made by the legendary Serge Gainsbourg, Brigitte Bardot, Jacques Dutronc, France Gall, and a host of their peers. Although this Francophile neo-discotheque was launched 25 years ago by DJ Pink Frankenstein (Johnnie Lieske) and his cohorts (the California Kid and Brother Grimm) as a regular staple of San Francisco nightlife at 330 Ritch, it has since shifted to a bi-annual, holiday-oriented schedule at the Rickshaw Stop on Fell with parties timed to Bastille Day and the birthday of the prodigious Monsieur Gainsbourg. A similar French pop theme powers Décadanse Soirée — a monthly Los Angeles happening at the Grand Star Jazz Club that also fosters an offshoot called French Disko in pop-up hotspots like the Friend Bar in Silverlake.
STYLISTIC IMMERSION
Quite a few adventurous patrons at New Wave City, Bardot a Go Go and Décadanse Soirée eagerly adopt era-appropriate garb, making attendance an increasingly immersive experience. And that added value is also the case — albeit in a subtle, elegant way — when it comes to those out and about at the super-stylish Constellation Club, which lights up one of the most dazzling Southern California destinations imaginable, the Formosa Café in West Hollywood. A venerable Asian-themed restaurant and bar, the Formosa counted Frank Sinatra, Marilyn Monroe, Humphrey Bogart, Elvis Presley, James Dean, and a host of other show-biz luminaries among its customers. Beautifully renovated a few years back, the Formosa serves tasty, upscale Chinese food and custom cocktails to a new generation of scene-makers — and now serves a menu of rare 45 rpm dance records from the 1960s to the coolest crowd in the Southland, usually on the last Saturday of each month.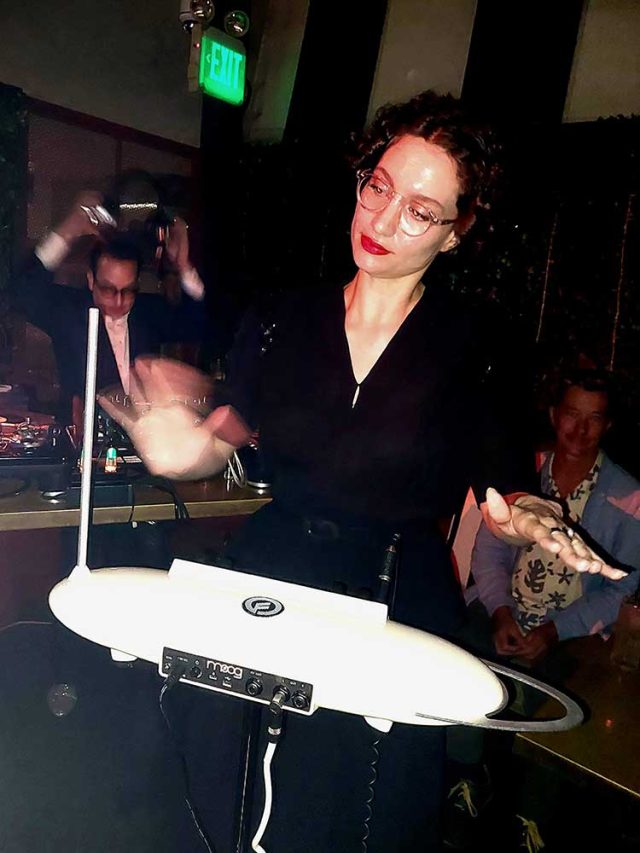 When DJ, record collector and archivist Curtis Lindersmith and his partner Olivia Camille Goodwin started the Constellation Club a year ago, they were still presiding over the Panther Club in Atwater Village. Lindersmith had launched the monthly Panther Club with fellow DJ and lover of vintage vinyl Justin Oliver at L.A.'s Sassafras Saloon on Vine Street in July 2016 with the intent of unearthing seldom-heard soul, R&B, and rock nuggets from the late '50s, the '60s, and early '70s and keeping these deep cuts alive and vital by reviving them to fuel a recurring dance party. Oliver's relocation to Nashville might have derailed the Panther Club, but Lindersmith kept it rocking with a March 2019 move to Club Tee Gee in Atwater Village, where he met Goodwin. Although the Panther Club recently went on hiatus, its soulful beat — with bursts of urban proto-funk and blasts of down-home roadhouse energy — shall surely ring out again. Meanwhile, the Constellation Club continues to rocket forward in singular fashion.
Whether held in the ornate confines of the Formosa's Yee Mee Loo Room or on the cozy upstairs patio, the Constellation Club always delivers an intergalactic groove, courtesy of dapper host Lindersmith who spins an evening's worth of meticulously chosen Space Age rock 'n' roll on the turntables and sophisticated hostess Goodwin, who actually plays a theremin — the vintage electronic instrument — live as sonic accompaniment to select tracks. The setting, enhanced by starry lighting effects, is beyond cinematic, with the hip and the chic sipping libations between bouts of controlled delirium on the dance floor.
STARDUSTED
Goodwin elaborated on the conception of the Constellation Club: "We were inspired by the Formosa Café's storied past as a favorite night spot 'where the stars dine,'" she said. "We envisioned a romantic celestial theme with a retro futuristic '60s twist. We also wanted to approach our deejay set with a creative performance element that punctuated our theme. Rather than simply playing great rare '60s dance records, our hope was to create a more interactive and engaging environment. In addition to two beautiful rotary mixers, we decided to incorporate theremin, vintage reel-to-reel, and a tube delay effects unit."
According to Lindersmith, "Olivia and I created Constellation Club to bring people together in a sophisticated cocktail party environment and share what we believe to be some of the most incredibly exciting, unheard '60s dance 45s ever committed to wax. We want to offer a genuine and thrilling experience with a high level of refined style, taste and quality." Mission accomplished! On Saturday, May 27, the Constellation Club celebrates its one-year anniversary with a notable guest DJ, Jonathan Toubin, flying in from New York City with his own stash of favorite 45s. It should be a blast.
Dancing is a physical and spiritual workout that's good for the body and energizing for the spirit. Depending on my mood, I may be partial to one event or another, but I've never had a bad time at any of the above-named clubs. And there's the added bonus of hanging out with like-minded friends who appreciate the sounds and the surroundings. The rest of you should just decide what musical preferences and vibe will get your motor running and consider stepping out one of these evenings.
Michael Snyder is a print and broadcast journalist who covers pop culture on "The Mark Thompson Show," via YouTube, and on "Michael Snyder's Culture Blast," via GABNet.net, Roku, and iTunes. You can follow Michael on Twitter: @cultureblaster