Guerneville, situated in the Russian River resort area, is a wonderful town from which to discover this idyllic region. Be active or relax — you win with either choice. The area has been a getaway destination since 1877 when it was first connected to San Francisco via railway.
Soaring redwoods dominate the landscape. And depending on the time of the year, the river is either alive with activity or too cold for visitor. When my husband and I visited in March, water sports weren't on the agenda, but the solitude of the beach beckoned for a long walk. Now is the time to take advantage of all The River (as the locals call it) has to offer.
Stay
The Applewood Inn Restaurant Spa, a romantic hideaway just off Highway 116, offers a much-needed respite from the daily grind. Its secluded location boasts luxe accommodations, heated pool, sensuous spa, towering redwoods, and farm-fresh ingredients at dinner and a gourmet breakfast. It's also recognized by Sonoma County as Historical Landmark #129 for Belden House, the original building on the property dating from 1922 (the same year the bridge leading to Guerneville was constructed).
Sonoma County is all about sustainability and Applewood Inn is no exception. Solar energy predominates as does composting, organic crops, fruit trees (some original Gravensteins from the early 1800s), fresh-laid eggs, and honeybees — all on the six-acre farm (800-555-8509, applewoodinn.com).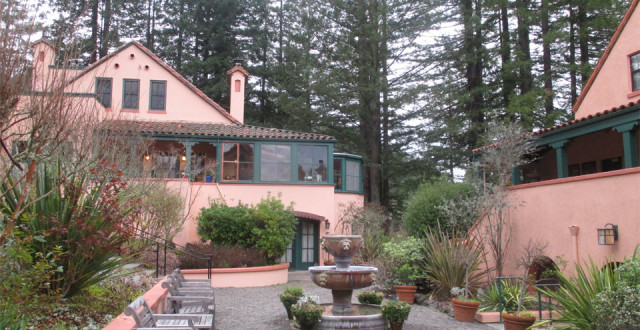 Play & Shop
The Russian River is hopping in August and Johnson's Beach is the place to be. Decide your vehicle of pleasure, and in minutes, you can be tubing, kayaking or canoeing.
Swimming and fishing are options, too. Claim your spot, spread out the blanket and have a good time (707-869-2022, johnsonsbeach.com).
If land sports are more your thing, then head north out of town about 10 minutes to Armstrong Redwoods State Nature Reserve. Hike the trails, have a picnic and savor the serenity of the majestic Redwoods (800-777-0369, parks.ca.gov).
The cool climate of the Russian River AVA favors Pinot Noir and Chardonnay. In the early 1800s, Russian settlers from Fort Ross ventured south and planted some of the first vines in Sonoma (hence the name of the river). Today find lush wines, including those at Korbel, minutes from Guerneville's center.
Started by three brothers in 1882, Korbel now produces over a million cases annually. The time-honored tradition of méthode champenoise is the guiding principal of their California champagne production today. The grounds of the winery are spectacular — from the heavenly roses to the historic buildings made of handmade bricks and wood milled by the family. The property includes a railway stop that opened in 1876. There's even a turret — a replica of a tower at a prison in Bohemia (now the Czech Republic) where one of the Korbel siblings was incarcerated.
In the bustling tasting room, there are a wide variety of delicious bubbles from which to choose. Be sure and try these: Natural, Brut and the Blanc de Noirs (707-824-7000, korbel.com).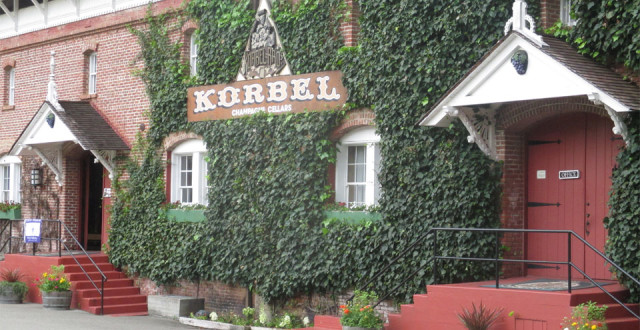 Located minutes southwest of Guerneville in Monte Rio, the Northwood Golf Club is a 9-hole gem. Designed in 1928 by the legendary Alister MacKenzie, this one-of-a-kind links unfolds along the river and under 150-foot redwoods (707-865-1116, northwoodgolf.com).
After a day playing in the river and tasting bubbles, unwind at the Applewood Spa. Melt during a signature massage that eases muscle tension and soothes your body. For variety, add aromatherapy or warm river rocks (800-555-8509, applewoodinn.com/applewooddayspaparadiso.html).
There's shopping at each of the locations above and antiques and assorted collectibles in stores along Main Street. For fun, check out the Sonoma Nesting Company (707-869-3434, sonomanesting.com) and the 5 & 10 (707-869-3404, guerneville5and10.com).
Dine
Find just what you need for your picnic on the beach or in the redwoods at the Big Bottom Market on Main Street. Or eat in their trendy space that blends the look and feel of a farmers' market with an upscale deli. Everything is local, artisanal and sustainable, and combines the best of cheeses, wines, breads, prepared foods, and more. Savor the curried chicken salad by itself (with currents, cashews and garlic aioli) or incorporated into the Colonel Armstrong sandwich on a warm brioche. Be sure you take home their frozen specialty biscuits (707-604-7295, bigbottommarket.com).
Stumptown Brewery is the place to laze away the afternoon. You are guaranteed good food, brews, music, and friendly people — all right down by the river. It's a laid-back, casual place with a huge outdoor deck that is the perfect location to take in the scene. The pulled pork sandwich is a must as well as their handcrafted beers like the Rat Bastard Pale Ale and Blimey the Wanker. Buy tickets now for the annual Beer Revival and BBQ Cook-off later this month (707-869-0705, stumptown.com).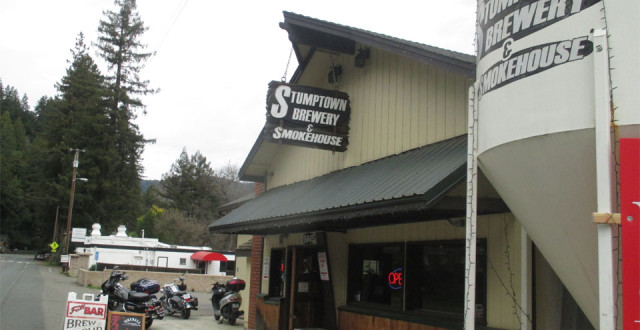 Built to resemble a barn on the property previously used for apples, the restaurant at Applewood Inn boasts a wooden cathedral ceiling, exposed beams, stone fireplaces (including one that's floor to ceiling), and a separate seating area on the porch. The menu is inspired by what's been harvested from their garden as well as from local purveyors.
Sunday night is Russian River night. Enjoy a three-course prix-fixe dinner with no corkage fee if you bring a bottle of Russian River Valley wine. We started with chilled pea soup then savored miso-glazed black cod in a tangy ginger broth with maitake mushrooms and grilled broccoli as well as pan-seared diver scallops with Mendocino uni and whipped Yukon Gold potatoes. Our sweet ending was a honey cannoli with mascarpone cream and vanilla stewed apricots (800-555-8509, applewoodinn.com).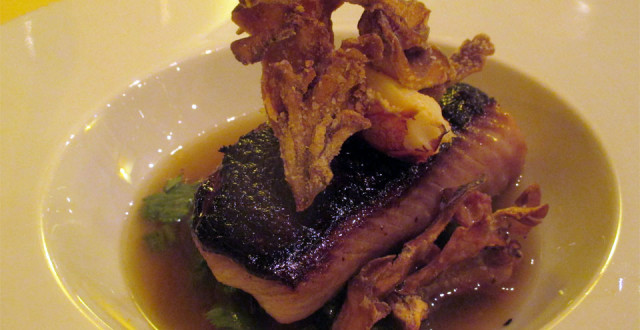 OTHER ESSENTIALS
Special Events: Russian River Jazz & Blues Festival (Sept. 20–21, russianriverfestivals.com)
Russian River Chamber of Commerce & Visitor Center: russianriver.com
Johnson's Beach: johnsonsbeach.com
The Russian River Valley Wine Growers Association: rrvw.org
Sonoma County Tourism: sonomacounty.com