Instead of driving past Geyserville on your way to somewhere else, stop and discover this historic town. In 1847, a series of hot springs were discovered called The Geysers and a community emerged that served the tourists. Initially known as Clairville, the name was changed shortly afterward to Geyserville.
Located just over an hour's drive from San Francisco, today find a mellow environment in which to explore award-winning wines, a zeal for local products, and friendly residents. And everything is on the main street, Geyserville Avenue.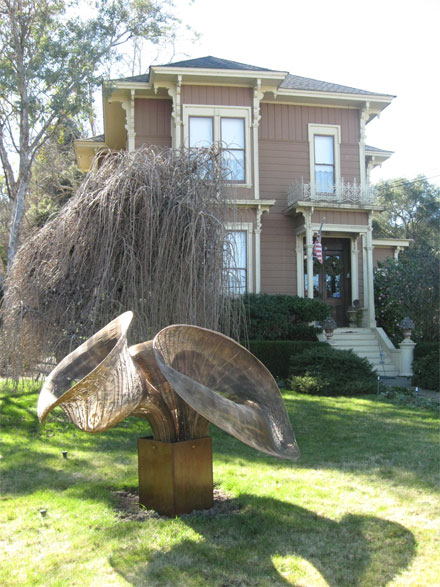 Stay
Among the lures of Geyserville are small properties and a charming bed and breakfast. Anywhere you stay, you'll find wine country hospitality
The Victorian Hope-Merrill House was an early stagecoach stop and today is a completely restored full-service bed and breakfast set among vineyards. The inn is recognized as an historical landmark by Sonoma County. Hand silk-screened wallpaper has been meticulously duplicated throughout the house. The walls are lined with numerous photographs and paintings and almost every inch of space is adorned with a decorative piece. The charming guestrooms and bathrooms are unique and comfortable, equipped with Jacuzzis (in several), Wi-Fi and other modern amenities.
In the morning, awake to the delicious aroma of a hearty country breakfast. Served in the formal dining room, you'll be well fortified for the day with fresh fruit and egg dishes, homemade pastries and jams and French toast (800-825-4233, www.hope-inns.com).
Down the road, the family-owned Geyserville Inn is a modern alternative. The rooms are spacious, some with fireplaces and patios, and with beautiful views of vineyards and the Mayacamas Mountains (877-857-4343, geyservilleinn.com).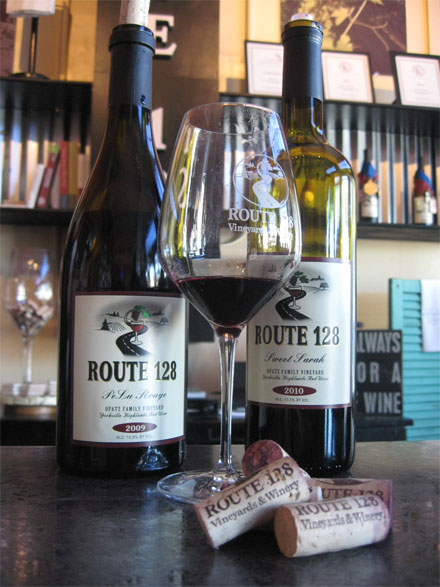 Play
Walking between tasting rooms is a fun way to sample wines from the northern Alexander Valley AVA and tour Geyserville Avenue at the same time.
We started at Route 128 Winery and had a chance to meet the proprietors. Fueled by an enthusiasm for farming and wine, the Opatz family makes delicious and robust wines. We loved the 2009 PeLu Rouge (Syrah, Zinfandel and Viognier) and the 2010 Sweet Sarah with just a bit of sweetness with a beautiful Syrah finish (707-696-0004, www.route128winery.com).
Visitors get the chance to taste through flights at Locals. With 10 wineries represented in the collective and more than 60 wines open and available, it's almost certain you'll taste something here that you won't find elsewhere. We couldn't resist the 2009 Pendleton Buzzard Red blend (Mourvèdre, Zinfandel, Petite Sirah, and Cabernet Sauvignon), the 2010 Gunfighter Treborce Zinfandel and the 2010 Kitfox Vineyards Treasure Hunter Captain Trey (Cabernet Sauvignon, Petite Sirah and Syrah). You might run into a local winemaker behind the bar (707-857-4900, www.tastelocalwines.com).
The family behind Ramazzotti Wines salutes its heritage by growing Italian varietals. These 2009 reds are bold and beautiful: the Sangiovese, the Raffinto (a Super Tuscan blend of Sangiovese, Cabernet Sauvignon, Merlot, Syrah, and Cabernet Franc) and Ricordo (the owner-winemaker's signature Zinfandel blend) (707-814-0016, www.ramazzottiwines.com).
In the modern tasting room at Mercury Wines, Mercury rules. Find the planet and the winged messenger on wine labels, dimes in a collector's jar, and it was the supposed riches to be gained from the mercury mines that lured people to the Alexander Valley in the 1800s. Specializing in Bordeaux blends, don't miss the deep, rich 2008 Messenger and 2005 Rocket (707-857-9870, www.mercurywine.com).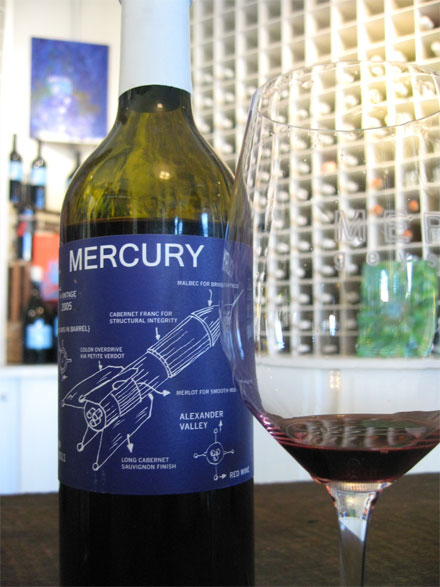 Meeker Vineyard has set up shop in an old bank building. From behind teller's windows and even inside the vault, there's plenty of wine to taste. Known for Zins, don't miss their big-red blends: the 2009 Fossil (Syrah, Cabernet Sauvignon and Merlot) and the 2008 Four Kings Proprietary, Cabernet Sauvignon, Cabernet Franc, Merlot, and Petit Verdot (707-431-2148, www.meekerwine.com).
When wine tasting is over and you're ready to relax, head to Lake Sonoma, only about 10 minutes away. Whether it's to boat, picnic, hike, or camp, it's an idyllic spot (707-433-2200, www.lakesonoma.com). Or enjoy the heated pool at Hope-Merrill, set among landscaped gardens and sculptures. There's also a pool at the Geyserville Inn.
For something a little out of the ordinary, check out Isis Oasis Sanctuary set on over 10 lush acres. Discover a swan pond and streams and see exotic birds, cats and other animals. In the secluded garden, mellow out in the hot tub and pool. Or participate in the rituals in the Temple of Isis (707-857-4747, www.isisoasis.org).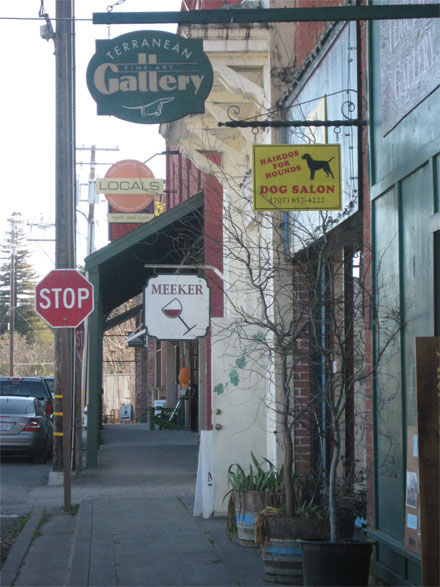 Shop
Shopping is limited in Geyserville, so don't forget to support the wineries you visit by purchasing wines and other products.
In the historic buildings along Geyserville Avenue, Bosworth & Son General Merchandise has occupied its spot since 1911. The store retains its old-time charm and sells western clothes, jewelry, hardware goods, animal feed, and even cemetery plots (707-857-3463, www.bosworthandson.com).
Gin'gilli's Vintage Home (Italian for "stuff") is packed with vintage home goods and gifts from eager collectors and vendors (707-857-3509, vhcg.blogspot.com).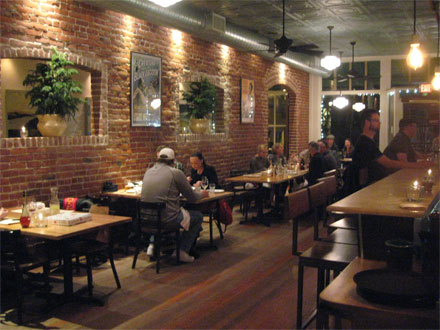 Dine

At the casual Hoffman House, take in the views of the mountains from either the airy patio or an inside seat. Over 100 years old, the restaurant is family-owned. Everything is made in house including the yummy garlic fries. Their special Reuben combines crab cake, Swiss cheese and a red onion relish with herb aioli on grilled rye bread. The bottomless Mimosa is the way to go (707-857-3264, www.hoffmanhousegeyserville.com).
Diavola Pizzeria & Salumeria, a local favorite, is housed in a former general store. The industrial-chic interior includes exposed brick, backlighting at the bar, sleek furniture, and a large wood-burning oven. Chef Dino Bugica brings his passion for Italy to his cooking. Everything on the charcuterie board is home-cured including the blood sausage, Guidea hen terrine and Toscana salami. One of the wood-fired pizzas, Sonja (after Bugica's wife), incorporates the house prosciutto, tomatoes, mascarpone cheese, and arugula on a crispy crust. The 2009 Acorn Sangiovese is the perfect accompaniment. And don't worry about calories in the luscious Meyer lemon pine nut pave — walking "home" is the way to go (707-814-0111, www.diavolapizzeria.com).
OTHER ESSENTIALS
Geyserville Chamber of Commerce: www.geyserville.com
Discover Geyserville: www.geyserville.com
Sonoma County Visitors Bureau: www.sonomacounty.com
Alexander Valley Winegrowers: www.alexandervalley.org