A trip to Napa Valley often means jaunts through a variety of towns as I sip and dine throughout the region. But a recent trip to St. Helena changed that. I stayed put and enjoyed a perfect Wine Country escape with precious little time on busy Highway 29. St. Helena is blessed with a picturesque downtown core filled with remarkable architecture from California's early days. Three whole blocks earned a spot on the National Register of Historic Places. But it's hardly the domain of history geeks: Those old buildings house hip new bars, restaurants and boutique hotels on par with what you'd find in any contemporary urban center. St. Helena successfully integrates the historic and the modern, making it a keen destination for sophistication and charm.
Stay
Stay downtown and ditch the car. You'll be rewarded with St. Helena's enchanting Main Street and immediate proximity to the town's hot spots. Try the sleek Wydown Hotel as your base. It nestles 12 smartly designed rooms in a newly remodeled historic building. The contemporary interior is streamlined and soothing. Natural light slips in from skylights dotted about. Rooms are serene and hold thoughtful comforts like Keurig coffee makers, mini fridges, and spa robes. Guests also receive complimentary day passes to nearby Health Spa Napa Valley. It's an ambitious notion that assumes you can pull yourself away from the room (707-963-5100, www.wydownhotel.com).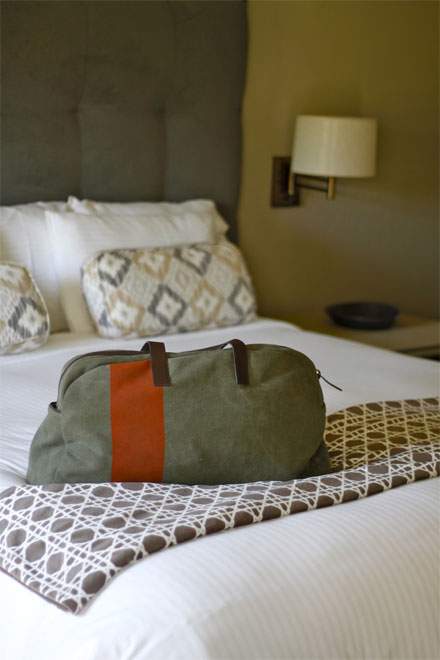 Play
Wine tasting in Napa sometimes feels as if it's lost its way. Exorbitant tasting fees, tacky logo glasses, and wine club pitches can weigh on the soul. Yet, there still exist tasting rooms that will restore your faith in the experience. Small-production Terra Valentine is one of them. After winding up a scenic road, you'll arrive at a monastic stone structure replete with stained glass windows and towering copper-clad doors. You are welcomed not by monks, but by a host with a genuine smile and a glass of Sauvignon Blanc. You'll be seated around a dining table in a room that resembles Colonel Mustard's study as you are guided through a proper tasting. Cabs are king in Napa, and these estate mountain-grown samples are excellent primers. A fresh cheese plate and warm hosts complement the experience perfectly (707-967-8340, www.terravalentine.com).
Back on the valley floor, Corison Winery tells the compelling story of Cathy Corison, originally one of only two women in her oenology program and more recently San Francisco Chronicle's Winemaker of the Year. Corison's wines are a real treat: 100 percent Cabernet Sauvignons that drink smooth, deep, and balanced. Her estate wine is harvested from the organic vines out back whose beautifully gnarled trunks are some of the oldest in Napa Valley (707-963-0826, www.corison.com).
The views of rolling vineyards against the gentle Mayacamas Mountains never get old. Soak up the valley's beauty by renting bikes at St. Helena Cyclery and cruising the quiet — and flat — back streets of town. St. Helena is also home to three terrific state parks. At Bothe-Napa State Park, a shaded creekside trail leads you peacefully away from the bustle of Highway 29 (707-963-7736, www.sthelenacyclery.com; 707-942-4575, www.napavalleystateparks.org).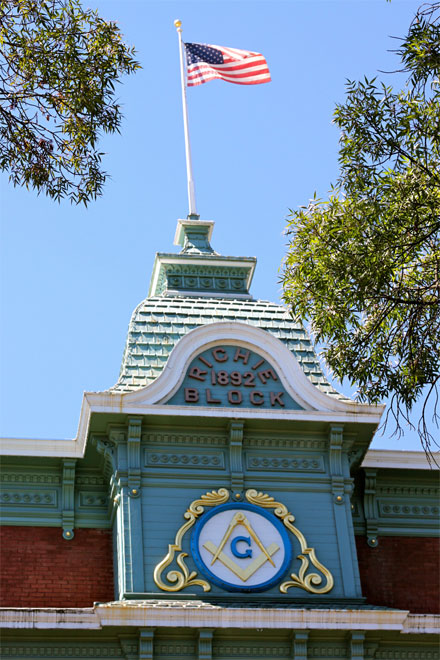 Eat
For breakfast, grab a spot in line for your pick of the morning pastry lineup at popular Model Bakery. Or ease into your day in the light and airy garden room at French Blue. Their refined take on a breakfast skillet is a convincing argument for a higher power (707-963-8192, www.themodelbakery.com; 707-968-9200, www.frenchbluenapa.com).
Farmstead at Long Meadow Ranch is Wine Country distilled. It sits on picturesque grounds that include a wine and olive oil tasting room, farmers' market, and vegetable garden. The style is modern, but the vibe is as relaxed as the organic kale swaying in the breeze. Choose from numerous spots to lounge al fresco or dine inside the gorgeous dining room with its barn-meets-Dwell-magazine interior. Long Meadow Ranch raises its own grass-fed beef, which may explain why their burger is so ridiculously good (707-963-4555, longmeadowranch.com).
A cocktail destination in Napa? That's what happened when Scott Beattie (previously of Healdsburg's defunct Cyrus) opened the cozy bar at Goose and Gander. His cocktails are seasonal, fragrant, and transcendent. The bar top resembles a mini florist stand from which he plucks tiny blooms to adorn your drink. Just outside is a secluded garden that offers dreamy al fresco dining under strewn lights (707-967-8779, www.goosegander.com).
Two blocks away, La Condesa adds a dose of fashion and swagger to Main Street. Décor is a fun mix of kitsch and modernism that sets a festive tone for the contemporary Mexican take on Wine Country cuisine. Dinner wows with smoky oak-grilled squash tacos, luscious yellowfin tostaditos, and an artful watermelon salad spiked with agave-mescal tomatillos and peach-chile puree. Pitch-perfect margaritas refresh the palate after a day of wine tasting. Just save room for their selection of blissful house-made ice cream. Your best bet: pick two, then order three (707-967-8111, www.lacondesa.com/napa).
For intimacy and style, try Cook, a chic bolt-hole that retains the soul and simplicity of the former diner it's housed in. The Cal-Italian cuisine echoes the interior: clean, rich, and refined. Petite and sophisticated, it's the Audrey Tautou of downtown restaurants (707-963-7088, www.cooksthelena.com).
Shop
Make time to say hi to Karen at Acme Fine Wines. She's assembled a veritable Justice League of small production and hard-to-find wine labels in a stylish downtown showroom. Prices range from everyday friendly to once-in-a-lifetime splurge. It's not a tasting room, but she'll happily pour you a sip of whatever is open. Tucked in a corner is a vintage Coke machine secretly stocked with beers and Pellegrino (707-963-0440, www.acmefinewines.com).
You'll likely note the provocative window displays at Martin Showroom from a block away. Bold modern artwork and large-scale furnishings light up downtown, sometimes literally as in the case of a repurposed Holiday Inn sign. This is high-end design at its finest. One glance at the price tags and you will realize why a certain furniture chain can claim its Design is Within Reach (707-967-8787, www.martinshowroom.com).
Acres Home and Garden is an attractive shop of garden-inspired home décor. Air plants, bell jars, linens, and earth-tone candles line perfectly assembled shelves. Or poke your head into La Boheme, a well-curated vintage shop that supports the important work of Napa Valley Hospice. Stock changes frequently and deals abound. It's treasure hunting for a good cause (707-967-1142, www.acreshomeandgarden.com; 707-244-4686, www.shopatlaboheme.com).