Healdsburg is hot. This verdant area has award-winning wines, acclaimed restaurants, a zeal for local products, and friendly residents. And it's an easy drive from San Francisco when you gauge the traffic correctly.
Pomo Indians inhabited Healdsburg thousands of years ago. After the Gold Rush of 1849, the town prospered and grew exponentially. And in 1872, the railroad reached Healdsburg. Farming has always been important, but what started as mostly fruit orchards has now turned to vineyards.
The town is centered around a lush 19th-century plaza with streets lined with boutiques, restaurants, tasting rooms, bookstores, and more. The valleys surrounding Healdsburg are known for the quality of the grapes. It's fun driving in the countryside from winery to winery, but this trip my husband and I stayed in the vibrant downtown area to savor what the region has to offer.
STAY
We chose the eco-chic h2hotel. Not missing a beat in the quest for LEED gold certification, the property includes reclaimed wood and other materials throughout, an undulating roof with succulents, solar panels, and smart sensors for in-room electricity control.
Our spacious patio room featured bamboo flooring, organic sheets, towels, and robes, and refillable carafes of sparkling and still purified water (there are water stations on every floor). The artwork reflects the hotel's hip, green philosophy — the Spoonfall waterfall uses rainwater collected from the roof, which falls over espresso spoons from their Spoonbar restaurant (see "Dine").
In the morning, the hotel offers newspapers, coffee, fruit, and muffins at their complimentary breakfast bar. (219 Healdsburg Avenue, 707-431-2202, h2hotel.com)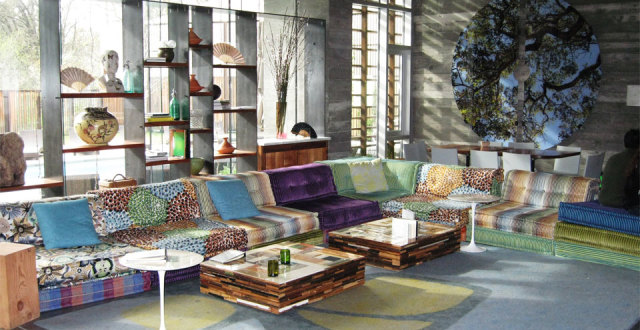 PLAY & SHOP
Wine Walk Healdsburg (winewalk healdsburg.com) is a great inspiration to put together your own tour. From more than 30 wineries, here's what we chose:
Before hitting the streets radiating from the plaza, we stopped just south of town at Old Roma Station across from the Russian River. (It's only a half-mile walk from downtown.) Dating from the early 1900s, the buildings first housed the French-American Wine Company, then Roma Wine Company until prohibition. Now find boutique wineries with plenty of outdoor space to linger over a glass. (Hudson & Front Streets, oldromastation.com)
Hudson Street Wineries showcases five small-lot wineries, and they all have standout wines. Among some favorite Zinfandels were the Kelley & Young 2011 Alexander Valley and the Shippey Vineyards 2008 "Rocking Z" Family Reserve. (428 Hudson Street, 707-433-2364; hudsonstreetwineries.com)
Just around the corner, Front Street Wineries encompasses several tasting rooms, including Skewis, producing single-vineyard Pinot Noirs from various Northern California appellations. Don't miss the Wiley Vineyard Mendocino County and the Salzgeber-Chan Vineyard Russian River Valley — both 2012s. (57 Front Street, 707-431-2160; skewis.com)
Next door, J. Keverson Winery and Hart's Desire Wines share space. Be sure to try J. Keverson's Starkey's Court 2012 Zinfandel Widlow Ranch Dry Creek Valley and Hart's Desire 2008 Pinot Noir Rockin' H Ranch Sonoma Coast. (53 Front Street, 707-484-3083, starkeyscourt.com; 707-433-3097, hartsdesirewines.com)
Once downtown, we parked the car and walked to other tasting rooms. First up was Portalupi Wine, where the owners are equally passionate about their Italian heritage as their wines. Inspired by their "nonna," the Vaso di Marina (red and white blends) is bottled in milk jugs, reminiscent of Nonna's early days in Italy, when she put her wine in milk bottles. Also, be sure to try the 2013 Barbera Shake Ridge Amador County. (107 North Street, 707-395-0960, portalupiwine.com)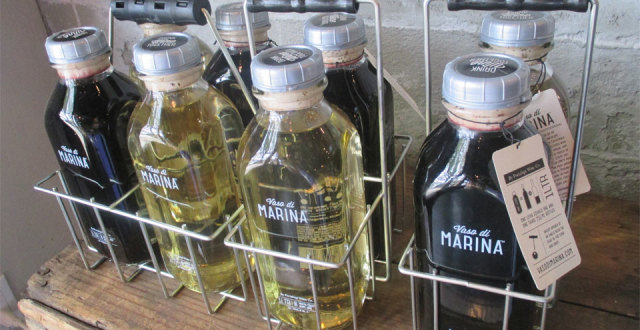 Hawley is a fun space to taste wine and enjoy some of the owner's artwork. The small-lot wines celebrate the grapes that the owners grow in Dry Creek Valley as well as those sourced from elsewhere in Sonoma County. Try the 2010 Estate Meritage Dry Creek Valley among other varietals. (36 North Street, 707-473-9500, hawleywinery.com)
Along the Wine Walk, save time to enjoy fashion and home decor shops, bakeries, cafes, and bookstores. Discover an interesting selection of artisan goods made locally and globally. Later, grab one of the complimentary bikes from the hotel and go for a ride. And depending on what day you're visiting, the Healdsburg Farmers' Market will be in full swing, with one location kicking off its season this month while another location opens in June. (North & Vine Streets, & North Street btw. Grove & Foss Streets, 707-694-9763, healdsburgfarmersmarket.org)
Dine
Shed is bursting with everything food related. It's a high-energy sensory experience. You can feed your needs with books and tools as well as find delicious food — most everything is sourced locally. The interior is open, full of light with an industrial-chic design (roll-up steel garage doors extend the indoor space outside). The owners are farmers who are passionate about every aspect of Shed — it's part marketplace, gathering place, and cafe.
We sat at the counter and began with drinks from the fermentation bar, all made in-house: Kombucha on tap, several shrubs including one with huckleberry-bay and apple cider vinegar, and a sampling of freshly made juices like one with Sibley squash, Asian pear, ginger, and lemon (a beautiful orange color). The daily mezza plate with feta, olives, and house-made crackers comes with beet tzatziki, quinoa salad, and squash hummus, a great play on the Greek dish. The cocotte of smoked trout mousse is yummy on a seeded toast. Save room for the mozzarella, tomato sauce, ricotta, and basil pizza with a savory crust. Enjoy with wines and beers from neighboring regions.
Before you leave, peruse the selection of goods at Shed. You're bound to take home specialty foods and other artisanal products, also available online. (707-431-7433, healdsburgshed.com)
A popular local destination, Spoonbar is located off the h2hotel lobby. It's named for the Spoonfall sculpture described earlier. Open, airy, and bustling on a recent Sunday evening, the marketplace drives the cuisine. Whatever is fresh from nearby farms you'll find on the menu as well as in the handcrafted cocktails like the New East Side with gin, lime, mint, yuzu, and cucumber-elderflower foam.
The sashimi (served with trout roe, Kampachi, barbequed eel, fluke, and more) comes with yuzu and sesame gelée, picked herbs, fermented chili, scallion vinaigrette, and grilled citrus. Or indulge in the grilled quail and crispy pork belly with pasta, trumpet mushrooms, and cabbage. Save room for the decadent dark chocolate torte with banana fluff ice cream, toasted coconut consommé, and banana crisps. Luckily we could take the elevator "home." (219 Healdsburg Avenue, 707-433-7222, spoonbar.com)
UPCOMING EVENTS
Taste Alexander Valley: May 15–17, alexandervalley.org
Antique Fair: May 24, 707-431-3325
Healdsburg Jazz Festival: May 29–June 7, healdsburgjazzfestival.org
AREA INFORMATION
Healdsburg Visitors Bureau: 707-433-6935, healdsburg.com
Sonoma County Tourism Board: sonomacounty.com