Lisbon is an alluring city any time of year, but why not celebrate the start of 2017 there? It's similar in so many ways to San Francisco – seven hills, stunning bridges, dynamic neighborhoods, great food and wonderful people. A destination unto itself, it's also very close to wine country, beaches, and mountains.
Steeped in history, Lisbon was occupied by the Phoenicians, Greeks, Romans and Moors. In the 15th Century, the Portuguese were heralded for their worldwide discoveries, including the sea route to India discovered by Vasco de Gama. Lisbon prospered until 1755, when a major earthquake destroyed it. The city was rebuilt and today is magical — combining modern access with charming old world heritage.
Plan to invest several days to enjoy what the city has to offer. Here are highlights from the trip my husband and I recently enjoyed.
STAY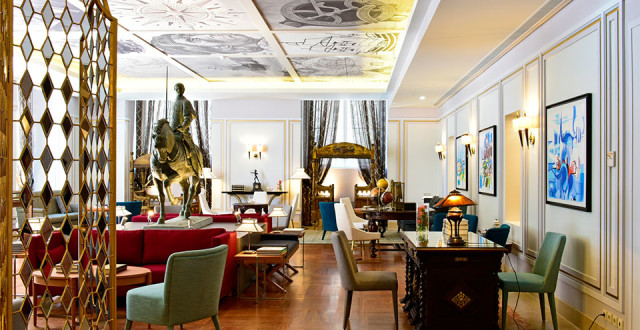 Settle in at the Pousada de Lisboa, one of the Small Luxury Hotels (SLH). You won't beat the location, in the historic center right off the Praça do Comércio – close to shopping, restaurants, and transportation with views of the Tagus River.
The Pousadas de Portugal are members of a national organization that showcases traditional Portuguese buildings, classified as national monuments. This Pousada, housed in an old Pombaline building (an architectural style introduced in the 18th century during Lisbon's post-earthquake rebirth), served as the Ministry of Internal Affairs and also housed the office of Salazar – the country's infamous dictator. It is adorned with amazing vaulted ceilings, sleek furniture, and original artwork and sculpture from some of the city's museums. The rooms are similarly designed, some with views of the Praça scene. Find modern amenities, friendly service, and a luxe feeling throughout.
After a long day exploring the city, relax in the spa or at the pool. A stunning atrium is the setting for an indulgent European buffet breakfast with Iberian ham, smoked salmon, and champagne in addition to other delicacies (pousadas.pt/en/hotel/pousada-lisboa).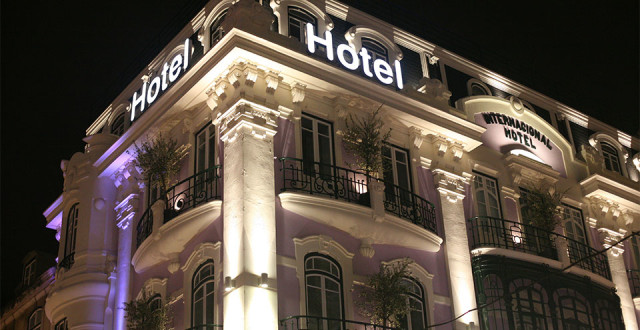 The Internacional Design Hotel is located off bustling Rossio Square, also in the city center. This upscale, luxury boutique hotel (an SLH property) has rooms with views of the historic square. Find a colorful urban chic design and ample space and high-tech amenities in the rooms. Discover the Garden of Eden in the hotel's interior. The breakfast buffet offers traditional fare and specialty Portuguese breads, sweets, and other items (idesignhotel.com/).
SHOP & PLAY
Lisbon, like San Francisco, is a terrific walking city, hills and all, though there are elevators up and down many of the hills.
"Must sees" include:
Miraduoros. With more than 30 citywide, you'll always find a fabulous view and local café at these spots nestled throughout the neighborhoods. Each one is different, but you'll always find traditional blue and white tiles (azulejos) as well as colorful laundry hanging outside the nearby buildings.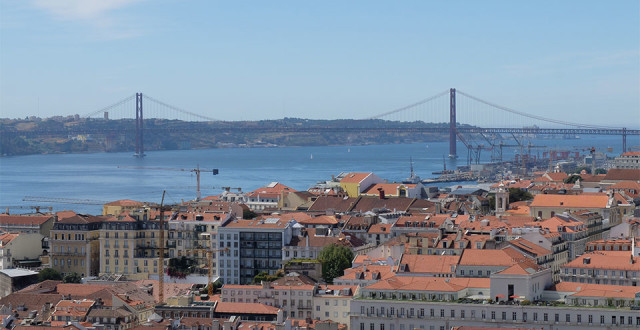 Praça do Comércio. This massive square overlooks the Tagus River, the 25th of April bridge, and has proudly displayed the equestrian sculpture of King Dom Jose I in its center since the city was rebuilt after the 1755 earthquake. The bustling square is bordered on three sides by shimmering yellow and white façades, walkways, and arches overhead.
Lisbon Story Centre. Located on one side of the Praça, find an interactive multimedia space dedicated to the history of Lisbon (lisboastorycentre.pt/en).
25th of April Bridge. A suspension bridge built by the same company that also constructed the Oakland Bay Bridge, yet people confuse it with the Golden Gate Bridge because of its brilliant red color. Spans the Tagus River from Lisbon to the south.
Castelo d S. Jorge. A national monument that sits atop one of Lisbon's many hills. This majestic Moorish castle offers vibrant history (built in the 11th century and home to royalty) with knock-out views across the city and its surroundings (castelodesaojorge.pt/en/).
Rua Augusta Arch. This grand neoclassical arch joins Praça do Comércio with the main pedestrian shopping street, Rua Augusta, and the Baixa neighborhood. The massive historical building is richly adorned with cornices, coats of arms, and sculpted figures. Take the stairs to the top for brilliant views.
Douro Azul Cruises. Famed artist Joana Vasconcelas transformed the former ferryboat, Trafaria Praia, into a work of art. From the hand-painted tiles on the exterior to the underwater gallery below, you'll be mesmerized by her skills. Climb aboard for a cruise up and down the Tagus with incredible views of Lisbon, the 25th of April Bridge, Belém, and more (dourocruises.com/Default.aspx?ID=1624).
Calouste Gulbenkian Museum. This phenomenal private art collection is considered to be one of the world's best. From the masterpieces of Ruben and Rembrandt to the Impressionists, Lalique jewelry, ornate furniture, and Greco-Roman art, it's not to be missed (gulbenkian.pt/museu/en/).
Belém. A short ride outside the city center and situated at the mouth of the Tagus River, it once was an important location in defense of the region. Today, tourists are drawn to the area to see UNESCO World Heritage sites: Belém Tower, built in the 15th century to protect the river from hostile ships (torrebelem.pt/en/) and the Jerónimos Monastery, a 16th century tribute to Portuguese expansion and the sea route to India. Entombs such luminaries as Vasco da Gama (mosteirojeronimos.pt/en/). Pastéis de Belém is world-famous for flaky egg tarts (pasteisdebelem.pt/en).
Trams and Lifts. A great way to get around, the historic cable cars offer an insider's view of the neighborhoods, the monuments, and the hilltops. Lifts provide a respite up and down some of the steepest hills.
Lisbon Card. Makes visiting museums, historic buildings, and riding the trams easy. The cards offer options depending on your length of stay (lisboacard.org/).
Portuguese Pavement. You can't help but notice the mosaics – distinctive small black and white stones formed into beautiful pictures and patterns throughout the city.
Ginjinha. A traditional Portuguese liqueur made from ginja berries (sour cherries) infused with alcohol, then mixed with sugar and other ingredients. Popular in Lisbon, but also in the town of Óbidos where we found our favorite at Ginja d'Óbidos (ginjadeobidos.com/en/).
Fado. Lisbon is a late-night city. Each neighborhood has a distinctive vibe, but Fado is a constant. Don't miss the melancholy sounds at places like Tasca do Chico (facebook.com/atasca.dochico/) and Maria da Mouraria (mariadamouraria.pt/en/).
EAT
Have fun eating your way through Lisbon's dynamic food scene. From traditional neighborhood tabernas to petiscos (tapas), wine bars, and gelateria, there are plenty of options. Regional cuisines specialize in shellfish and fish (bacalhau), breads, pork, lamb, sweets, and more. Favorites include:
By The Wine. This stunning wine bar (the vaulted ceiling is lined with several thousand empty wine bottles) is located on the popular Rua das Flores. A local favorite, savor the food paired with wine exclusively from José Maria da Fonseca. Taste Portuguese varietals grown in Setubal, the Alentejo, and the Douro with food from the same regions. Specialties include oysters, Iberico ham, cheeses, shrimp, carpaccio, and other delicacies.
Try these wines (they are imported): 2013 Periquita Reserva (52 percent Setubal Castelão, 32 percent Touriga Nacional, 15 percent Touriga Francesa), the 2014 Domini Plus (9 percent Touriga Francesa and 5 percent Touriga Nacional) and with dessert, the 2010 Alambre Moscatel de Setubal (jmf.pt/index.php?id=381).
Mercado de Campo de Ourique. At the end of the always-packed 28 Tram ride and the calmer 25, find this wonderful neighborhood enclave. Part markets and part restaurants, it's always a gathering spot. Filled with artisanal products and foods, choose from your favorite purveyor (or two or three), find a seat at a table, and eat and drink! Find wine, charcuterie, pork sandwiches, carpaccio, sushi – there's even a gin corner (mercadodecampodeourique.pt/). Discover other upscale markets around Lisbon.
Sol e Pesca. This tiny spot, decorated with fishing rods, buoys, and nets, only serves fish from a can, i.e. sardines, tuna, mackerel, and much more, all delicacies in Portugal (solepesca.com/S/Home.html).
Taberna da Rua das Flores. Get here early to snag a table at this charming local spot. Food is expertly prepared and delicious – like the mackerel tartare served only as a late afternoon petisco (facebook.com/A-Taberna-da-Rua-das-Flores-292950570719522/).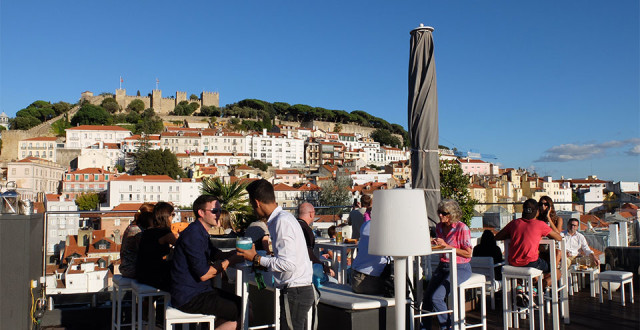 Hotel Mundial's Panoramic Lounge Bar. Head straight to the top floor at sunset for the best rooftop bar in Lisbon. Take in knock-out views of the city sites while sipping cocktails and sharing tasty bites (hotel-mundial.pt/).
Gelato Davvero: It's worth the wait for rich gelato or refreshing sorbet from this popular spot (facebook.com/gelatodavvero/).
OTHER ESSENTIALS
Lisbon Tourism: visitlisboa.com
Small Luxury Hotels of the World: slh.com
Visit Portugal: visitportugal.com/en