With its eclectic waterfront cottages overlooking serene Tomales Bay, Nick's Cove is a unique weekend getaway north of San Francisco. Nestled in the tiny town of Marshall, Calif., the property was originally part of a large ranch until President Lincoln's Civil War chief of staff Henry W. Hallock bought it in 1850. In 1873, the North Pacific Coast Railroad constructed tracks from Sausalito to the Russian River, transporting passengers and products, including dairy, fish, and clams. The construction of a modern highway in 1930 and the opening of the Golden Gate Bridge seven years later solidified Marin County as a first-rate weekend getaway, and Tomales Bay became popular for its fishing and, of course, its oysters.
A later owner, Nick Kojich, built the iconic cottages atop wooden pilings over the water and opened a seafood restaurant to attract tourists. It stayed in the family until 1973, when Al and Ruth Gibson took over, but after Al's death, Ruth found maintaining the property too costly. The current owners have preserved, restored, and enhanced the historic cottages, the restaurant, and the surrounding shoreline.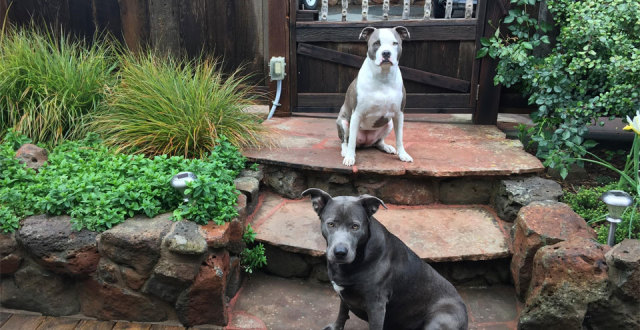 STAY
As soon as Steve, Blue, Skylar and I hit the diminutive town of Olema, we were transported to a different world from the construction and congestion of San Francisco. The winding roads through canopies of trees took us past lovely Point Reyes and eventually we hit our destination — Nick's Cove and our cottage, Al's, named for the previous owner. The wooden gate with rustic white posts led us down red slate steps to a front garden full of native flowers and grasses. The cottage door opened to expansive bay views with Hog Island as the centerpiece. (The name of the two-acre island reportedly came from an incident in the 1870s where a barge carrying pigs caught fire and grounded on the island to avoid sinking, at which point the pigs escaped. The renowned Hog Island Oyster Company took its name from the island.) The bucolic appeal is evident throughout Al's Cottage, with distressed wood floors, wood walls, a waterfront deck, and a working wood stove, but it also includes modern amenities like a plush king-size bed covered in crisp cotton linens, an enormous bathroom with a soaking tub and heated marble tile floors, complimentary continental breakfast, a well-stocked honor bar, and free Wi-Fi.
I offered Steve the king bed (since he kindly gives up his bed and sleeps on an air mattress when I stay with him) and I took the chestnut leather couch which had a surprisingly comfortable pull-out bed. We were greeted with a plate of Nick's famous barbecued oysters, tender and briny, coated with garlic-parsley butter and tangy house-made barbecue sauce, which we enjoyed on the deck as the sun was setting (23240 Highway 1, 415-663-9751, nickscove.com).
DINE
One of the best things about Nick's Cove is that it's in the boonies, but that also limits your dining options. Fortunately, the onsite restaurant is terrific. Just a short walk from the cottages, the interior is large but still manages to be cozy with a roaring fireplace and walls of windows looking out at the bay. There's a selection of raw local oysters and a nod to Drake's Bay Oyster Company, which relocated to Baja California after being booted from its longtime home down the road. Slurping raw oysters right after they were pulled from the waters outside your door is my idea of heaven.
For dinner, we chose the five-course tasting menu from executive chef Austin Perkins. A Marin native, Perkins worked at two-Michelin-starred Cyrus in Healdsburg, Calif. under acclaimed chef Douglas Keane prior to joining Nick's in 2008, where he worked his way up to executive sous chef, developing relationships with the area's abundant farmers and seafood purveyors. In 2011, he became executive chef, and his menu continues to reflect those relationships. Nick's also has its own croft where they grow herbs and vegetables and collect eggs from their chickens. The meal started with a trio of cooked oysters: more of the barbecued (no complaints); bacon braised with shallots and sherry; and my favorite, baked Mornay with Pt. Reyes Toma farmstead cheese, Parmesan, and breadcrumbs. Next came wood-fired salmon, smoky and medium rare, served over carrot-coriander puree, farro, and apple gastrique. The third course was delicate pan-seared Hawaiian tombo tuna on a bed of cauliflower, chard, bacon confit, and mustard braised shallots. Wild boar sugo over fried polenta was paired well with olives and capers. Dessert was another homerun — vanilla Meyer lemon "cheesecake" in a mason jar layered with lemon curd and lemon wafer cookies.
Over our two-day stay, we sampled many tasty items for lunch and dinner. Top picks included the warm mushroom salad with soft cooked egg; Dungeness crab mac 'n' cheese with Spring Hill cheddar, Toma, and Grana Padano; deviled duck eggs with duck confit; and my personal favorite: decadent Maine lobster poutine with generous chunks of lobster meat over hand-cut Kennebec fries covered in creamy lobster béchamel.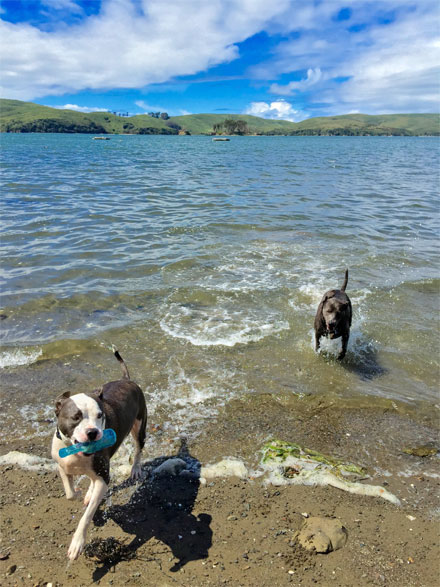 PLAY
Nick's Cove has private beaches right on the property where dogs can swim and people can walk the shore collecting shells, rocks, and sea glass. Skylar and Blue swam and played fetch for nearly an hour both mornings of our stay. Restaurant manager Francine Carlon appeared one of those mornings with a paper cup full of dog cookies baked by the pastry chef. "I saw you guys playing from the restaurant," she said. "I figured after all that swimming they may be hungry." Skylar and Blue gobbled them down, wagging their tails at Francine as if to say, "Now that's service!"
Back at the cottage, housekeeping had dropped off a fresh supply of dog towels so Steve and I could dry off the dogs in the front courtyard. Our timing was perfect as the skies darkened and opened for a huge storm. That night, we stoked a fire in the stove and propped opened the back door. I fell asleep to the crackling flames, the patter of rain on the roof, and the rhythm of the water rushing in and out beneath the cottage.
Heading back to the city, we stopped at one of my favorite spots, the Marshall Store (19225 State Route 1, 415-663-1339, themarshallstore.com) for one more platter of Tomales Bay oysters. (I love Hog Island [20215 Shoreline Highway, 415-663-9218, hogislandoysters.com], and it is dog friendly, but I wasn't in the mood to shuck my own.) We sat on the bay-view deck with Sky and Blue napping under the picnic table. The owner told us about another nearby place to play, and we hiked down the path to a long stretch of beach and flowering meadows where the dogs burned off some energy before the long ride home.
SHOP
We couldn't go home without a stop at Point Reyes Station, where Steve hit the bookstore and I went to Cowgirl Creamery (80 4th Street, 415-663-9335, cowgirlcreamery.com) to pick up some pastured eggs and a gift bag featuring a variety of cheeses by local artisans. My most beloved creamy cheese of all time, Cowgirl's triple cream Mt. Tam, barely made it to the car. With the dogs snoring in the backseat, we reluctantly left the peace and quiet of West Marin and started worrying about finding parking when we got back to the city.