The city of Napa hasn't always been synonymous with culinary and wine tourism; visitors formerly bypassed the town for the northern parts of the valley. Not anymore. Today there are terrific options within city limits — upscale accommodations, good restaurants, delicious wine tasting, and a lively marketplace.
In the early 1800s, the first recorded inhabitants of Napa were American Indians; it wasn't until the 1830s that American settlers arrived to farm. The city of Napa was founded in 1847 and soon the gold and silver rush hit town. By the beginning of the 1900s, Napa was the economic hub of the valley though this waned as the river flooded and a burgeoning wine industry grew farther north. It wasn't until after 2000 that the downtown area was redeveloped and again, Napa itself became a popular place to visit.
STAY
Find modern conveniences at the Westin Verasa (888-627-7169, westinnapa.com), overlooking the Napa River in the Oxbow District. The spacious rooms have kitchenettes, large bathrooms, and a Heavenly Bed (Westin branded), which almost always guarantees a dreamy sleep. Other amenities include a gas fireplace, private balcony, high tech connections, and stereo equipment. At 5 p.m., enjoy complimentary wine and tapas at Bank, the lobby restaurant.
The hotel welcomes pets and implements many "green" programs in its efforts to be environmentally friendly and sustainable. There's even a gift if you decline housekeeping services during your stay.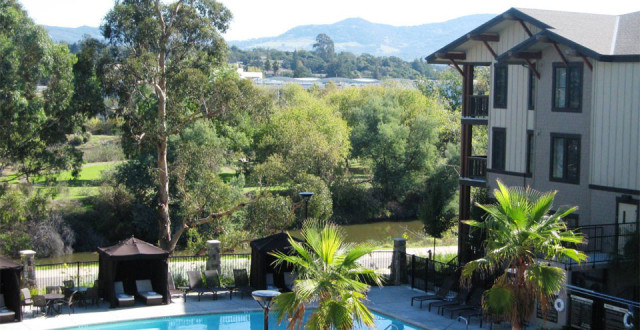 PLAY & SHOP
The first stop on our personal wine tour was a visit to Luna Vineyards (707-255-2474, lunavineyards.com). It's just a short distance north of downtown Napa on the Silverado Trail. The Tuscan atmosphere, décor, and intimacy of the tasting salon add to a European feel. The larger tasting room has an expansive wood bar and exposed beams and a striking tile floor. Among other favorites, you'll love these Luna black label 2013s: the Sangiovese Riserva and the Canto Super Tuscan.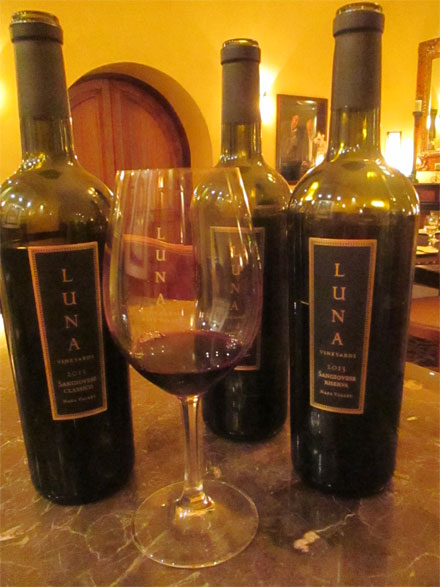 Downtown Napa is a wine-lover's dream. Purchase a Taste Card (donapa.com/wine-tasting-card/) and have immediate access to 12 tasting rooms with initial tastings at 10 cents each (plus additional discounts and specials). The spaces are inviting, the people friendly, and while walking, you don't have to worry about blood alcohol levels.
One of the Taste Card participants is Square One (707-252-1000, donapa.com/wine-tasting-rooms/square-one-tasting-bar), part wine/beer bar, tourist center, and gift shop. Their wine selection changes regularly. We enjoyed these 2012s: Black Stallion Rockpile Zinfandel and the Raymond Reserve Cabernet Sauvignon
The Napa ARTwalk (napaartwalk.org) is always open. Stroll around downtown and see the many installations that are part of the town-wide exhibition. Along the way, you'll also find boutiques, antique shops, many more tasting rooms, and restaurants. And of course, wineries and tasting rooms hope you'll buy wine when you visit, so don't disappoint.
After a long day, try the heated saltwater pool and hot tub at the Westin. If you're up for more aerobic activity and haven't brought your workout gear, not to worry. For $5, the Westin, with New Balance, will loan you an outfit and shoes (westinnapa.com/newbalance). Need information on a trail? Enlist the running concierge and you're off. You'll also find a bocce ball court and complete fitness studio.
Just before you reach downtown Napa, check out the latest arrivals at the Napa Premium Outlets (premiumoutlets.com/napa). Once in town, the General Store (707-259-0762, napageneralstore.com) is a longtime favorite for a wonderful selection of artisan goods, wine country accessories and hearty fare. The Oxbow Public Market (oxbowpublicmarket.com) is another treasure trove of artisan goods, great wine, and relaxed dining. Nestled by the river, the market strives toward zero waste through its recycling and composting programs.
The nightlife in Napa is heating up, and there are several venues for live music. The Uptown Theater (707-259-0123, uptowntheatrenapa.com), built in 1937, is an Art Deco classic. In addition to musical acts, comedians headline, too. At Silo's (707-251-5833, silosnapa.com), mellow out to cool jazz and blues
DINE
C Casa (707-226-7700, myccasa.com) at the Oxbow Public Market is a fun place to start the day. Even first thing in the morning, the market is bustling. Great flavors from sustainable ingredients make this restaurant a local favorite. Made-to-order white corn tortillas enhance just about every dish on the menu. We kick-started our day with hearty huevos rancheros as well as the C Scramble with buffalo. Have a seat in the taco lounge and take in the scene.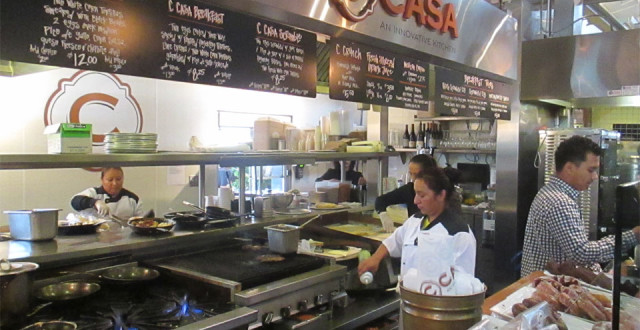 At the hillside Signorello Estate (707-255-5990, signorelloestate.com) on the Silverado Trail, the Enoteca Signorello experience is sumptuous from beginning to end — from the stunning setting to the four courses expertly prepared and served with signature wines. We started with a velvety fennel and apple soup and the 2013 Chardonnay Vieilles Vignes. Next we savored a slow-roasted pork belly with the silky 2012 Pinot Noir Nobles then a grilled Wagyu beef rib eye paired with the 2012 Estate Cabernet Sauvignon. Last, the cheese course (manchego and white cheddar) was served with the 2012 Estate Padrone (mostly Cabernet Sauvignon with a small percentage of Cabernet Franc).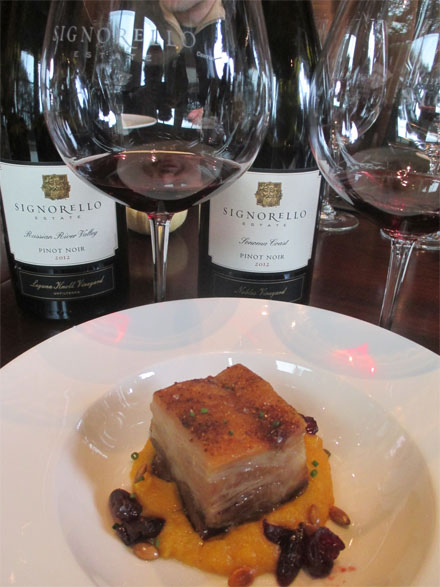 Chef Ken Frank's Michelin starred La Toque (707-257-5157, latoque.com) at the Westin is a food- and wine-lover's paradise. While ensconced in the elegant dining room, create your own culinary experience from the array of delicious options. We opted for the four-course menu and began our heavenly odyssey with beef tenderloin carpaccio with smoky aioli and grilled king trumpet mushrooms and the 2014 Lorenza Old Vine Rosé. Next it was grilled octopus with za'atar, toasted almonds, cauliflower, and pickled lime yogurt served with a 2013 Vacqueyras Blanc from Domaine le Colombier. The boneless lamb loin with Moroccan spice, cumin-scented carrot purée and chickpea fries was third up paired with a 2010 Dumol Syrah. And for dessert, it was milk and cookies. Sounds simple enough, but it was decadent chocolate chip cookie dough, mascarpone mousse, and malted milk chocolate swirl matched with a 2012 Adelsheim Late Harvest Pinot Noir Deglacé from the Willamette Valley.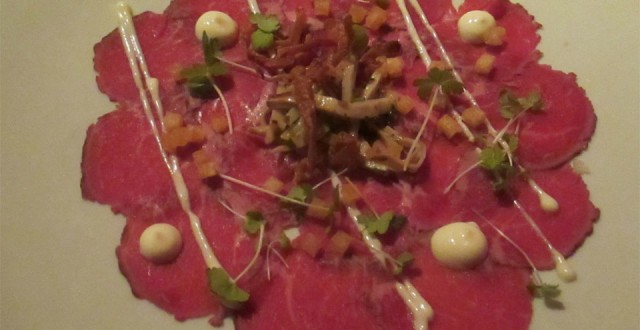 OTHER ESSENTIALS
Downtown Napa: donapa.com
Napa Valley Tourism Bureau: visitnapavalley.com