As you make plans for a weekend getaway, remember: Pet-friendly Carmel is a quick drive south. For those with an appetite for some of the best wine tasting and gastronomic treasures around, it's time to get going.
Recently, my husband and I stayed in beautiful properties and enjoyed the verdant region with its knockout views. It's a charming enclave, home to shopping, galleries, cafes, and captivating beaches.
Stay
Located coast side in the exclusive 17-Mile Drive, The Inn at Spanish Bay is part of Pebble Beach Resorts. Whether in your room, the sprawling lobby lounge, or outside on the patio by the fire pits, the views never end: the Pacific Ocean, stunning sunsets, gorgeous golf course, or towering Monterey pines in the Del Monte Forest.
The spacious, contemporary rooms have fireplaces, marble baths, private patios, and the latest high tech amenities (800-654-9300, pebblebeach.com).
Nestled in downtown Carmel, L'Auberge Carmel is a French country oasis. The landscaped courtyard is awash in bright flora. Each of the distinctive 20 rooms boasts rich fabrics, warm interiors, and large bathrooms. A scrumptious breakfast — fresh fruit and juices, eggs your way, homemade pastries and jam — is included with your room. (831-624-8578, laubergecarmel.com)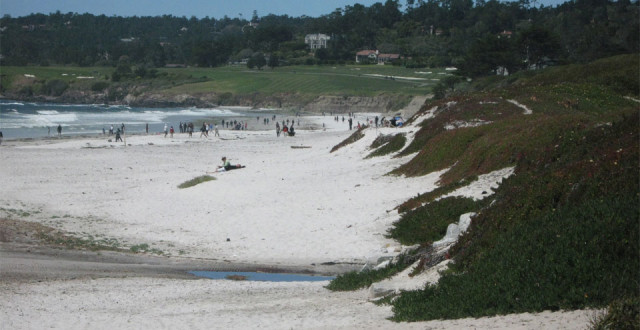 Play & Shop
Monterey County encompasses nine AVAs and 40,000 acres of vineyards. Its proximity to the coast makes for cooler, foggy conditions, afternoon winds, and a longer growing season.
Indulge in a sampling of regional wines by simply following the Carmel Wine Walk — each tasting room is just blocks from the other.
Galante Vineyards reflects its beginnings as a cattle ranch in the label and tasting room designs (owner Jack Galante's great grandfather founded Carmel). The accolades they've received mirror their passion for wine and livestock. Wines are made from estate grown grapes in Carmel Valley. Known for their Cabernet Sauvignons, don't miss the 2010 Rancho Galante. Equally as delicious are the 2009 Ace High Malbec and the 2012 Almond Flat Pinot Noir (800-425-2683, galantevineyards.com).
Keeping it in the family, Dawn's Dream is around the corner. Owned by Galante's wife, this fun tasting room features her "approachable" wines, some named for her daughters; in addition, find the rich 2010 Carmel Valley Pinot (831-659-2649, dawnsdreamwinery.com).
Caraccioli Cellars designed an intimate, lounge-like space to taste their distinctive wines. Celebrated for sparkling and still wines, their grapes are from the Santa Lucia Highlands (SLH). This boutique winery uses French oak barrels resulting in smooth wines that burst with fruit flavors. Especially good are the 2007 Brut Cuvée, 2007 Brut Rosé, and the still-young 2009 Pinot Noir (831-622-7722, caracciolicellars.com).
Scheid Vineyards, on a prime corner with lots of light in the modern tasting room, grows estate grapes in the Salinas Valley. Smart, focused and dedicated to their craft, the Scheid clan embraces sustainability in their farming, business practices, and community commitment. Enjoy multifaceted wines like the 2009 Pinot Noir Clone 115 Reserve, the 2009 "Isabelle" Sparkling, and the 2011 Chardonnay Reserve SLH (831-656-9463, scheidvineyards.com).
Wrath Wines uses grapes from their Monterey estate vineyard as well as sources from growers in SLH. "Wrath" represents their zeal for winemaking combined with the force of Mother Nature (fog and wind) in the vineyards. Favorites include these 2011s from SLH: Pinot Noir Tondré Grapefield and the Syrah Doctor's Vineyard (831-620-1909, wrathwines.com).
If wine isn't your thing, walk on the beach downtown or along the boardwalk at the Inn at Spanish Bay, bike, hike, and of course, play golf at one of the area's signature links. Fitness in all forms (swimming, tennis, workout sessions, yoga) is available at The Spanish Bay Club for resort guests (831-647-7438).
In charismatic Carmel, every other storefront is a boutique or art gallery. Carmel Plaza is host to several national chains (carmelplaza.com).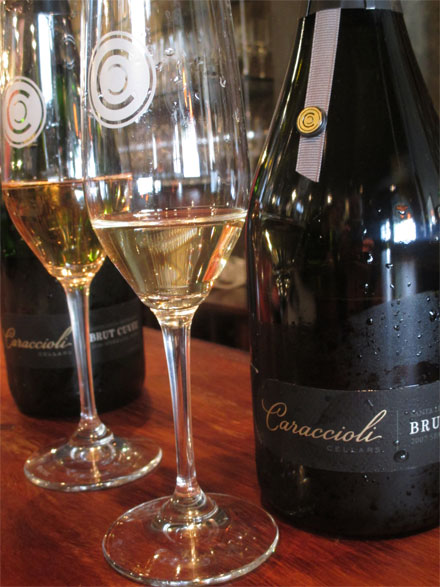 Dine
Breakfast at Katy's Place is a treasure. The casual restaurant has country décor, ample outdoor tables, and boasts the largest breakfast menu on the West Coast. The service is friendly and the portions are large. We selected the lobster Benedict — rich and delicious with perfect poached eggs and flavorful Hollandaise with a must-have side of corned beef hash (831-624-0199, katysplacecarmel.com).
Patisserie Boissiere, a Carmel tradition, offers rustic French cuisine in this enchanting restaurant with cozy seating, warm colors, and beautiful fireplace. Don't miss the French onion soup with melted Swiss cheese. Castroville artichokes and chilled prawns star as a starter. Choose from a number of salads and sandwiches — some on house- made croissants or brioche. Servings are large, so save room for dessert (it's a French patisserie). The wine walk helped eliminate calories from layers of coffee custard, whipped cream, and espresso-soaked chocolate cake (831-624-5008, patisserieboissiere.com).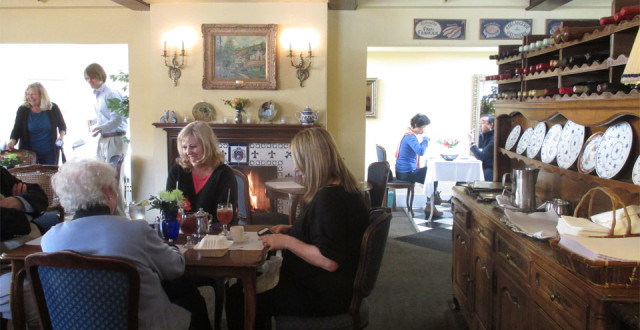 OTHER ESSENTIALS
Special Events: 33rd Annual Sunshine Freestyle Surfabout (June 1–2, sunshinefreestyle.com); Monterey Wine Festival (June 6–8, montereywine.com); Monterey Beer Festival (June 14, montereybeerfestival.com);
Carmel Visitors Bureau: carmelcalifornia.com
Monterey County Visitors Bureau: seemonterey.com
Monterey County Vintners and Growers Association: montereywines.org