If you've visited Italy's Amalfi Coast, you know the azure sea, meandering coastline, and picturesque fishing villages. We have our own slice of Italian heaven in Sausalito. It's close to home, yet often an overlooked destination.
Sausalito is a beautiful playground — for a day trip or overnight. And it's easy to get to: either by a gorgeous ferry ride or a quick hop over the Golden Gate. We tried both options, and here's what my husband and I found on recent adventures.
Stay
Some say the ferry ride from San Francisco to Sausalito is the second most beautiful in the world just behind the Star Ferry excursion between Hong Kong and Kowloon. You decide.
Casa Madrona is a quick walk across Bridgeway Street from where the ferry docks. This recently renovated boutique hotel hugs the hillside and offers stunning views of Richardson Bay, Belvedere and the San Francisco skyline from almost every room.
The property includes the historic mansion (originally built in 1885), which maintains its Victorian finishes while incorporating the latest in high-tech accessories and luxe amenities in its rooms and suites. There are also stand-alone cottages, guesthouses and the Bayside accommodations, which are up from the street dotting the hillside to the mansion. We stayed in one of these spacious, airy rooms with modern finishes, a soaking tub and private patio; however, its proximity to the street made it somewhat noisy (800-288-0502, casamadrona.com).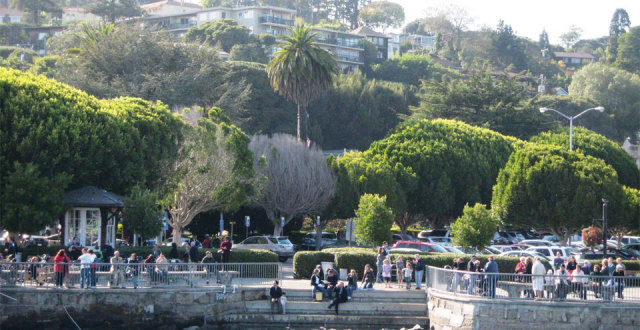 The Inn Above Tide is tucked into a corner of Sausalito near the ferry landing. This plush hotel is situated over the water and offers unparalleled views of the bay. The rooms are beautifully appointed and most have fireplaces and Jacuzzis. Relax on the patio and take in the scene of birds and boats with the binoculars placed in every room. In the evening, enjoy wine and cheese in the Drawing Room, and head back in the morning for a generous continental breakfast (800-893-8433, innabovetide.com).
Play & Shop
Sausalito has two main streets — Bridgeway and Caledonia. Explore both and you'll experience the town's laid-back vibe. During World War II, Liberty ships were built here. Wander along the water and see remnants of the shipbuilding industry and a thriving houseboat community.
Grab one of the complimentary bikes from The Inn Above Tide and discover the area. Or stroll through Sausalito and explore galleries, restaurants, antique shops, and more. Unwind in one of the parks or climb up Princess Street for more shopping, beautiful homes and phenomenal views.
Along Bridgeway, you'll even find some terrific venues to taste California wine. Bacchus and Venus incorporates both wine and works from local artists. This is small-lot wine tasting at its best with over 150 wineries represented that produce 1,000 cases or less. Choose a flight and enjoy! Favorites include the 2012 Groundwork Mourvèdre from Paso Robles, the 2011 Papa's All-Black Sonoma Zinfandel Blend and Peirson Meyer's 2011 Bateman Vineyard Pinot Noir from Sonoma (415-331-2001, bacchusandvenus.com).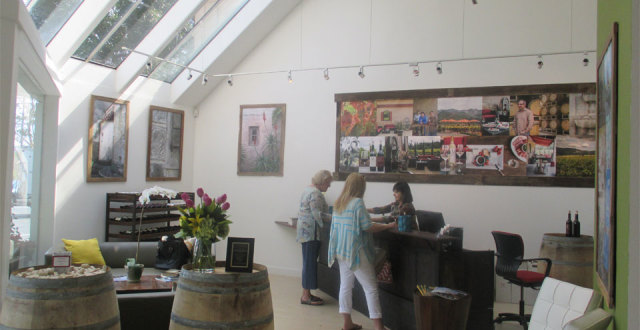 Madrigal Family Winery recently opened their modern tasting room. From vineyard management to wine making, passion runs in the family. Their 40 acres of estate vineyards produce some exciting wines like the 2013 Estate Sauvignon Blanc, the Sonnet #63 (a delicious Bordeaux blend) and these 2010s: Atlas Peak Cabernet Sauvignon and Estate Petite Sirah (415-729-9549, madrigalfamilywinery.com).
The Fotsch Family offers their Napa Valley wines at Real Napa. In addition to wine accessories and other items, find their signature reds and whites. Try their sweet wines like the 2008 Late Harvest Zinfandel (415-332-0105, realnapa.com).
A tasting at the California Caviar Company is a must on any itinerary. Cozy up to the kitchen-like bar and be prepared for the ultimate experience. Their products are sustainable — eggs are stripped from sturgeons that are then able to have many more reproductive cycles. Properly close your fist and put some caviar on your hand to warm. Close your eyes and indulge in the beautiful eggs. Find a wonderful selection (415-332-0822, californiacaviar.com).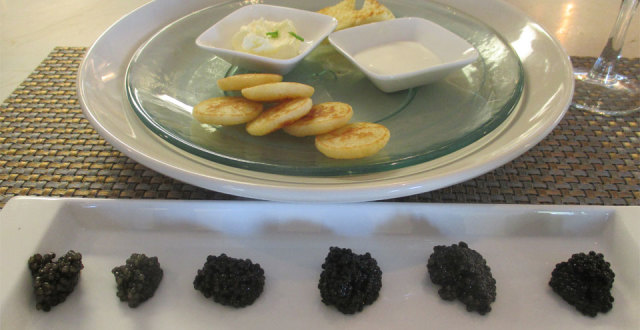 When it's time to relax, head straight for the Spa at Casa Madrona. Start with a steam then choose from a variety of body, skin and massage treatments. If you're looking for deep-tissue work, you won't miss with the therapeutic massage. Tension melts (800-288-0502, casamadrona.com).
A stop at Lappert's Ice Cream is essential. With two locations on Bridgeway, there's no reason not to (415-331-3035, lapperts.com).
Dine
For brunch at Murray Circle, we drove across the Golden Gate and snaked our way down to historic Fort Baker (a former Army post) and Cavallo Point. It's situated near the water's edge with stunning views of San Francisco, Angel Island, the Marin Headlands, and the Golden Gate.
The restaurant's front porch is an ideal location to while away a Sunday with a jalapeño martini and Clouds Rest Femme Fatale Pinot Noir in hand. The steamed mussels were in a luscious creamy Sauvignon Blanc broth with a garlic crouton to soak up all of the goodness. The tasty chicken butter lettuce cups had everything to make wraps: pickled vegetables, roasted peanuts, avocado, and crispy noodles. For dessert, we couldn't resist the strawberry shortcake with black pepper meringue, strawberry ice cream and a banana ganache (415-339-4750, cavallopoint.com/murray-circle-restaurant.html).
Copita is a fun place to learn about tequila, savor Mexican fare, and be part of a great street scene. Start with a margarita (or two), like the Copita (Herradura blanco, fresh lime juice and agave nectar) and the Smoking Gun (Xicaru mezcal, St. Germain, tequila blanco, lime, and grapefruit). Find delicious selections on the menu like the oyster tacos (spicy and succulent) and the trio of ceviches (including lobster, bay scallops, red snapper, and ahi tuna) — all kicked up with chilies and cilantro (415-331-7400, copitarestaurant.com).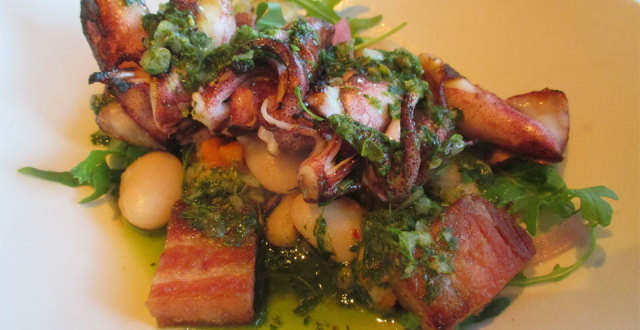 Poggio, a popular Italian trattoria, is known for its Northern Italian cuisine and fresh ingredients from the garden on the hill (poggio). There's a lively atmosphere with a friendly neighborhood crowd, outdoor seating and views that don't quit.
The menu changes daily, but favorites abound: Chef's selections of in-house cooked and cured meats and the wood-fired veal and pork meatballs served in a zesty tomato sauce. The grilled calamari had terrific flavor and was made with pork belly, butter beans, frisée, and salsa verde. The shellfish roe pasta is a unique dish with head-on prawns, bottarga and a spicy chili-tomato sauce. We paired our dishes with a 2009 Chianti Classico Machiavelli Toscana. The lemon mousse for dessert was sinfully delicious (415-332-7771, poggiotrattoria.com).
OTHER ESSENTIALS
8th Annual Gingerbread House Competition & Tour: (Dec. 1–31, sausalito.org)
Sausalito Chamber of Commerce: sausalito.org