The historic town of Sonoma is a wine country lover's delight. With the welcoming ambience, idyllic scenery and sumptuous bounty from surrounding farms and wineries, it's the perfect spot for a weekend getaway.
Once the fleeting capitol of the California Republic, Sonoma proclaimed its independence from Mexican rule in 1846. During the Mexican-American War, the United States flag was raised in town and, in 1850 the state of California was born.
Stay
Just five minutes from Sonoma Plaza, The Fairmont Sonoma Mission Inn & Spa is a serene oasis. American Indians first discovered the thermal waters, and in 1895 the Boyes Hot Springs Hotel was built on the property. Resembling a California mission, the current inn was originally constructed in 1927 with recent major renovations. The lush grounds, friendly service, tranquil spa, and first-class cuisine, make this resort a popular destination.
Find French country decor throughout in the classic guestrooms in the main building to the roomy suites nearby. Some offer private patios, fireplaces and luxurious baths with marble showers and tubs. After an active day, relax and enjoy your surroundings privately or join other guests in the lobby for a complimentary wine tasting (707-938-9000, www.fairmont.com/sonoma).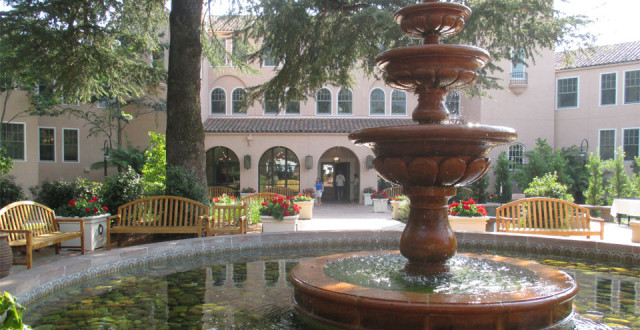 MacArthur Place, a historic inn and spa transformed from a 19th-century estate, is located a few blocks from the plaza. It sits on seven acres of verdant gardens dotted with fountains and interesting sculpture. Many of the individually designed rooms and suites include a private deck, fireplace, high-tech connections, and an exclusive line of grape-seed bath amenities. Guests are served wine and cheese each afternoon in the library (800-722-1866, www.macarthurplace.com).
Play
Located in the heart of the Sonoma Valley AVA, Sonoma's plaza is filled with tasting rooms. Before we started a tour, we decided to explore an up-and-coming area of warehouses on Eighth Street East, which is slowly getting on people's radar screens.
Tin Barn Vineyards is one of the more active members in the area with a tasting room open year round in their warehouse that is also home to the cellar. With a focus on single-vineyard Sonoma wines, don't miss the 2009 Sonoma Coast Syrah and the 2011 Russian River Zinfandel (707-938-5430, www.tinbarnvineyards.com).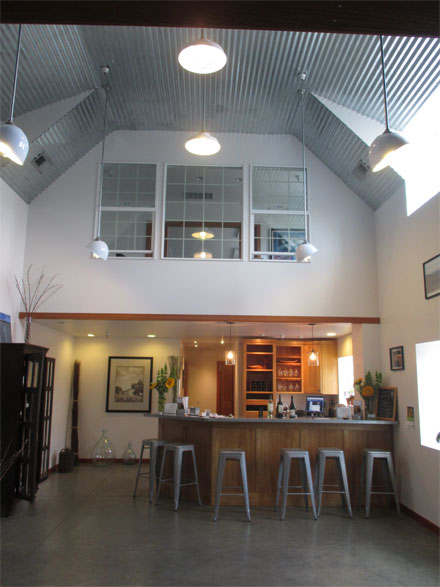 Just across the street, we were lured down a driveway by a sign for Hellocello, promising artisan spirits. Tucked away, find the funky distillery of Fred Groth and his Limoncello di Sonoma, Prohibition Spirits bourbon and rye, and Sugar Daddy rum. You'll love a tour and tasting. (707-721-6390, www.hellosonoma.com).
Around Sonoma Plaza, we stopped at Highway 12. Sharing space with a decorative home store, the tasting room is a mellow spot to enjoy the Syrah and Pinot Noir, both 2011 reserves. The 2010 Highwayman Proprietary Red is a great blend of Cab Franc, Cabernet and Merlot. Call ahead to visit the winery and barrel cellar located on Eighth Street East (707-939-1012, www.highway12winery.com).
You can't miss Charles Creek with its mascot cow — shaped from used corks — taking center stage. The decadent Port-style dessert wine with chocolate and raspberry is worth lingering over (707-935-3838, www.charlescreek.com).
After a strenuous day, the resort spas are welcoming retreats. The Willow Stream Spa at the Fairmont rightfully boasts its own thermal waters. Take advantage in the pools, baths and with revitalizing treatments (877-289-7354). MacArthur Place's Garden Spa develops its services based on the fruits, flowers and herbs from their garden (707-933-3193). After you've been revived, head to one of the pools at the inns for a few laps, or just spend time lounging poolside.
Shop
In the center of town, the historic Sonoma Plaza is a reminder of the town's days as a Mexican outpost. It's a dream for pedestrians and park lovers alike. Old barracks still line one side, as do galleries, tasting rooms, restaurants, and numerous boutiques. Sonoma Enoteca, a cooperative of small wineries, also sells wine accessories (707-935-1200, www.sonoma-enoteca.com). You'll find there's no guilt tasting chocolates at Wine Country Chocolates (707-996-1010, www.winecountrychocolates.com) nor adding calories indulging at The Sonoma Cheese Factory (707-996-1931, www.sonomacheesefactory.com). Spend time exploring pedestrian paths full of small shops.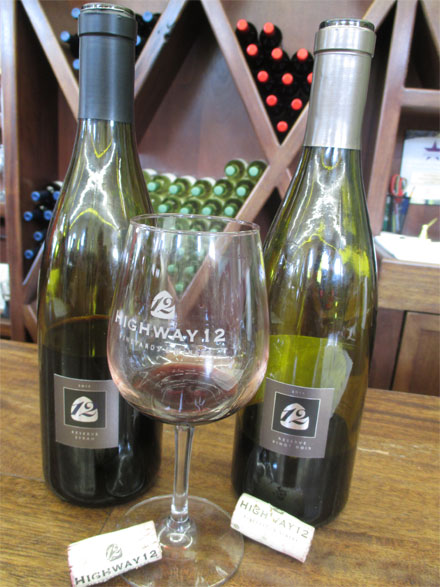 And of course, wineries hope you'll buy their products and other goodies when you visit, so don't disappoint.
Dine
A time-honored favorite is always Sondra Bernstein's The Girl & the Fig. This day was ideal for the sun-drenched back garden patio. Lined with old fence pieces and topped with corrugated aluminum siding, it's a great location for Sunday brunch. We started with a kicked-up balsamic Bloody Mary and the signature Fig Royale with French sparkling wine and house-made fig liqueur. The flavor and texture of the corn-crusted fried green tomatoes was amazing. Next came the spicy arugula salad mixed with grilled fig, Mano Formate pancetta, and fig-and-port vinaigrette and the succulent pastis-scented steamed mussels served with garlic, leeks and slender frites. We finished with a heavenly lavender crème brûlée sweetened with wild flower honey (707-933-3000, www.thegirlandthefig.com).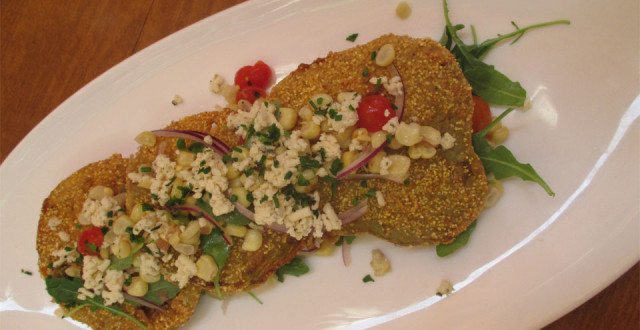 After a wonderful day in Sonoma, dinner at the Michelin-rated Santé Restaurant makes for a seamless finish. Dine by the pool or eat inside with its warm interior, modern lighting and floor-to-ceiling windows.
After a glass of 2009 Tattinger Carneros, we enjoyed the marinated Mediterranean octopus with fingerling potatoes, piquillo peppers and arugula served with the 2011 Selene Sauvignon Blanc Carneros. The richness of the 2008 Robert Stemmler Pinot Noir worked well with the seared Hawaiian tombo tuna prepared with thinly sliced bok choy, snow peas, shiitake mushrooms, and a luscious lemongrass-mushroom-poached-shrimp-pork-filled dumpling. Knowing we had plenty of time to enjoy the experience, at the beginning of our meal we ordered a chocolate soufflé for dessert. And it was now time to reap the reward. The soufflé was light, airy and decadently delicious with the chocolate ganache oozing from within — especially alongside the 2004 Topaz Semillon dessert wine.
At Santé, each dish is meticulously prepared and presented. Luckily, it was a short stroll back to the room (707-939-2415, www.santediningroom.com).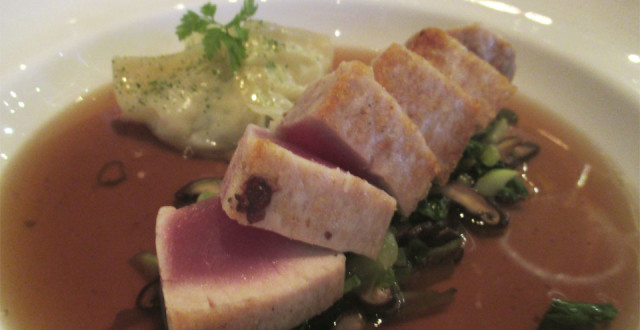 OTHER ESSENTIALS
Special Events:
• Santa on the Plaza and Christmas Tree Lighting (Dec. 6; sonomachamber.org/shopsonoma.html)
• Christmas at the Mission (Dec. 14; sonomaparks.org/pub/cal_ev/22)
• 8th Annual Sonoma Valley Gingerbread Contest (Dec.1–24; www.holidaysinsonoma.com/special-events.html?bpid=226)
Sonoma Valley Visitors Bureau: www.sonomavalley.com
Sonoma County Visitors Bureau: www.sonomacounty.com
Sonoma County Winegrowers: www.sonomawinegrape.org