The historic town of Sonoma is a wine country lover's delight. With its welcoming ambience, idyllic scenery and sumptuous bounty from surrounding farms and wineries, Sonoma is the perfect spot for a getaway. And this trip, make it a point to stop at the gems just on the outskirts of town you've probably passed by on prior visits — like CornerStone and the Eighth Street Wineries.
Once the fleeting capitol of the California Republic, Sonoma proclaimed its independence from Mexican rule in 1846. During the Mexican-American War, the United States flag was raised in town, and in 1850, the state of California was born.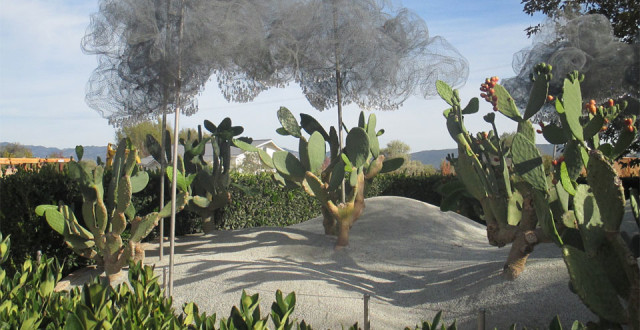 STAY
Situated on the historic plaza, The Ledson Hotel (707-996-9779, ledsonhotel.com) is a show stopper. Family owned and built, each guest room is named for a Ledson member. We stayed in the Winslow room, a man who continued the family dedication to farming and the dairy business. Lavish interiors and personalized service are de rigeur in this luxe hotel. Find extraordinary attention to details such as in the ornate wainscoting and moldings, sumptuous fabrics, crystal chandeliers, marble countertops, and inlaid floors. Each room also boasts a fireplace, private balcony, and Jacuzzi tub.
In the morning, have a continental breakfast in The Zina Lounge, the hotel's restaurant and tasting room.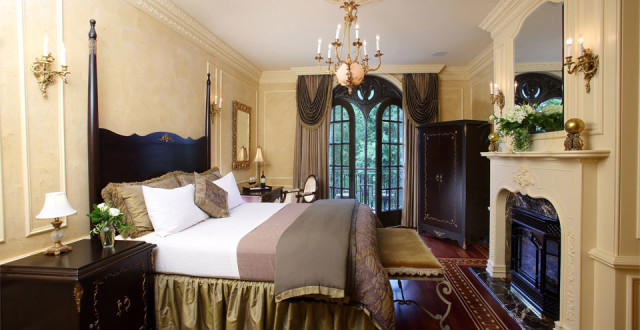 MacArthur Place, a historic inn and spa transformed from a 19th century estate, is located a few blocks from the plaza. It sits on seven acres of verdant gardens dotted with fountains and interesting sculpture. Many of the individually designed rooms and suites include a private deck, fireplace, high-tech connections, and an exclusive line of grape seed bath amenities. Guests are served wine and cheese each afternoon in the library and a lavish buffet breakfast. (800-722-1866, macarthurplace.com)
SHOP & PLAY
This visit, we first stopped just south of town at CornerStone Sonoma. This burgeoning location is becoming a mecca for food, wine, and shopping. Its prolific gardens (by international architects and designers) have been an attraction for some time. With more produce now grown for Sunset magazine's Test Kitchen, the location is on the map. It also features chic fashion and home and garden furnishings and accessories shops (707-933-3010, cornerstonesonoma.com/).
The family-owned Poseidon Vineyard and Obsidian Ridge bring together Chardonnay and Pinot Noir from Carneros and Cabernet Sauvignon from the Mayacamas Mountains in their spacious tasting room and outdoor seating area overlooking the Cornerstone scene. Favorites include the 2013 Poseidon "The Bench" Pinot Noir and the 2011 Obsidian Ridge "Half Mile" Proprietary Red (707-706-2020, tricyclewine.com).
Across the courtyard, Meadowcroft also offers outside seating to sample their 2014 vintage Syrah and Cru Malbec, among others (707-934-4090, meadowcroftwines.com).
East of town, another fun stop is Eighth Street Wineries. Tin Barn Vineyards is one of the more active members there with a tasting room open year round in their warehouse that is also home to the cellar. With a focus on single vineyard Sonoma wines, don't miss the 2013 Sonoma Coast Syrah and the 2014 Russian River Zinfandel (707-938-5430, tinbarnvineyards.com).
Just across Eighth Street, we stopped in at Prohibition Spirits. Fred Groth is the creative distiller behind several artisan brands including HelloCello liqueurs; Hooker House whiskey, bourbon, and rye; Chauvet brandy; and Sugar Daddy rums. You'll love the ambience and the tasting experience (707-721-6390, prohibition-spirits.com).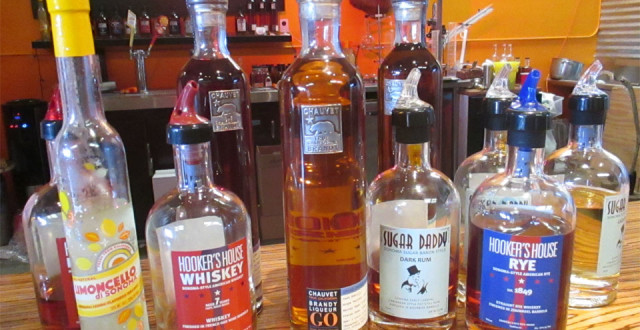 Situated in the heart of the Sonoma Valley AVA, downtown Sonoma is filled with tasting rooms. A favorite is Highway 12. Sharing space with a decorative home store, the tasting room is a mellow spot to enjoy the 2013 Highway 12 Sonoma Red and 2013 Carneros Highway Pinot Noir (707-938-8091, highway12winery.com).
In the center of town, the historic Sonoma Plaza (sonomaplaza.com) is a reminder of the town's days as a Mexican outpost. It's a dream for pedestrians and park lovers alike. Old barracks still line one side (part of Sonoma State Historic Park, parks.sonoma.net), as do galleries, tasting rooms, restaurants, and numerous boutiques. Bella Vita (707-935-8206, bella-vita-sonoma.myshopify.com) is a fun vintage shop and the popular Sign of the Bear (707-996-3722) is a great kitchen store. You'll find there's no guilt tasting chocolates at Wine Country Chocolates (415-996-1010, winecountrychocolates.com). Spend time exploring pedestrian paths full of small shops.
After a strenuous day, the Garden Spa (707-933-3193, macarthurplace.com) at Mac-Arthur Place is a welcome retreat. It develops its services based on the fruits, flowers, and herbs from their garden. After you've been revived, lounge poolside.
DINE
Park 121 (707-938-8579, park121.com) at Cornerstone Gardens is part cafe, grill, and market. It's spacious with a rustic design warmed by wood panels and sculpture. At the bar, we had a bird's eye view of the entire space. Open from mid-morning until late afternoon, the menu combines small plates, antipasti, salads, sandwiches, and savory empanadas.
We began with flavorful shrimp and vegetable rice paper rolls dipped in rice wine and cucumber sauce. Next was the Liberty duck confit and asparagus salad and the 12-hour barbecue brisket sandwich. The dry-rubbed brisket is smoked with western oak. The result is delicious and served with pickled jalapeños, Napa slaw, and barbecue sauce on a brioche bun. We paired the meal with the local 2007 McKenzie-Mueller Malbec.
Situated on a prime corner across from Sonoma Plaza, El Dorado Kitchen (707-996-3030, eldoradosonoma.com) is a haven for good food with a sustainable focus. The food is impeccably prepared in the open kitchen and beautifully served in the spacious dining area with a communal table and lamp-lit tables, which enhance the interior. Bustling with locals and tourists alike, El Dorado's passion for all things Sonoma is clear.
To start, we shared the foie gras tourchon served with luscious Mexican chocolate and huckleberry marmalade. The seafood paella is a wonderful mix of chorizo, prawns, scallops, mussels, salmon, and saffron rice that is perfectly cooked with a little crunchiness on the bottom of the pan. We paired it with the 2012 Anaba Sonoma Coast Pinot Noir. The dessert that night was irresistible: Chocolate crunch cake with salted caramel ice cream.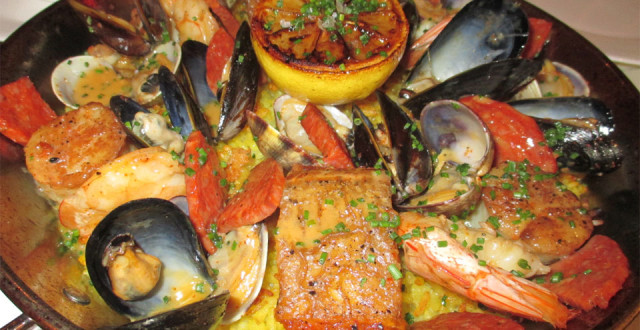 OTHER ESSENTIALS
Upcoming Events:
Sonoma Food Tour
Thursday–Sunday
sonomafoodtour.com
Sunset Celebration Weekend Cornerstone Sonoma
May 14–15
cornerstonesonoma.com
Sonoma County Tourism
sonomacounty.com