A weekend getaway should be easy and relaxing. A trip to Sonoma County's Westside Road is just that. It's a 12-mile drive between Healdsburg and River Road that is filled with oaks and redwoods in addition to numerous vineyards. Recently my husband and I drove this route with its stunning vistas, interesting wines, artisanal products and friendly people.
STAY
If a lush country retreat is of interest, Vintners Inn by Ferrari-Carano is your spot. It is located just off River Road — a short distance from Westside Road. The Italian-inspired inn is as tasteful as their eponymous wines. Nestled among vines and gardens, the accommodations are spread out among three two-story buildings (with more being built). The comfortable rooms boast fireplaces and private balconies with all the amenities. Environmentally conscious, the hotel has its own wastewater treatment facility and uses reclaimed water to irrigate the vineyards and gardens. The gardens supply the popular restaurant (see Dine below).
Freshly brewed coffee is outside your bedroom door — nice before you have breakfast served in the restaurant. (The existing café is being remodeled.) The warm banana bread (with homemade blueberry jam) was mouth-watering, as was the country breakfast with Shiloh Hill Farm eggs and Hobb's applewood smoked bacon. Also great: The corned beef hash, which is smoked in-house. (800-421-2584, vintnersinn.com)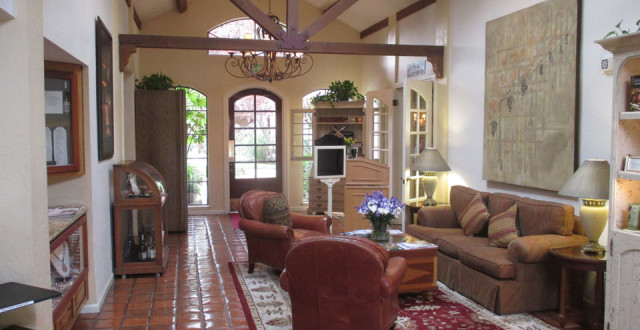 PLAY & SHOP
Westside Road is home to nearly 20 wineries and two AVAs (Dry Creek to the north and the Russian River Valley to the south).
Just outside of Healdsburg, we hit Westside Road and headed south along a winding country route to our first stop at Mill Creek Winery. With stunning views of Dry Creek, the tasting room is designed as a replica of a mill (with working waterwheel and mill pond) reminiscent of those that dotted the land in the early 1900s. You can also savor the wine in the outside area on the landscaped grounds.
Either way, you'll be introduced to their estate grown varietals, all managed by three generations. Favorites from Dry Creek included the 2014 Reserve Chardonnay, the 2013 Zinfandel, and the 2013 Cabernet Sauvignon. There's also Cabernet from their Alexander Valley estate (707-431-2121, millcreekwinery.com).
Arista Winery, set among manicured Japanese gardens, bubbling brooks, and vineyards, is in an idyllic location to taste wine. In addition to their estate wines, grapes are sourced from dedicated growers throughout the region, where you find a mix of warm weather and cool, foggy conditions that provide great growing conditions.
Make an appointment to visit the intimate tasting room and chose from a variety of experiences. The Appellation Tasting included favorites like the 2015 Sonoma Coast Pinot Noir and these 2014s: Russian River Valley Pinot Noir and the Smokey Ridge Vineyard Zinfandel (707-473-0606, aristawinery.com).
At Gary Farrell Winery, it's all about the sweeping views from their ridge-top perch — and the wines they produce. Until July, tastings are by appointment only in "glamping" tents set up on the property. Nestled under the trees, it's a tranquil way to experience the wine and the woods. The terrace and tasting room are undergoing renovations and will offer more seating, more food and wine pairings, and more opportunities to relax when the area is reopened in this summer.
Their wines have been popular since the first vintage was produced in the early 1980s, and they have maintained relationships with some of the same growers for years. Try these 2014s: Both the Russian River Selection Chardonnay and Pinot Noir, as well as the Maffei Vineyard Zinfandel (707-473-2909, garyfarrellwinery.com).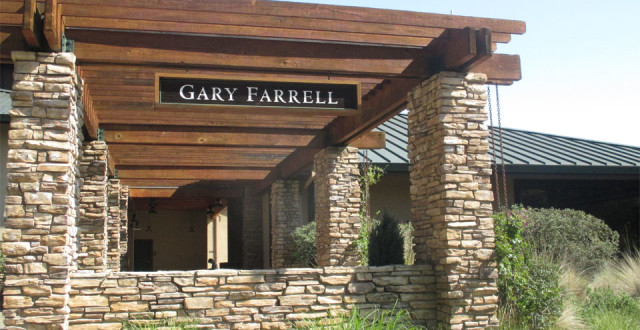 Named for their great grandmother, the family behind Gracianna Winery is grateful for their French Basque heritage and the gifts they have been given in life. The winery is situated on a parcel of land between the river and Westside Road. After the heavy rains and flooding this winter, additional rich alluvial soil was deposited on the vineyard property. We tried these 2013s: Pinot Noir and Zinfandel, both from Bacigalupi Vineyard, and the Estate Pinot Noir from the Mercedes Riverblock (707-486-3771, gracianna.com).
Westside Road is also a spectacular location to ride a bike. Get caught up in its beauty and eliminate any thoughts of that daily 24/7 madness. Shopping in nearby Sebastopol or Healdsburg is a short drive away.
DINE
For a casual meal, we chose The Front Room Bar & Lounge at Vintners Inn with its vaulted ceiling, warm lighting, and wood decor. We started with the marinated Good Faith Farm organic olives and glasses of Ferrari-Carano 2014 Pinot Noir and the Death and Taxes black beer from Moonlight Brewing Company.
Happy Hour is popular every day of the week, especially on Sundays when the focus is burgers. The BN Ranch Angus burger is served with homemade zucchini pickles and choice of pepper Jack or Cheddar cheese. Instead of the usual side of shoestring fries, we opted for the truffle Parmesan cheese fries — thin, crispy, and delicious. After a Caesar salad topped with gulf prawns and another glass of the Pinot, we called it a day (800-421-2584, vintnersinn.com/dining/the-front-room-bar-and-lounge/).
OTHER ESSENTIALS:
Special Events: The Barlow Third Thursday Festival (thebarlow.net/)
Russian River Valley Winegrowers: rrvw.org
Winegrowers of Dry Creek Valley: wdcv.com
Westside Road Wineries Association: westsideroadwineries.com
Sonoma County Visitors Bureau: sonomacounty.com