Whether you fly into Santa Fe or Albuquerque then drive north for about an hour, you'll quickly realize that Santa Fe is a city that keeps drawing you back — for tasty food, vibrant art, welcoming people, colorful southwestern landscapes, and rich history. Santa Fe is 7,000 feet above sea level (stay hydrated) and bordered to the east by the Sangre de Cristo Mountains, part of the Rocky Mountain chain. 
Settled by the Spaniards in the 1600s then conquered by the Mexicans in 1821, it was ceded to the United States in 1848. New Mexico became the 47th state in the Union in 1912. Santa Fe is the oldest capital city in the United States. In 1920, adobe became the official building material to be used in the Pueblo Indian style. Other architectural styles in the city include Spanish, Italian, and Victorian, hence its nickname, City Different. The city is different — there are no high rises due to height restrictions.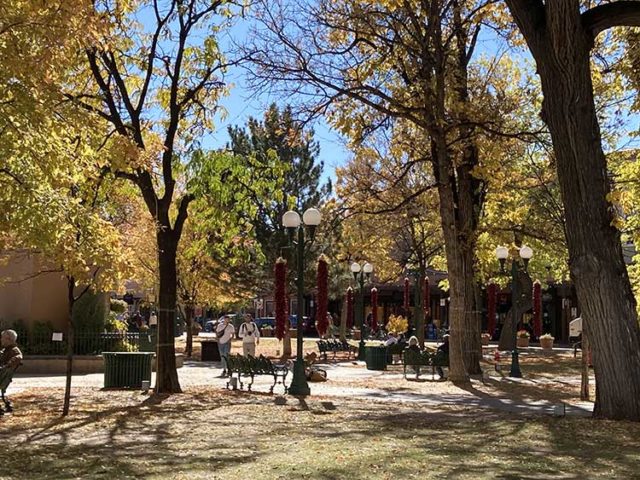 Santa Fe is great for strolling — around the historic Plaza, through the many museums, galleries, and shops; and from one delicious restaurant to another. You'll also find interesting wines from New Mexico and show-stopper chocolate! No matter where you look, there are ristras — red chilies that are historically strung together and hung up as a way to preserve and dry them. Today, they are a sign of hospitality and hang everywhere.
We visited as Covid-19 restrictions were easing in October and the Santa Fe and New Mexico vaccination rates were rising. There were still issues with staffing, masking, and more. The effects of the Omicron variant are being studied as this article is written. Check state and local guidelines before traveling.
STAY
We stayed at the boutique Eldorado Hotel & Spa, situated just off the western edge of the plaza. The beautiful adobe Pueblo-style building blends the cultures of the Southwest inside and out. You'll experience warm colors, carved woods, lively art, and rich textures in the lobby and luxe guest rooms. From our fifth-floor room, we had dramatic views of the sunrises over Santa Fe.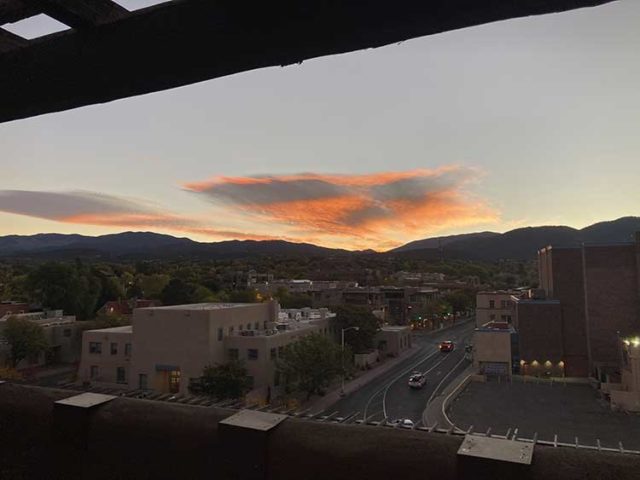 The spacious guest room had a king bed and seating area with a comfy sofa bed, and big screen TV. The wood-burning kiva fireplace warmed the room on cool nights. In the oversized bathroom was a soaking tub, double sinks, and a roomy shower. A large patio extended along one side of the room.
The hotel is well equipped with a fitness center, pool, spa, two restaurants, and friendly staff. It's an easy walk to the plaza, Canyon Road and the Railyard (see "Shop and Play" below), and other places around the city.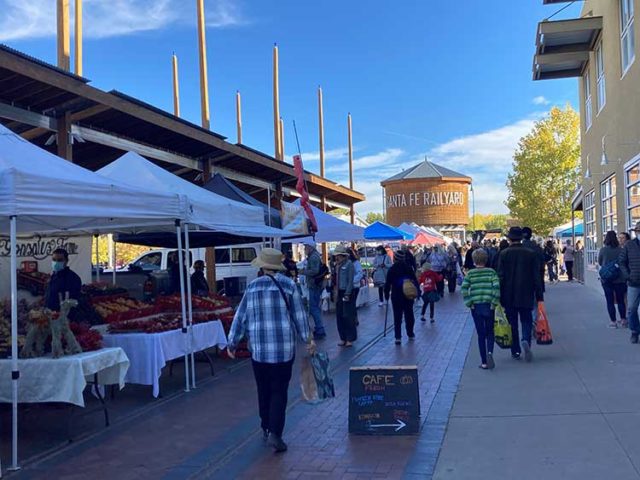 We also tried the hotel La Fonda on the Plaza. This family-owned business is steeped in Santa Fe history. It puts an extensive art collection on display throughout the hotel and celebrates the La Plazuela restaurant with its majestic ceiling and lively interior (see "Eat" below). And if you make it to the top of the hotel before sunset, you may get a seat at The Bell Tower Bar (reopening spring 2022) to see something spectacular; it's the most popular place in Santa Fe at sunset. Throughout the hotel, you'll find numerous examples of Santa Fe and New Mexican art — from the multicolored beams to creative chandeliers and vivid furniture and materials. This hotel, too, is close to the best of Santa Fe. 
SHOP AND PLAY
The historic plaza in the center of town is a mecca for restaurants, boutiques, museums, visitors, and more; most other areas are within walking distance. Lining the plaza on one side, don't miss The Palace of the Governors, the oldest public building in the U.S., where Native American artisans sell beautiful jewelry and colorful weavings. Here are highlights from around the city: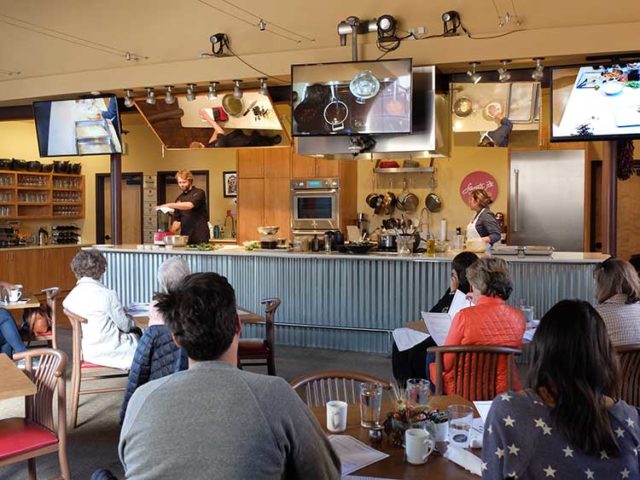 Santa Fe Cooking School offers both demonstration and hands on classes in a contemporary setting. Classes focus on the foods of the Southwest, Mexico, New Mexico, and Spain, as well as Native American dishes. The chef for our Mexican-inspired class whipped up corn tortillas, goat cheese enchiladas with tomatillo sauce, chorizo enchiladas with guajillo chile sauce, arroz verde (green rice), and key lime pie. Attendees devoured the dishes for lunch. Guided restaurant walking tours are also available.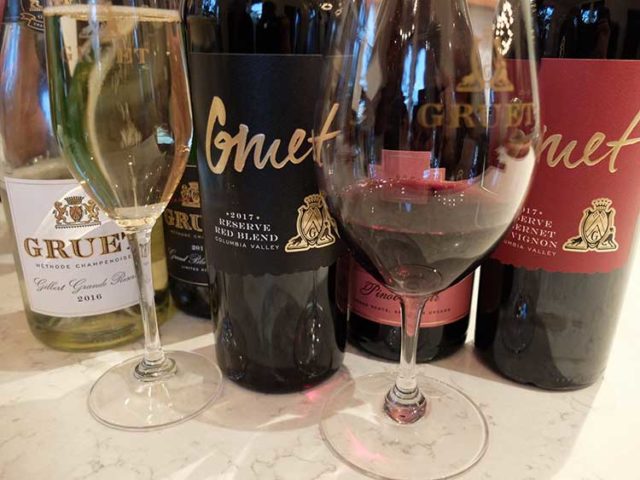 Gruet Winery,known for their Méthode Champenoise sparkling wines, also produces still wines, all of which can be sampled in the downtown tasting room, with some also available on Canyon Road (see below.) On a lush intimate patio (long bar and high top tables available inside), we tasted a number of wines. Favorites include the 2016 Gilbert Grande Reserve, the 2015 Grande Blanc de Noirs and these Reserves: the 2017 Red Blend and the 2019 Pinot Noir.
The  Georgia O'Keeffe Museum is a must see. Her perspective on New York skyscrapers and her New Mexico surroundings (with Native American and Hispanic influences) provides a backdrop for the serene colors and natural landscapes she has infused with extraordinary light. The museum routinely rotates the collection of paintings, drawings, artifacts, and personal items on display.
Kakawa Chocolate House brings chocolate alive in small-batch creations like historic elixirs, candies, and ice cream. They combine eras in history with modern ingredients to produce their organic chocolates — think chili elixirs, prickly pear truffles, and Italian caramels made with pistachios, fennel, and fig. Be prepared: The line is always out the door.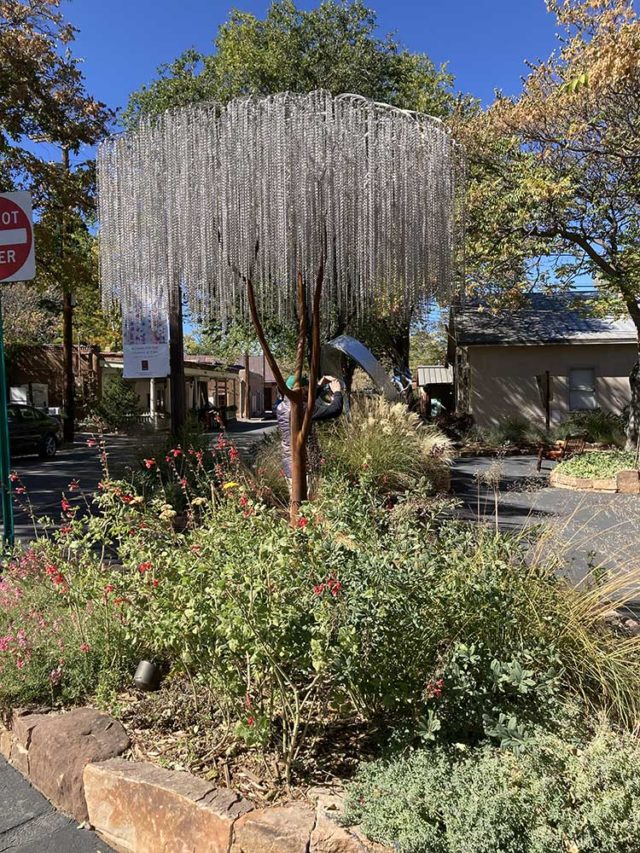 Canyon Road, about a 15-minute walk from the plaza, is an art-lover's oasis. This mile-long tree-lined street has become a premier destination with over 100 galleries. Also find boutiques, restaurants, and the  Ahmyo Wine Garden, where you can relax and enjoy beautiful surroundings and wines from  Vivác and Gruet wineries. Don't miss these Vivác's: 2018 Aglianico and the 2017 Diavolo (50 percent Malbec; 30 percent Aglianico, 10 percent Syrah, and 10 percent Petit Verdot).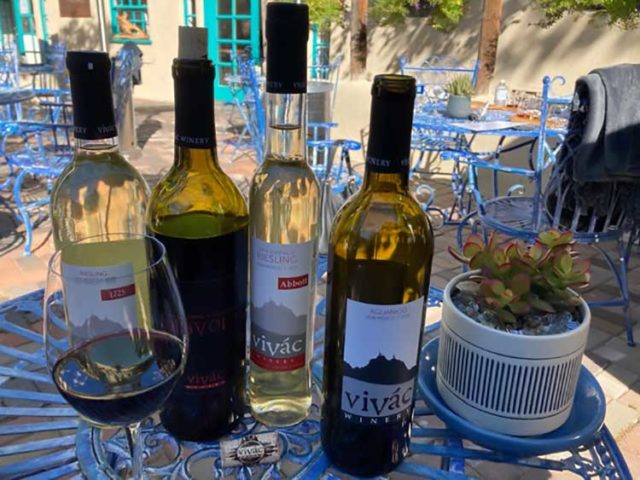 Railyard is Santa Fe's latest hip district. Discover coffee houses, breweries, cafes, contemporary art galleries, an artisan market, and the popular Farmers' Market.
Less than a 10-minute drive from the plaza and just off the Old Santa Fe Trail, Museum Hill delights visitors of all ages with several museums including the Museum of Indian Arts and Culture and the International Folk Art Museum. Find exciting collections of art through history crafted by extraordinary artisans. Over 100,000 pieces from one couple comprise the exhibits of hand-carved miniatures in the Folk Art Museum. Buy a Culture Pass for easy access to multiple museums including the  New Mexico Museum of Art on the plaza.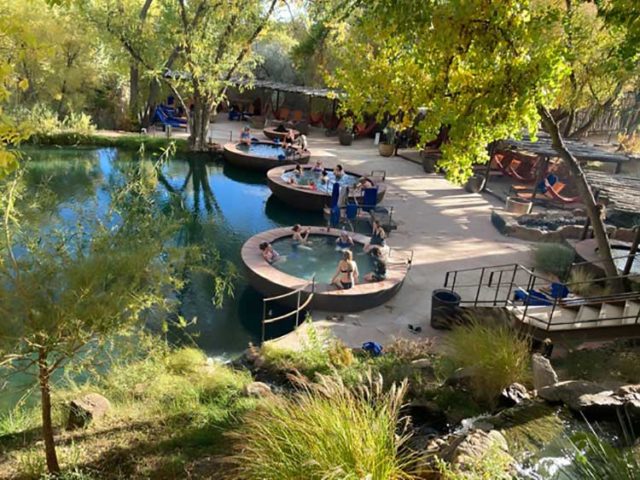 Ojo Santa Fe Spa Resort is a serene haven just a short drive from downtown. Partake in the healing ritual of soaking in one of their many communal thermal pools. Or lounge in a hammock under the cottonwoods. You can also book spa treatments and a stay at the resort.
For those inclined for a bit more physical activity, Santa Fe has it all from biking to skiing, fishing, hiking, golf, and river rafting.
EAT
Here's what we tried around town:
Iconik Lupe is a popular neighborhood spot with a hidden outside patio and great people watching. Get delicious coffee (they are roasters and buy direct from producers) as well as creative breakfast offerings and tasty sandwiches. The industrial-chic interior highlights the works of local artists.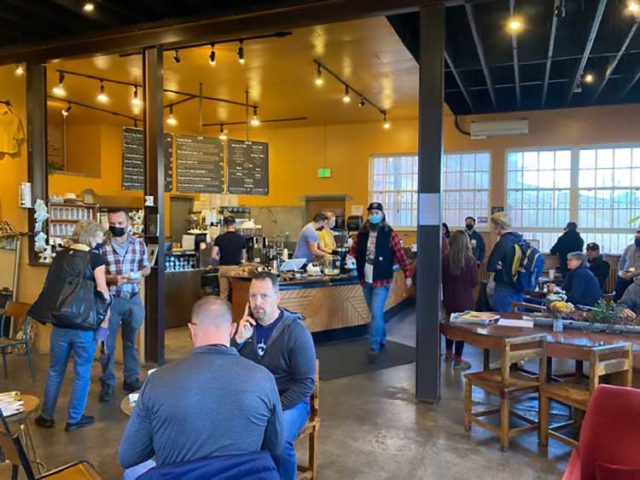 Tia Sophia's is packed for breakfast and lunch, so we slipped in between times for kicked-up bowl of chili (served only after you answer the state question: Do you want green or red — chiles, that is?). 
La Plazuela at La Fonda is a beautiful, light-filled room open all day. We couldn't resist a traditional breakfast of huevos Oaxacas: A scramble with green onion and cilantro and served with salsa and poblano rojas and a black bean and Mexican cheese blend. We also tried the avocado toast with roasted poblano fig jam, smoked bacon, arugula, and a poached egg.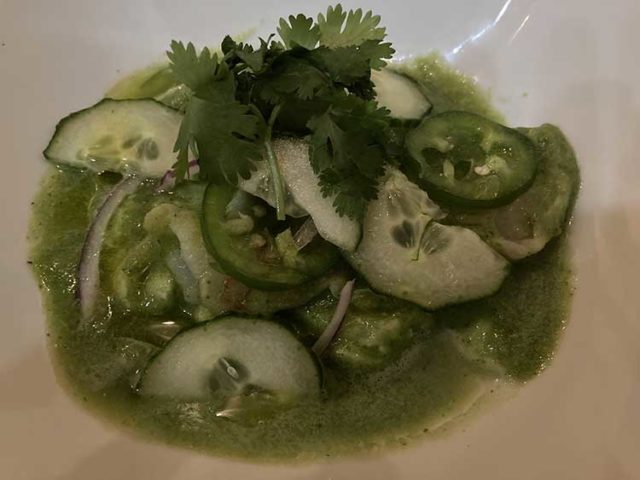 Horno Restaurant opened during summer 2020 and instantly became a local hit. Casual dining is offered in two cozy rooms, one with a bar, with beamed ceilings, soft colors and dynamic food-centric photos on the walls. The cuisine is a wonderful blend of Italian, Mediterranean, Southeast Asia, and of course, Southwest flavors that takes inspiration from traditional street food — all bolstered  by an international wine list. We savored every bite of the aguachile, a halibut and shrimp ceviche mixed with cilantro, lime, lemon, jalapenos and cucumbers; and the perfectly grilled mahi-mahi steak with a panko and pignon crust, topped with Sicilian tomatoes, olives and capers, and served over creamy polenta. The warm apple crostata for dessert was enhanced with a luscious blend of pistachio semifreddo and almond caramel.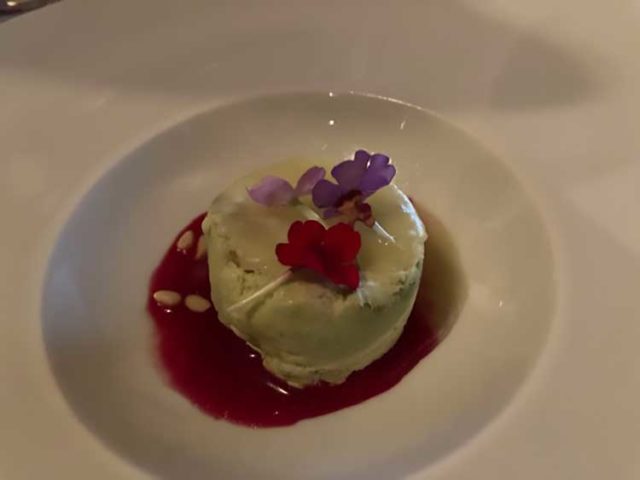 Sazón, known for innovative Mexican fare, boasts international ingredients infused with contemporary and indigenous culinary customs. The intimate dining areas are adorned with Mexican art. The server had us begin with the dessert Sweet Symphony, a delectable pairing of caramelized ginger, avocado ice cream with red beet sauce, kicked up at the end with jolt of jalapeno essence. We tried everything from colossal white shrimp from the Gulf of Mexico to a cream of roasted poblano soup with lump crab meat. The highlight of the meal was tasting their moles then choosing a protein to be served with it. Moles are made with more than 30 ingredients; the flavors depict the chiles used and the region and style where a recipe began. We tried both the sea bass with mole verde and the duck breast with mole from arbol and guejillo chiles. Don't leave before you pair a mole with mezcal or wine or cocktails.
Market Steer Steakhouse offers the best of beef in a popular setting. Growing up on a cattle ranch certainly influenced the passionate chef-owner. To start, we enjoyed the prime steak tartare with truffle aioli, red chile cured egg yolk, and beef fat crackers; and the Tex-Mex mussels kicked with up hatch chilies — both complemented with a glass of Caposaldo Prosecco. The prime filet mignon was cooked perfectly with a salt and pepper crust and a char and caramelization that were just right. The bourbon pecan bread pudding put us over the top.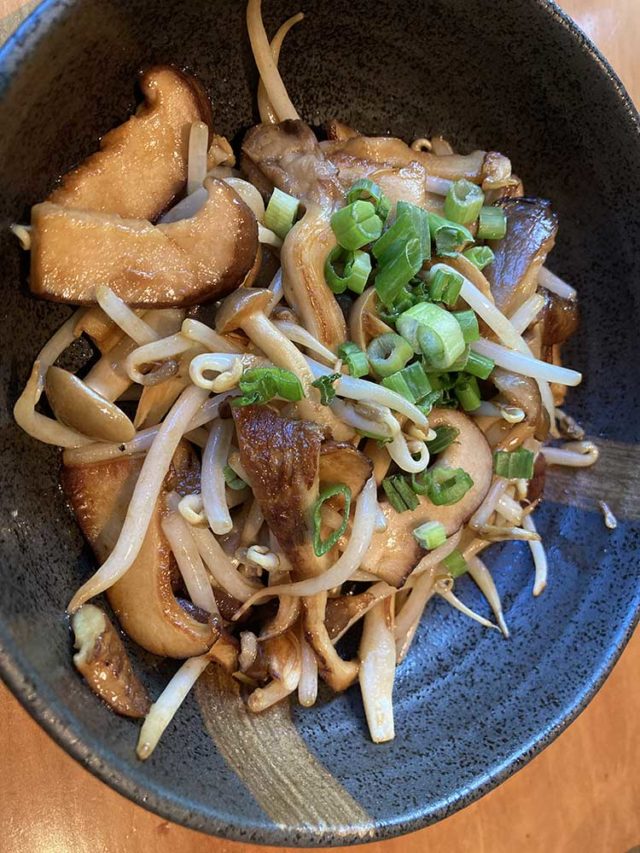 Izanami Restaurant is the place for izakayaand charcoal-grilled wagyu beef. It's set on the serene grounds of the Ten Thousand Waves Resort, known for their thermal baths, on a hillside overlooking Santa Fe. They offer an extensive collection of sakes easily experienced through any number of flights. Roasted Japanese mushrooms cooked with tamari and yuzu were first up, followed by the nasu dengaku, grilled Japanese eggplant with a miso glaze, and sesame seeds. The assortment of sashimi was delicious, but the main attraction was the wagyu beef ishiyaki that you cook at the table on a 500-degree hot stone. We savored both Japanese wygu and Nebraskan wygu, which we quickly seared and then dipped in either a smoked soy sauce or sesame miso. We finished with a delectable roasted chestnut cake with maple mascarpone ice cream.
OTHER ESSENTIALS
City of Santa Fe Covid-19 Updates
New Mexico Department of Health Covid 19 Updates
Patty Burness can be found on Twitter (@pattygb), Instagram (pburness), and reached by email ([email protected]).