California wine country" usually brings to mind Napa, Sonoma, and the Central Coast. But just 85 miles northeast from San Francisco is one of the largest and oldest (since 1850) grape-producing areas in the country: 100,000 acres of vineyards supply over 100 varietals (mostly Zinfandel) to winemakers throughout the West, more than any other area in California. In addition, over 70 wineries make wine right in Lodi.
Lodi also offers quaint shops, museums, galleries, and outdoor activities like golf, water sports, and bird watching. Whatever you choose, you'll encounter some of the friendliest people around, all of which will put a positive spin on John Fogerty's lyric "Oh Lord, stuck in Lodi again."
STAY
Vintners at the annual ZAP (Zinfandel Advocates & Producers, a nonprofit that promotes Zinfandel) event, recommended Wine & Roses Hotel. The award-winning 66-room property is set among seven acres of botanical gardens boasting fountains, meandering paths, and festive lighting, making it a relaxing weekend getaway. A spacious, well-appointed fitness center overlooks the outdoor pool, and a full-service spa (see below) takes advantage of the natural environment. Our graciously appointed room featured a fireplace, French doors to an outdoor patio with a view of the gardens, and luxurious bedding, affording us welcomed rest. It's always a delight to find two robes, which helped us feel right at home (209-334-6988, winerose.com).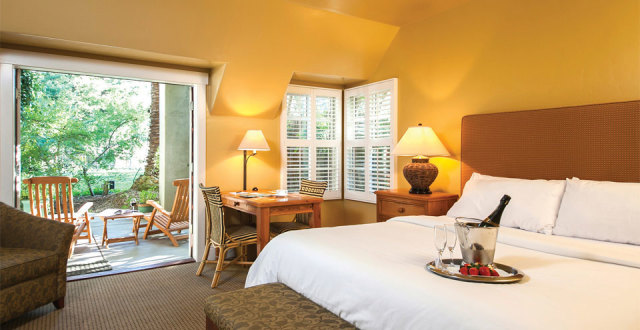 PLAY & SHOP
If wine tasting is on your agenda, start at the Lodi Wine and Visitor Center. Adjacent to the Wine & Roses lobby, it represents a number of the regional wineries and knowledgeable staff will help map your tour (209-365-0621, lodiwine.com).
Here's what we enjoyed:
The beautiful tasting room at Berghold Vineyards is like a museum. Joe Berghold has been collecting antique armoires and other rare furniture for decades, some of which he converts into wine cellar cabinets. Favorite wines were the 2012 Viognier and the full-bodied red blend of four varietals (known only to the winemaker), the 2012 "Crankhouse" (209-333-9291, bergholdvineyards.com).
We gave high marks to the Harney Lane 2013 Chardonnay (and so did this year's American Fine Wine Compe-tition, which just awarded it a double gold). Enjoy your wine by the fireplace in the inviting tasting room or outside on the shaded patio in the company of Ranger, the yellow lab, who may also accompany you as you wander about the lovely grounds featuring a small lake (209-365-1900, harneylane.com).
A highlight was the 2012 Estate Pinotage from Mettler Family Vineyards, one of Lodi's oldest farming families, spanning five generations. Introduced to Pinotage in its native South Africa, my husband was delighted to find this quality representation, which is available only in their tasting room. The varietal is a cross between Pinot Noir and Cinsault (209-369-3045, mettlerwine.com).
Wind down at rustically elegant, award-winning state-of-the art Spa at Wine & Roses. Outdoor pools featuring a waterfall hot tub, and lush gardens make it a splendid place to relax after a treatment from their full-service spa menu. Browse through their adjacent boutique, The Nest, for products to extend your blissful state of relaxation (209-371-6165, winerose.com/spa).
For outdoor recreation and just a 10-minute walk from Wine & Roses, visit Lodi Lake, which hosts a variety of water sports from kayaking and canoeing to pedal boating to fishing. Take the tree-lined 2.5-mile loop Lodi Lake Nature Trail to see nature upfront, including frequent deer, and some of the over 200 species of birds that make their home in this 58-acre riparian wilderness (lodi.gov/prcs/lodilake.html).
For music, head straight to the Towne House Lounge for nightly entertainment. Don't miss pianist Kim Nejak Thursday through Sunday. Her unique renditions and playing style are sensational, and her crowd-pleasing personality is infectious (winerose.com/towne-house-restaurant 209-371-6160). More live music from jazz to rock to soul can be found downtown on Fridays at the Cellardoor and Rosewood Bar & Grill (209-339-4394, lodicellardoor.com; 209-369-0470, rosewoodbarandgrill.com); Saturdays at Lodi's Wine Social (209-224-5740, lodiwine.com), and Fridays and Saturdays at Lodi Wine Cellars (209-365-6622, lodiwinecellars.com).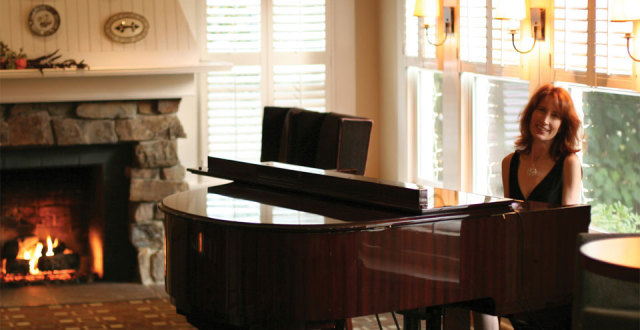 Complement your visit with a cooking class — one is offered just about every month (January through June) at Wine & Roses (209-371-6160, winerose.com) and range from an introduction to sous-vide cooking (March 26) to a "farm to fork" tour (June 20). Cheese Central (209-368-3033, cheesecentrallodi.com), which offers over 100 cheese varieties, also offers an array of classes like Cheese 101A, filled pastas, and Speakeasy Brewing. When we dropped in for cheese tasting, the aromas made us want to crash the class.
Delightful downtown Lodi with its elm-lined and brick-cobbled streets offers antique, collectible, vintage, consignment boutiques, and galleries. Ice cream and art meet at the Double Dib Gallery (209-365-3344, doubledipgallery.com), where you can enjoy your cone while browsing their collection. Find vintage home and garden decor, one-of-a-kind pieces, and jewelry, plus irresistible shop dogs Bella Bambina and Boston at La Fleurette (209-747-1550). Set aside some time to wander through Secondhand Rose (209-339-1166, secondhandroselodi.com), a 45-dealer, 6,000 square-foot antique mall of shabby chic and vintage items, antiques, collectibles, and more.
And don't miss the ongoing Lodi Walldog Murals project by taking the self-guided walking tour of 11 depictions of Lodi's history represented on downtown historic buildings (thewalldogs.com).
EAT
The Towne House Restaurant, housed in a cozy historic cottage, features classic American cuisine prepared with organic, local, and sustainably harvested ingredients (its organic produce is from nearby Golden Bear Ranch, which also supplies The French Laundry). Chef John Hitchcock has worked with Michelin-star chef Bradley Ogden, and turns out seasonal well-executed entrées like seared Muscovy duck breast with cherry port sauce; seared day boat scallops with Israeli couscous; hickory-smoked Masami pork chop with bourbon barbeque sauce; and seared Hawaiian ahi with shitake edamame risotto. A fitting starter is a Taste of Lodi, with three local olive oils, an olive tapenade, and a baguette from The Dancing Fox (209-371-6160, winerose.com).
A restored century-old brick building is home to The Dancing Fox, serving three meals daily Tuesday through Sunday. The beyond charming bricked and tapestried, mural-painted interior with mismatched antique chairs and tables features house-made breads and pastries. Tattooed, mustached, and bereted young men serve up tasty egg dishes, sandwiches, salads, and more. Don't miss the wine tasting in the back room or their extensive offering of craft brews, with quite a few on tap (209-366-2643, dancingfoxwinery.com).
UPCOMING EVENTS
Lodi Spring Wine Show: March 27–28, 209-369-2771, grapefestival.com
55th Annual Spring Art Show: April 11–12, 209-333-3855, lodiartcenter.org
Zinfest Wine Festival: May 16, 209-365-0621, zinfest.com
Lodi Grape Festival & Harvest Fair: Sept. 11–14, 209-369-2771, grapefestival.com
Sandhill Crane Festival: Nov. 7–9, 800-581-6150, cranefestival.com
AREA INFORMATION
Lodi Wine & Visitor Center: 209-365-0621, lodiwine.com
Visit Lodi! Conference & Visitors Bureau: 209-365-1195, visitlodi.com