If you're in the mood for a wine country getaway that doesn't require you to drive after you've arrived, then downtown Napa is the place — just stash your keys and relax. On a good traffic day, make the drive from the city in an hour. And after the recent earthquake, Napa needs your support. Your visit will help the local economy.
There are many terrific options — comfortable accommodations, good restaurants, delicious wine tasting, and a lively marketplace. Walk or ride a bike wherever you go, and get a good workout at the same time. The Napa River snakes its way through town so take in the scene as you go.
Stay
Find modern conveniences at the Westin Verasa overlooking the Napa River in the Oxbow District. The spacious rooms have kitchenettes, large bathrooms, and a Westin-branded Heavenly bed, which almost guarantees a dreamy sleep. Other amenities include a gas fireplace, private balcony, high-tech connections, and stereo equipment. At 5 p.m., enjoy complimentary wine and tapas in the lobby.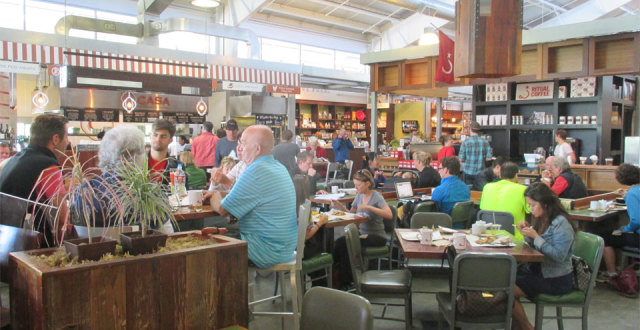 The hotel welcomes pets and implements many green programs in its efforts to be environmentally friendly and sustainable. There's even a gift if you decline housekeeping services during your stay (888-627-7169, westinnapa.com).
The Napa River Inn has a prime location in the historic Napa Mill on the River Walk. In the main house, this boutique hotel offers comfortable rooms in a grand style reminiscent of the 1800s. Some include canopied beds and fireplaces, and all have modern amenities. Outside, lush plants and flowers line the buildings. A complimentary breakfast is delivered to your room straight from Sweetie Pies and still warm from the oven (877-251-8500, napariverinn.com; 707-257-8817, sweetiepies.com).
Play & Shop
Downtown Napa is a wine-lover's dream. Purchase a Taste Card and have immediate access to 12 tasting rooms with initial tastings at 10 cents each (plus additional discounts and specials). The spaces are inviting, the people friendly, and we never had to worry about blood alcohol levels. Here are a couple we tried.
Passionate family members with vivid memories of their migrant farm worker grandfather and other relatives in the wine-making business in France drive Trahan Winery. This small winery produces such delightful wines as the 2009 Sadie's Red Wine, named for their beloved dog. Take a seat at the counter and try these 2010 favorites: Grandpa's Cab and the DIII Pinot Noir from Carneros (707-257-7477, trahanwinery.com).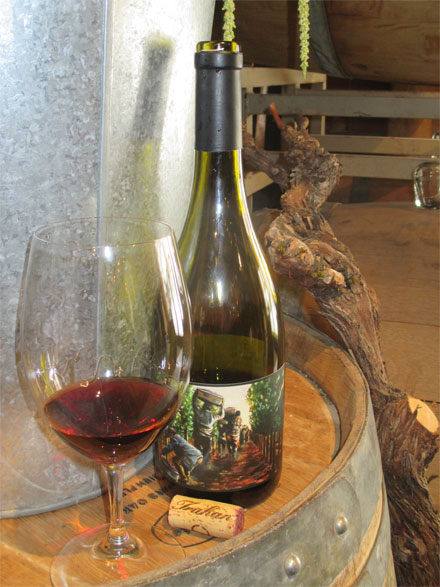 Close by, Naked Wines offers a new spin on wine making. "Angels" invest in individual winemakers worldwide. In the tasting room, more than 40 wines are available to sample. You can even try your hand at blending your own. We took a seat outside and tried Daryl Rex Groom's 2013 Russian River Pinot Noir and the 2012 Cockamamie Rooster's Blend (Cab & Syrah) from Jeff Stai (707-431-4404, nakedwines.com).
When it was time to visit Luna Vineyards, we rented bikes and pedaled a short distance up the Silverado Trail north of downtown. We enjoyed the Tuscan atmosphere and intimacy of the tasting salon, all surrounded by lush vineyards. Don't miss the 2012 Reserve Pinot Grigio and both these elegant 2011s: Sangiovese Reserve and the Canto (707-255-5862, lunavineyards.com).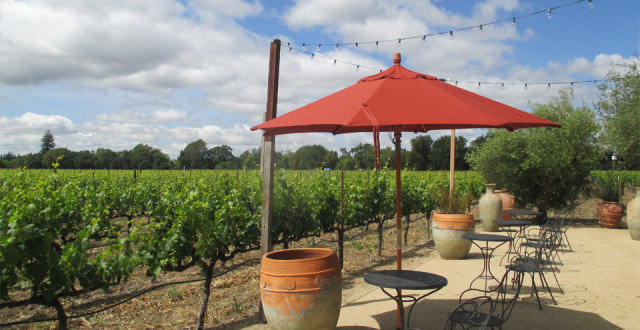 After a long day tasting wine, nothing feels better than a soothing massage at The Spa at Napa River Inn. Choose from a variety of treatments and simply melt. Or try the heated saltwater pool and hot tub at the Westin. If you're up for more aerobic activity and forgot your workout gear, not to worry. For $5, the Westin, with New Balance, will loan you an outfit and shoes. Need information on a trail? Enlist the running concierge and you're off (707-265-7537, napariverinn.com/the-spa; westinnapa.com/newbalance).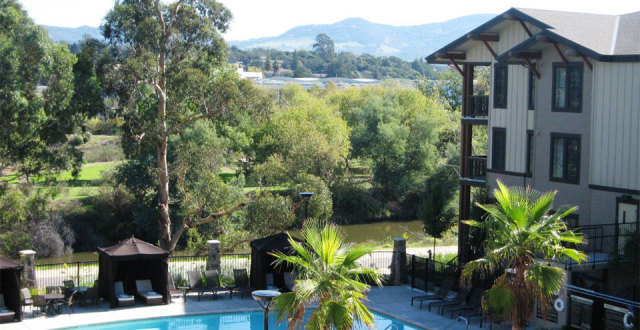 The Napa ARTwalk is always open. Walk around downtown and see the many sculptures that are part of the citywide exhibit (napaartwalk.org).
Just before you reach downtown Napa, check out the latest arrivals at the Napa Premium Outlets. Once in town, the General Store is a longtime favorite for a wonderful selection of artisan goods, wine country accessories and hearty fare. The Oxbow Public Market is another treasure trove of artisan goods, great wine and relaxed dining. Nestled by the river, the market strives toward zero waste through its recycling and composting programs (707-226-9876, premiumoutlets.com/napa; 707-259-0762, napageneralstore.com; oxbowpublicmarket.com ).
Stroll through town and find more boutiques, antique shops, tasting rooms, and restaurants. And of course, wineries and tasting rooms hope you'll buy wine when you visit, so don't disappoint.
The nightlife in Napa is heating up and there are several venues for live music. The Uptown Theater, built in 1937, is an Art Deco classic. In addition to musical acts, comedians headline, too. At Silo's, mellow out to cool jazz and blues. The City Winery is the latest location to light up its stage with popular musical acts. The old Napa Valley Opera House has been completely transformed into a vibrant destination (707-259-0123, uptowntheatrenapa.com; 707-260-1600, citywinery.com/napa; 707-251-5833, silosnapa.com; nvoh.com, 707-226-7372).
Dine
The Oxbow Public Market is a fun place to start the day. Get your day kick started with huevos rancheros from. Pick up treats around the market for a picnic lunch C Casa (oxbowpublicmarket.com; 707-226-7700, myccasa.com).
Oenotri is a Napa favorite. Airy and spacious with high ceilings and a big open kitchen, the restaurant prides itself on growing 70 percent of its produce in their garden on the former Copia property. The Italian menu changes daily, but the house-made salumi and pasta are constants. Pizzas are not to be missed, including the margherita and the salsiccia with pork sausage, wild nettles and hot peppers. The wine list focuses on California and Italy (707-252-1022, oenotri.com).
Located in a beautifully restored 1888 building, the Bounty Hunter Wine Bar & Smokin' BBQ is always busy. With an interesting line-up of international wines, it's also the place for delicious barbeque. Choose from ribs, pulled pork and their famous beer can chicken. Whatever you select, it's "smokin'" delicious. If you're not a carnivore, there's always seafood or salad (707-226-3976, bountyhunterwinebar.com).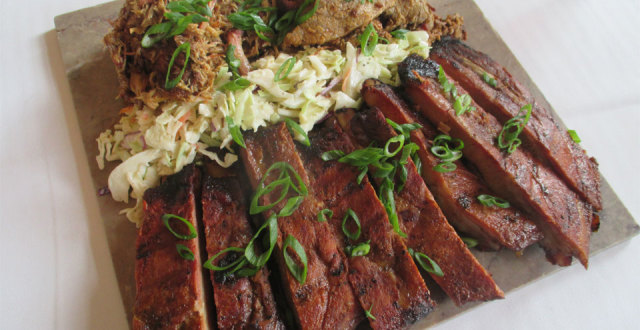 In addition to the upstairs music venue, City Winery has a large restaurant and bar on the street level. Discover local wines on tap and Mediterranean-inspired dishes like mushroom flatbread, beef carpaccio and orecchiette pasta with chicken, kale and pine nuts (707-260-1600, citywinery.com/napa).
OTHER ESSENTIALS
Downtown Napa: donapa.com
Napa Valley Tourism Bureau: visitnapavalley.com