I remember buying Jazzy some dog fortune cookies and the first fortune read, "Another day, another collar." That fortune had already come true. Jazzy was known for her cornucopia of pink collars, ranging from nylon numbers with sayings like "Mommy's Little Girl" to bling-bling Swarovski crystal stunners. Many were sent to her by fans, like the one she received from an online reader in Italy made of soft, shimmering bubblegum pink Italian leather studded with aurora borealis crystals. Dog supply companies also sent numerous collars in hopes of a photo making it in Jazzy's column or getting a mention in a holiday gift column such as this. The third biggest generator of collars for Jazzy was her mom — in fact, I think it's fair to say I have a collar addiction. I couldn't pass any upscale doggie boutique without browsing through the pink and sparkly section. Though many were stunning, I was also stunned by the price: over $150 for a mass-produced collar.
Then the Ritz-Carlton in Half Moon Bay asked Jazzy and me to be their guests for a two-day stay. When we arrived, the closet was overflowing with dog clothes — everything from a fuzzy pink bathrobe to a dainty, frilly Harajuku girl costume (which Jazzy was too big boned to wear). On the desk was a basket full of treats: Jazzy turned her nose up at the pure Maine lobster nibbles and headed straight for a bowl of Bowser Beer Beefy Brown Ale. Lined up beside the treat basket was an array of incredibly unique leather collars embellished with crystals, metal washers, and rivets and made by a company called Greenbelts. Maureen, owner of the wonderful AnnaBee's Doggie Boutique and Cafe in Pacifica, had brought them for Jazzy. She explained that a woman named Shannon made the collars from recycled belts and sold them on Etsy.com, a website where artisans sell their custom-made wares. I turned over the price tag on one of the more elaborate collars expecting it to cost $200, but it was just $36. And so my love affair with Etsy began.
Skylar's best color is lavender, which looks lovely against her grey coat, so when I adopted her after Jazzy passed away from cancer, I headed to Etsy, where I discovered the usual bounty of fabulous finds. I realized what great gifts these personalized collars would make, so over the last six months I purchased a dozen custom-order collars in shades of purple, lavender, violet, and lilac (with lots of bling, of course) from various Etsy shops. After receiving the collars, I selected my favorite artists to recommend to readers searching for that one-of-a-kind gift for their pet or a friend's pet that looks like a million bucks but won't break the bank.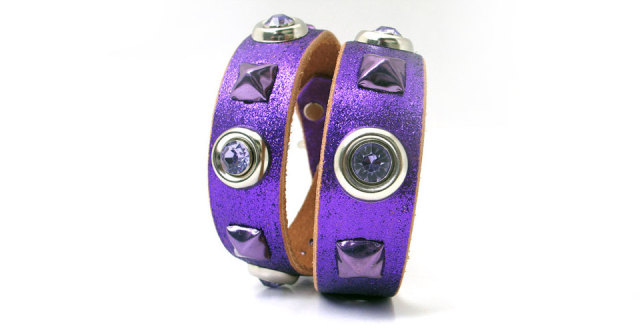 Greenbelts: Glitter purple collar with studs and gems, $49
This reclaimed full-grain scrap leather collar is dyed with special glittery purple leather paint, sealed with a water-repellent clear topcoat, and hand embellished with giant crystal rivets with beveled frames and metallic purple pyramid studs.
I've ordered so many custom collars from Greenbelts that I'm on a first-name basis with the artist, Shannon, who describes her collars as "accessories with a conscience handmade from recycled belts and doohickeys." Shannon's pieces are without a doubt some of the highest quality, most unusual and beautiful collars you will find, and at shockingly reasonable prices. Greenbelts features dog collars in sizes from extra small to extra large, as well as collars for cats. You can purchase premade collars in the Greenbelts Etsy shop or request a custom piece (custom pieces are in the same price range, unless you order something outrageous). Cat collars $26, dog collars $26 to $50.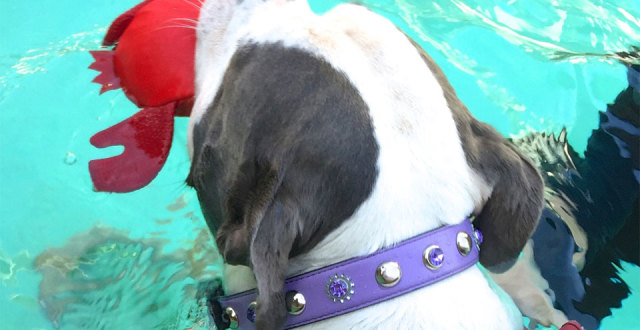 Studio1070: Waterproof faux leather black collar with lavender rhinestones and silver rivets, $32 (also available in lavender, $30)
Skylar loves to swim, so I started searching for a bling collar that was waterproof and not crazy expensive (just in case). I found it at Studio1070. The collars looked so leather-like and the bling was so fabulous that I couldn't choose, so I custom ordered one in black and one in lavender.
Owner Penny Noel is active in dog rescue (and based in the Silicon Valley). She says, "Creativity, the love of dogs, love of bling and a distaste for killing animals" led her to design collars made from recycled, reclaimed, and "upcycled" leather. She also uses synthetic leather for dogs like Skylar who swim (or for vegan dog parents who don't want leather). I was skeptical, but when the collars arrived, I had to check twice to make sure they weren't leather. Not only were they blinged out with lavender rhinestones and silver rivets, they appeared to be very sturdy.
Skylar attends swim therapy as part of her elbow dysplasia rehabilitation, so we put Studio1070's lavender faux leather bling collar to the test at AquaDog's pool, which canine hydrotherapist Connie Frank says she keeps "highly chlorinated" (for obvious reasons). Even Connie was skeptical, but after three 15-minute swim sessions, the collar still looked brand-new. Custom waterproof bling for $30 — what better gift could there be for the swim-happy dogs in your life? If bling's not your thing, Penny offers unembellished faux leather, as well as leather with or without bling. $21–$90.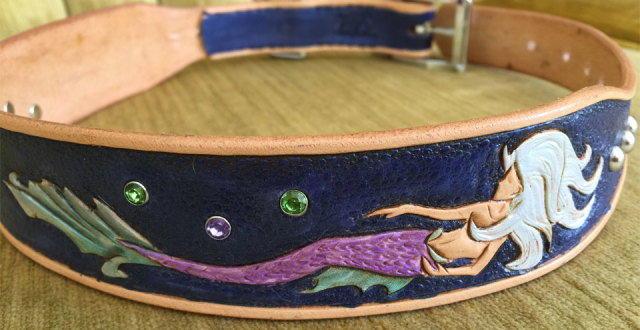 SalukiFeathers: Custom mermaid collar with green and lavender crystals and nickel domes, $84
This striking collar tapers from 1.5 inches to 1 inch and features two hand-carved 3D relief Art-Nouveau-style mermaids hand colored with vegetable dye, including metallic pigment for the scales and hair, and accented with crystals and metal domes.
Anyone who knows me knows that I am a Pisces who loves the water and a mermaid fanatic. I have collected mermaids since I was a child and still can't resist their allure, so I did an Etsy search for "mermaid collar" and discovered SalukiFeathers. Owner Julia is a true leather craftsperson, hand tooling her creations into intricate 3D relief images, which she then colors with vegetable dye (in the pigments of your choice, including metallic) and embellishes with your pick of crystals and metal domes. What Julia says about her collar philosophy suits Sky and me to a tee: "I believe dog collars should not only be durable, but reflect the personality and style of the wearer and his or her person. Whatever type of dog you have, and whatever style you call your own, I can make something that will suit you!" As it turns out, she already had a beautiful mermaid collar available, but she made me a custom version with crystals of green (my favorite color) and crystals of lavender (Sky's color) dancing around one green-tailed mermaid and one purple-tailed mermaid. $42 to $92.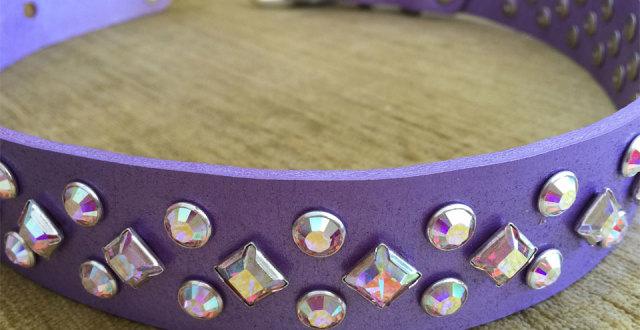 JustForBella: Moon violet leather with aurora borealis Swarovski crystals, $120; Moon violet leather with silver pyramid studs and round rivets, $75
Moon Violet is the most beautiful, shimmering, delicately metallic purple pastel leather I've ever seen, so I ordered two custom collars in it — one for elegant occasions and one for everyday outings.
Like all of the Etsy artists I've dealt with, JustForBella was patient, friendly and accommodating, communicating with me throughout the process to be certain I got exactly what I wanted — and I did. Besides custom leather dog collars and leashes "in a rainbow of colors," JustForBella also makes custom dog clothing, including party dresses, bows, hats, tutus, and harnesses. $34–$140.
To order custom-made collars from these artists, visit etsy.com and search for the shop name.