When a woman saw a 1-year-old pit bull-boxer mix wandering the streets starving, she tried to give him some dry dog food but noticed he was only able to move it around in the bowl. The Good Samaritan took him to the Contra Costa Humane Society where a veterinary exam and subsequent x-rays revealed that the dog's jaw had been badly broken when he was a young puppy, likely with a baseball bat, and it had completely fused shut on one side.
They named him Phineas (Phinny for short). His face was a bit lopsided and he had small fractures throughout his facial bones, but nothing could diminish his spirit. Despite all he'd been through, the shelter staff quickly noticed that he was full of love, trust, and affection (including that trademark pittie full body wiggle). How he managed to survive without being able to open his mouth perplexed the staff, but then again, pitties are incredibly resilient, often enduring unimaginable cruelty from neglectful, abusive owners. If given the chance, however, they overcome their horrendous beginnings, loving and trusting anyone who is kind to them, and becoming amazing family members.
One of the shelter's volunteers, Megan, fell in love with Phinny immediately and decided to foster him. Because his jaw was fused shut, Phinny was only able to eat watered-down wet food administered through a syringe. Like most pitties, he wanted more than anything to give kisses, but he wasn't able to, so the shelter launched the Help Phinny Kiss Campaign, and donations poured in from all over the country and beyond. "With the help and support of so many wonderful Phinny Fans, and the gifted hands of Dr. Smith and the caring staff at SAGE Veterinary Centers in Dublin, Phinny was able to have the extensive six-hour surgery he needed to repair his jaw," the shelter says. "And after waking up from anesthesia, he ate his very first treat. With some physical therapy, he's regained about 80 percent range of motion with his jaw, and is able to chew and eat and give kisses like a normal dog now." Phinny has been given a clean bill of health and is not expected to have any residual issues with his once-broken jaw.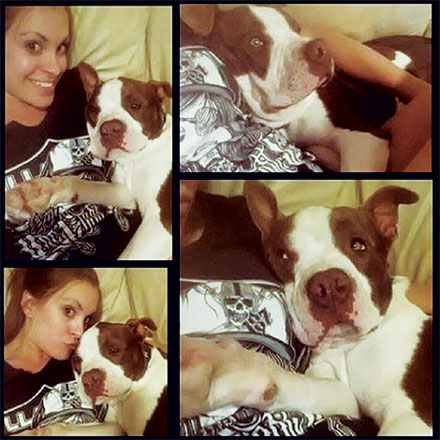 Phinny is sweet, smart, and eager to learn, just as happy snuggling on the couch as he is going on a great adventure. He loves other dogs and would do great in a home with other doggy pals his size with similar "big dog" playing styles, but he would also enjoy being the only dog in the house so he can soak up all the love he missed in his earlier life. (His foster mom, Megan, has three other dogs, and because she loves Phinny so much, she wants him to find a forever home where he will get all the attention he craves.)
If you're interested in adopting Phinny and giving him the happily-ever-after he so deserves, please complete an adoption application at www.cchumane.org. Once submitted, the staff will review it and set up a meet-and-greet. You can also find Phinny on www.petfinder.com (ID: 27527549, ad number 30145949).
If you'd like to know more about Phinny after hours when the office is closed, please contact Megan Vaneck at 707-419-9833.
Contra Costa Humane Society: 171 Mayhew Way, Suite 101, Pleasant Hill, CA 94523, 925-279-2247, www.cchumane.org